By MrSmith1 on Fri, 10/16/2015 - 2:18pm |
Here's this week's heap of haikus: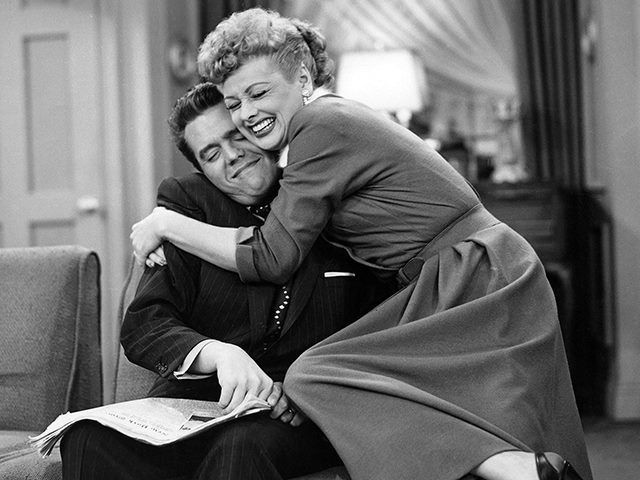 Although she'll always
have lots of "splainin'" to do,
we still love lucy.
(64 years ago this week, the first episode of I Love Lucy was aired.)
---
Silly Ogden Nash homage-ku:
Shoes need cobblin'
that's why he's hobblin', (and
sadly), sobblin' ...

---
 
tanka haiku:
Perusing the hall,
he picked out a girl and tried
to make eye contact.
 
  At first, she acted shy ... then,
  she slowly ... drew him to her.
---

Half opened window ...
A world on each side ... Do you
look in or stare out?
 

---

tanka haiku:
The old weathered barn
still advertises Mail Pouch
chewing tobacco.
Irony? The old farmer's
long dead - cancer of the gums.

---
Those little evils
buried in our souls, may smile,
in spite of themselves.
 
 
---
Diner-ku:
Short stack of pancakes,
coffee on the side ... Eat. Drink.
Pay the tab and go.
---
Fitful nights will end.
Sleep will overtake sadness.
Things will be alright.
---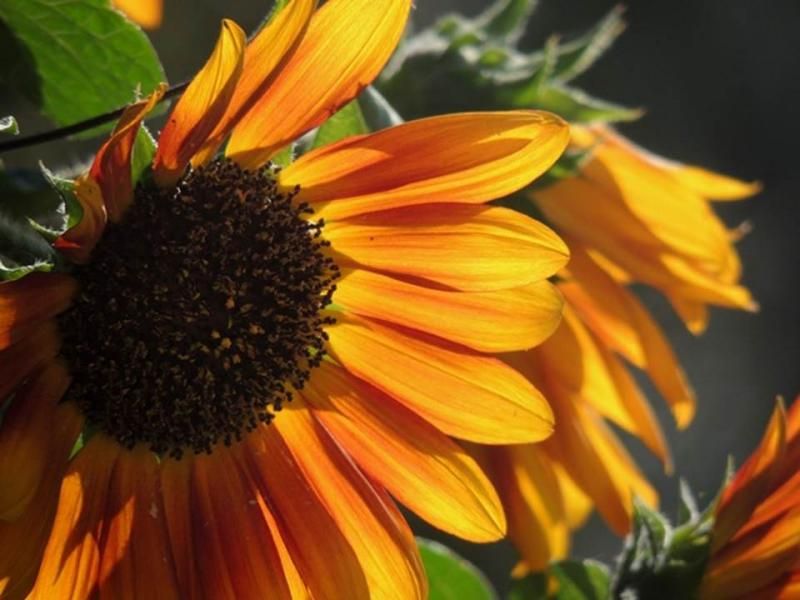 There are times when no
words will suffice, we just need
to look at flowers.
---

His hopes had been dashed,
his dreams all surrendered … The
tide pulls at his feet.
---
Where-ever I roam
I keep the thought in my head,
that I might see you.
---

A quartet of haikus:
After all these years,
I still haunt the lost and found,
looking for my life.
I still ride the train,
in hope the next station will
be where I'll find home.
I cross bridges knowing
I can not wash away all
the sins of my life.
I am stuck in time
living out a meager life
extracting fool's gold.
 
---

To live without love
is to whisper to angels
and to be ignored.

---

Footprints on the beach ...
When I could not go on, God
drove me in his jeep.
(Photograph courtesy of Kristina Rebelo)

---

This'll float your boat;
Naked Gondoliers is what
makes Venetians blind.

---

An incoming tide,
coral clouds at sunrise ... all
our Hopes are reborn.

---

The arrondissement
was seven ... I think. The view?
Unforgettable.

---

A doormat thrown in
the trashcan has probably
worn out its welcome.

---

They say that I am
hopelessly optimistic ...
I just hope they're right.

---
tanka haiku:
I wanted her so ...
but I did not get her.  I
got this life instead.
   I should be grateful, and yet ...
   all I have is loneliness.

---
Fog on the shore road.
A man on a bicycle
appears lost in thought.
---

Love again denied,
forever unrequited,
hope's on a bender.

---

The lush foliage
of autumn, clings to trees like
lots of Seurat's dots.

---

Bleeding hearts mixed with
bloody ignorance will
make a mess of things.

---
Mortally wounded,
he nevertheless tried to
remain positive.

---
 tanka haiku:
 
From the cab of his
pickup, he could see grey smoke
rise from the chimney.
It was nearly sunrise and
he could not wait for coffee.
---

In the corner sat
a haunted piano, which
played only lost chords.
---
We drove through the night
to see the fall foliage
mirrored in the lake.
---
a lonely road weaves
through a dark forest. My soul
must travel down it.
---
   

He kept hoping that
planetary alignments
would bring him good luck.

---

Rivers of knowledge
seldom flood those reluctant
to wade through the creek.
---
if / then-ku #1:

Ship builders build ships,
shoemakers make shoes ... washer
women make washers?

---
if / then-ku #2:

If the sky is blue,
and the grass always greener,
more books should be red.
---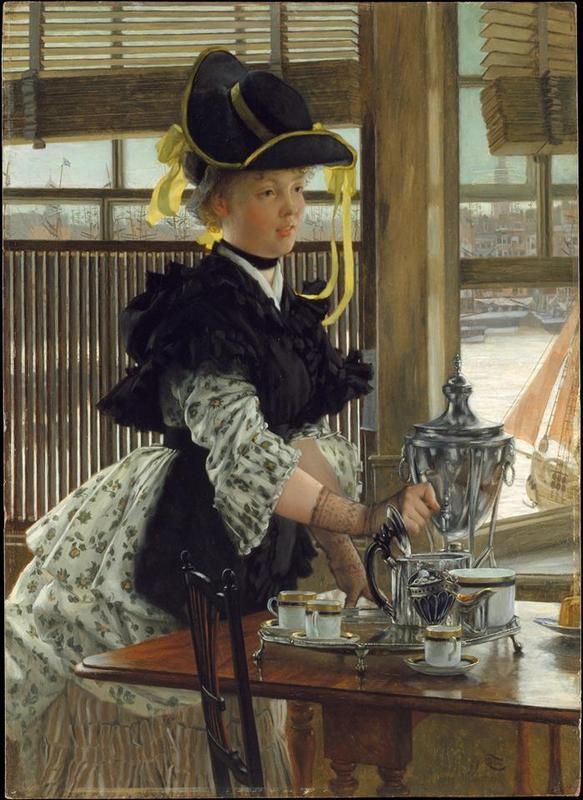 Won't you have some tea?
I'll sit here eating biscuits
watching boats pass by.
James Tissot (French, 1836–1902) | Tea | 1872

---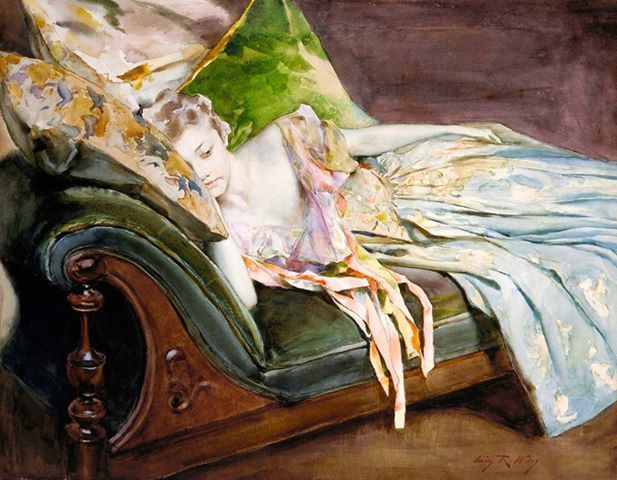 Collapsed in a heap,
and yet ... I watch warily
as the cat stalks me.
"The Green Cushion" ca.1895 by Irving Ramsey Wiles (1861-1948)

---

His pulse would quicken
each time she entered the room …
Why not, she brought beer.
---
His trousers were gone ...
her dress hung on a flagpole ...
That was some party.

---
Hiking down hillsides,
ground uneven 'neath my feet.
My new slant on Life.
---
Carefully follow
that path through the irises ...
serenity waits.
---
He once walked two miles
through the wind and pouring rain
just to stroke her face.

---
Too many mornings
pretending I reach for you.
(Love always feels real.)

(From the Stephen Sondheim musical, Follies;  Too Many Mornings.)
 
---

I think about you
all the time. night. day. it's like
I'm losing my mind.
(From the Stephen Sondheim musical, Follies;  Losing My Mind.)

---
If I laugh and dance
about how much I love you
maybe you'll need me.

---
Torches throw shadows
on dreary castle walls ... That
mob wants Frankenstein!

---
I've got to have you
now that you have told me that
you really don't care.

---
And now, for this week's challenge: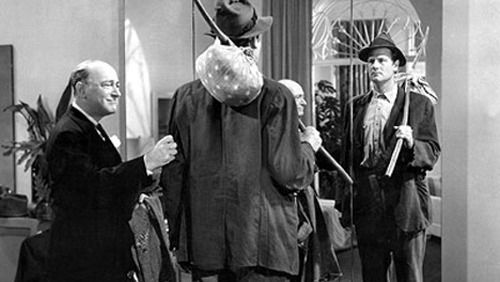 Post your haiku based on this photo in the Comments section under the title: "I Do-the-Haiku!")
(Photograph from the film, "Sullivan's Travels")
---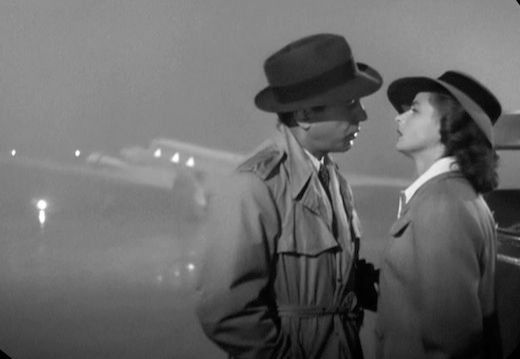 Your love's not a lie?
Then how can you leave me? 'We'll
always have Paris.'

(Photograph from the final scene of Casablanca)
****