By MrSmith1 on Fri, 07/03/2015 - 12:14pm |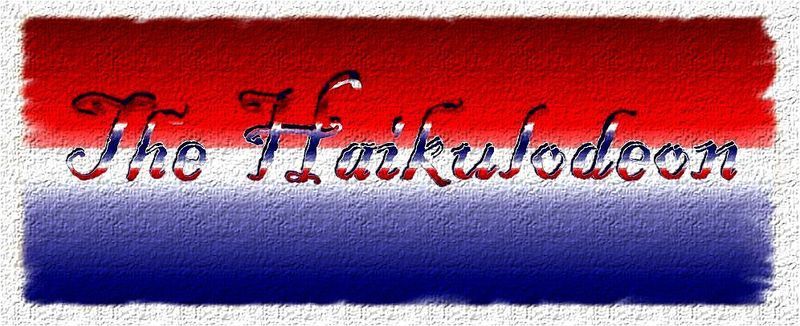 Here's this week's heap of haikus:

4th of July-ku:  
The rockets' red glare,
bombs bursting in air, gave proof
that fireworks are cool.
(3rd line re-write for the diphthong challenged:  "fireworks are cool.")
---

 tanka haiku:
John Fluegel played fife,
Tobias Giltner fought, in
The Revolution.
 
Here's to our ancestors who
fought for our Independence.
Tobias Giltner and John Flugel were two of my ancestors who fought in the Revolutionary War.   There were also members of the Phippenny and Hammond families in my tree that also fought as well as members of the Smith family on my mother's side.  As far as I can tell, my father's Smith family came down to Ohio from Canada, although, if I recall correctly, some of the Burgoons on my father's side also fought.

---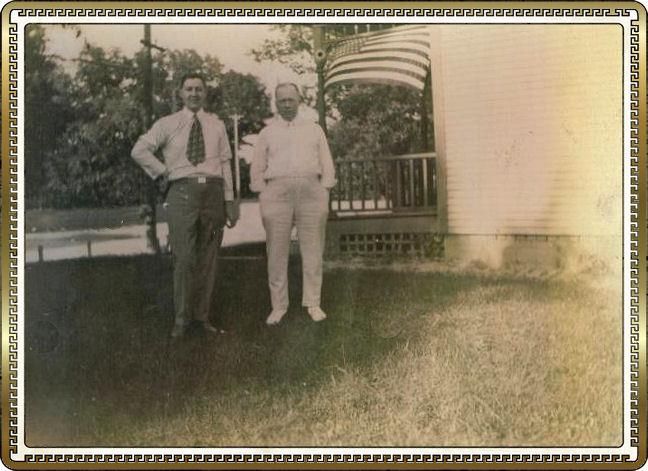 At his wife's urging,
He posed with her step-father.
Happy July 4th!
 
(Photo circa 1920.  My maternal grandfather and step-great-grandfather.)
---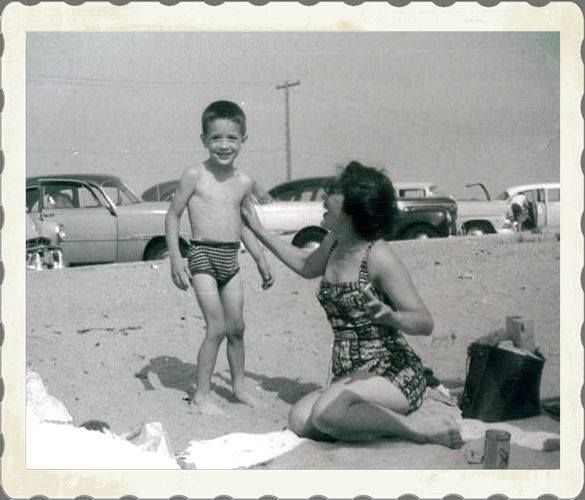 Summers of my youth
seem so distant now ... only
memories remain.
 
 
(mid-1950's ... me and my mom at the beach.)
 

---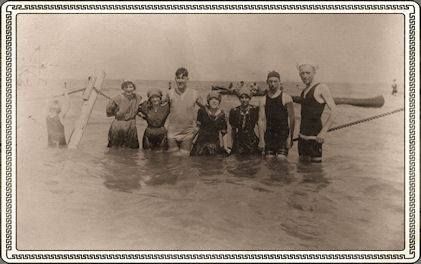 A day at the beach
in the old days; more like a
wet pajama fest.

(circa 1917: My maternal grandparents are third and fourth from the left.)

---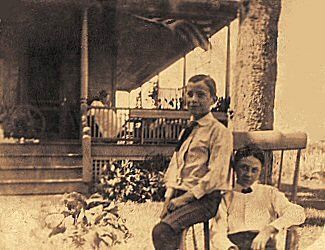 On July 4th of
1903, two boys posed
for my Facebook page.
(My maternal grandfather is on the right)
---
There was a time when
waving striped thing-a-ma-jigs
was quite a fun thing.

---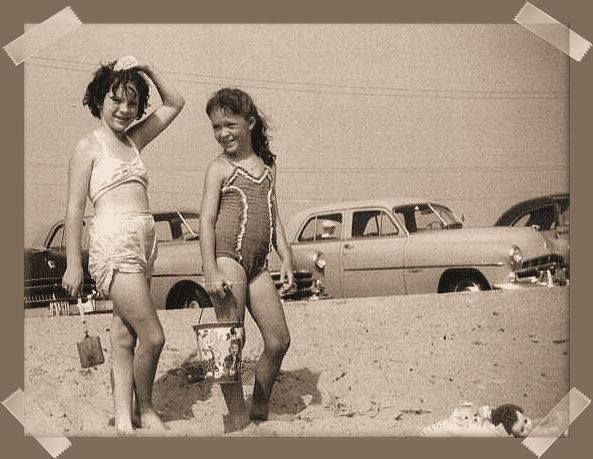 When you're at the beach
with your best friend, you let her
carry the shovel.

---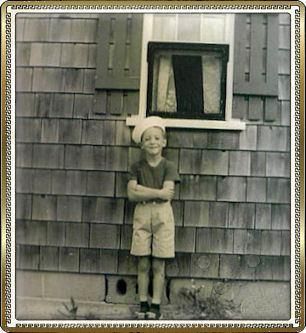 That summer, I learned
two things; to whistle and how
to blow bubble gum.

---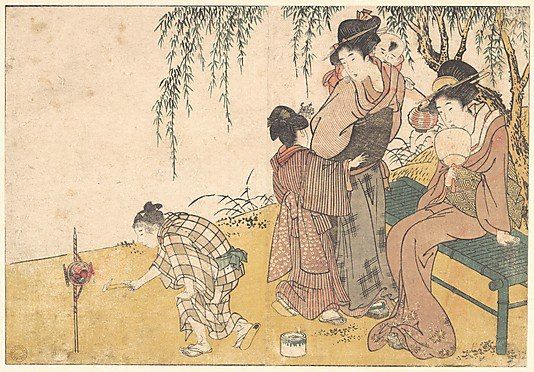 Toshiro lit the
firecracker while his sisters
watched with excitement.
 
---
tanka haiku:
Two days out and the
Er-i-e is a'risin' ...
Whiskey's gettin' low ...
Scarcely think I'll get a drink
till we get to Buffalo.
(198 years ago, July 4, 1817, work began on the Erie Canal. )

---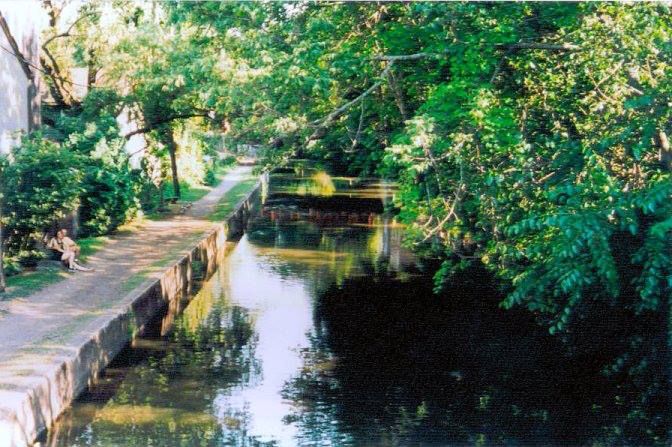 I wandered along
the tow path of the canal
'til I found New Hope.
---
Hot dogs on the grill
burgers on the patio ...
blame the clumsy chef.

---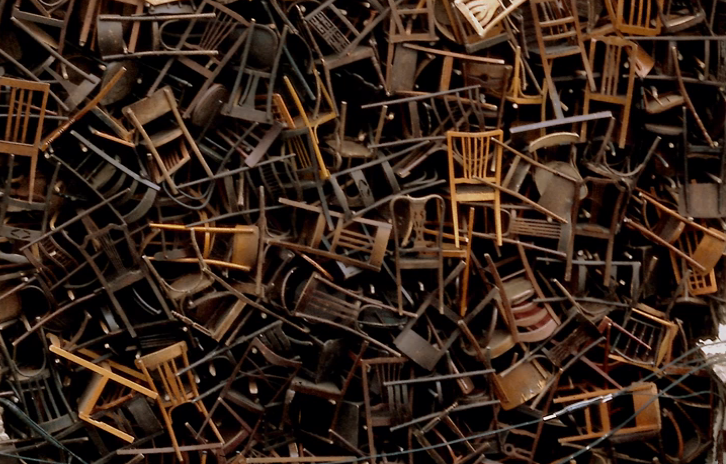 If you're wondering
why you can't find a seat ... it's,
a bit confusing.

The work of artist Doris Salcedo created from more than 1,500 wooden chairs 

---
tanka haiku:
When you define the
world in a limited way,
change will upset you.
    Know that possibilities
    are endless ... and God did that.

---
Was bound for glory,
then I got waylaid by Life,
now I'm bound for bed.
---
double haiku:
I advocate but
I do not insist.  All hearts
will change when ready.
The flag that I plant
is but a marker, that says,
seeds were buried here.

---

He buttoned a fly,
which, he thought, more manly than
zippering a moth.

---

Procreation blues:
Long lost memories scratching
our id's bids for kids.
---
Stored in the garage,
like the sleds on which we slid,
broken toys we hid.

---

With tiny fingers,
reaching for ten tiny toes,
she learned her 'piggies.'

---

Like a fog horn's drone,
my GPS annoys while
giving directions
---
Echoes of sunrise,
fade from the bluing sky; the
moon goes back to sleep.
 
 

---
Sweet aggravation,
and a love that kicks my rear,
feels like home to me.

---
 
His life was a mess,
but his imagination
was immaculate.
 

---
Will you ever wake?
Or will you dream forever?
Will you ever know?
 
---
On a Summer's day,
an old jalopy sputters
down a dusty road.
---
A starry night, wind
rustles the dandelions.  
We cautiously kiss.

---

 As the dawn breaks, a
boat with peeling paint, drifts on
the shimmering lake.
 
 
---

What is on your mind,
the weight of the world ... or the
lightness of being?
 
---
A cool Summer night;
he whistles a sad song as
he strolls down the street.

---
 

Pertinent scrawls on
University walls are
"Art" ... to some degree.
 

---
When you feel you've been
thrashed, trashed and stashed away, you
don't sashay, you pray.
---
Aided by a breeze
a cardboard cup strolls along
West End Avenue.

---
There's a sweetness that
lives in my lover's eyes, which
melts my fears away.

---
I am trapped in a
universe I can't control.  
Worse, I'm a cockroach.

---

Life has informed me,
Life has deformed me, yet it
hasn't reformed me.

---

Happy Fourth of July to all you Patriots out there ...
Remember, if it feels Revolutionary, your head may just be spinning.

                                                     ****