KENTUCKY – Following its hyper-successful "KFC Famous Bowls" and "Double-Down Sandwich" campaigns, KFC has announced its newest promotion – "KFC's Eat It Off The Floor, Bitch!" combo.

The meal will consist of flavorful fried chicken pieces, creamy mashed potatoes with savory gravy and a beverage of your choice. The combo will then be thrown on the floor, where the customer has to eat it, all the while KFC employees berate the customer with insults.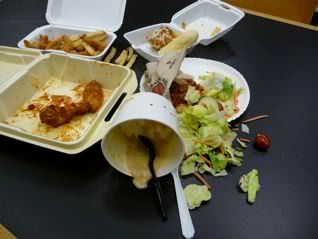 "First, we just shoved everything into a bowl. Then we replaced bread with chicken," said KFC spokesman Tim Johnson. "Obviously, though, we've underestimated the incredible amount of self-loathing in our customers."
The meal – which will come with a broken "Shrek 4″ figurine and a used handi-wipe – will cost $3.99 plus a big chunk of customers' dignity. KFC officials are expecting a big response.
"We thought 'hmmm, could we just throw the chicken in people's faces?' but then decided it would be better to make them eat it off the floor," said Johnson. "It's like the Colonel always said: 'We could shove fried chicken into used trash bags and these idiots would still buy it.'"
–WKW
Crossposted at William K. Wolfrum Chronicles

2111 reads
In the News
Destroying the Labor Market

As jobless claims "surprisingly" go up by 32,000 this month (uh, did everyone forget the sequester?), an Atlantic reporter notes the abandonment of workers by both GOP & Democrats.

While he pushes 3 theories how workers ended up under the bus, I'll push a 4th - "social media whatever".

It used to be most of us were consumers of news and marketing, while a few made their money that way. Now we're all "engaged" (sad co-opting of that word) - selling our goods on Craigslist & eBay, friending & liking pages up the rec list, putting our portals & blogs on-line, passing on videos if not doing mash-ups of our own...

We've become a hive of little businessmen, little Eichmanns as someone once put it - with the...

Afghanistan: Powerful Bomb kills 15, including 6 Americans...

By Kathy Gannon & Kay Johnson, Associated Press, May 16, 2013

KABUL, Afghanistan -- A suicide car bombing tore through a U.S. convoy in Kabul on Thursday, killing at least 15 people including six Americans in a blast so powerful it rattled the other side of the Afghan capital. U.S. soldiers rushed to help, some wearing only T-shirts or shorts under their body armor.

A Muslim militant group claimed responsibility for the morning rush hour attack, saying it was carried out by a new suicide unit formed in response to reports that the U.S. plans to keep bases and troops in Afghanistan even after the 2014 deadline for the end of the foreign combat mission.

The group, Hizb-e-Islami, said its fighters had...
Latest Comments
in Obama Scandals: The Quest...

rmrd0000

in Obama Scandals: The Quest...

Anonymouse (not verified)

in Obama Scandals: The Quest...

Total tourist (not verified)

in Obama Scandals: The Quest...

Anonymouse (not verified)

in The Biggest Political...

Orion

in Here we are again; A...

Richard Day

in Obama Scandals: The Quest...

Flavius

in Obama Scandals: The Quest...

Michael Wolraich

in President Obama's...

rmrd0000

in Let Freedom Ring: Freedom...

Resistance

in President Obama's...

rmrd0000

in President Obama's...

rmrd0000

in President Obama's...

rmrd0000

in President Obama's...

artappraiser

in Destroying the Labor...

PeraclesPlease