by Ramona 8/12/2011 - 1:59 pm |
Michele Bachmann was on Newsweek's cover this week and editor Tina Brown swears to all who will listen that Bachmann's bizarre cross-eyed skyward gaze was meant only to "capture her intensity". About the crossed-eyes, Tina says she doesn't see it. She honestly doesn't know what all the fuss is about. (Cough, choke, gasp, gag.)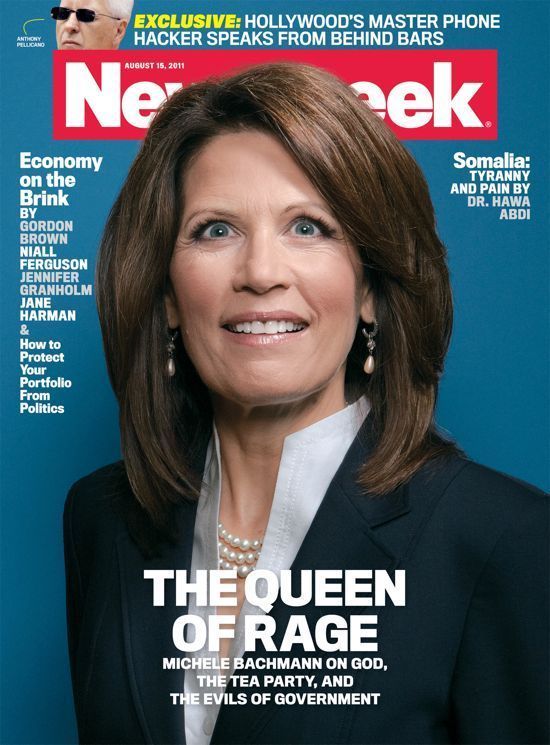 She was on "Morning Joe" last week defending her choice, and what an entertaining few minutes that was!

Now there are cries of foul and/or sexism and/or foul sexism. Even Miss America got into the fray on Fox and Friends. Did she think the cover was racist? Well, yes she did.

But as someone who has never had the good sense to put on a photo face when a camera is pointed toward me, I might actually have some sympathy for the expressive Rep. Bachmann. I blame it on my Italian heritage. While I'm talking with my hands I can make some pretty awful faces, especially if I'm in a rage about the Tea Party and people like Michele Bachmann. Or being put on hold having to listen to Jazz when I'm trying to get something done that requires telephone support. Things like that. (No, I'm not going to show classic examples here, though there are plenty of them out there.)

I know what it is to get caught with the goofy face. It's embarrassing. And I thought that's what happened with Bachmann until Tina Brown talked about the photo shoot. The cover photo wasn't a candid, it was a studio portrait set up with a photographer who had all the time in the world to get a good one. OMG. Tina. You scamp.

Mitt Romney got caught admitting that corporations are people, thus ensuring some big bucks in the campaign coffers from the corporate persons. That would be a good thing if Republicans actually wanted him as their candidate, but they don't seem to be leaning that way. Still, he's out there giving it all he's got, and all he's got is the best entertainment at the Iowa State Fair.

ROMNEY: Corporations are people, my friend. We could raise taxes and --
[unintelligible crosstalk]
ROMNEY: Of course they are. Everything corporations earn ultimately goes to people. So -- [audience laughter] where do you think it goes?
[shouts]
Whose pockets? Whose pockets? People's pockets.
Okay -- human beings, my friend.
Number one, so number one: you can raise taxes. That's not the approach that I would take.
Number two, you can make sure that the promises we make are promises that we can keep. And in my view, the areas that you have to consider are, for higher-income people ...

Well, that was kind of nutty... I went looking for someone coming to Mitt's defense but so far all I've found is a quote from a Romney spokesman on an update to a piece on Talking Points Memo:

Update: Romney spokesman Eric Fehrnstrom took to Twitter to defend Romney's quote: "Do folks think corporations are buildings? They're people who incorporate to conduct business. They create jobs and hire more people."
Okay, that's better. I get it now. Meanwhile, the DCCC has already come out with a video using Streisand's "People" as background music. It's here.

I was all over the tube looking at comments. Someone wanted to know if corporate takeovers could now be considered kidnapping. Someone else wanted to know if two male corporations could get married or would they have to settle for a merger. So I added a few myself: When does the awkward teenage phase end? Is there a diet for obese corporations? Can they bake a cherry pie? Who does their nails? Can one of them become President of the United States? Can we punch them in the face? How do we tell their faces from their asses?

It's a zoo out there, my friends. Nuts is the new normal.


Moments of Sublime: On one of my quests for interesting distractions, I found a link to a blind painter. How does one paint if one can't see? Well, seeing is in the eye of the beholder, it seems. These artists would be remarkable if they were simply artists who could paint. The fact that they paint while blind makes them awesome in my eyes.


John Bramblitt became blind at age 30. He has never seen his wife or child, nor any of his subjects, yet he paints them beautifully and accurately. He explains his technique here.



This is Maria Santos. She was blinded in a car accident when she was just 22 years old and already an accomplished artist. Watch the video about her experiences here.

What inspirations they are. They've developed whole new ways of seeing in order to accomplish their dreams. There are lessons to be learned from them, but for now...just enjoy.
Cartoon of the Week
Clay Bennett, Chattanooga Times Free Press
Cross-posted at Ramona's Voices.
536 reads
In the News
I-5 bridge collapses over Skagit River near Mount Vernon;...

A bridge collapsed over Skagit River tonight near Mount Vernon. This was on Interstate 5 both north bound and south bound, four lanes total. No word yet on how many cars went into the water. This is so sad. How many of these will we have to have before we start financing infrastructure? Most of our bridges are in sad shape.

Utilities for dummies: How they work and why that needs to...

There's very little public discussion of utilities or utility regulations, especially relative to sexier topics like fracking or electric cars. That's mainly because the subject is excruciatingly boring, a thicket of obscure institutions and processes, opaque jargon, and acronyms out the wazoo. Whether PURPA allows IOUs to customize RFPs for low-carbon QFs is actually quite important, but you, dear reader, don't know it, because you fell asleep halfway through this sentence. Utilities are shielded by a force field of tedium.

It's is an unfortunate state of affairs, because this is going to be the century of electricity. Everything that can be electrified will be. (This point calls for its own post, but mark my...

"Kids Shoot the Darndest Things"

I'm not sure how many of you have read the Seattle newspaper The Stranger. "Goldy" is a sudonym (I hope I spelled that right) - the writer is pretty hardcore and unrelenting on many progressive issues, gun ownership no exception.

Wait, there are riots in Sweden?

By Elias Groll, Passport @ ForeignPolicy.com, May 22, 2013

[....] The rioting -- the worst social unrest to strike the country in many years -- was sparked by the lethal police shooting of a 69-year-old, knife-wielding man last week in the suburb of Husby, the epicenter of the riots. Roaming gangs of angry youths have since clashed with police and Husby residents have complained of racist treatment by police officers, who they say have used epithets such as "monkey."

What's happening in Husby is clearly a symptom of Sweden's failed effort to integrate its massive immigrant population. Housing segregation is rampant in the country, and Husby is a case study in how immigrant populations have come to dominate Stockholm's outer...