By William K. Wolfrum on Wed, 09/05/2012 - 2:14pm | Politics, Humor & Satire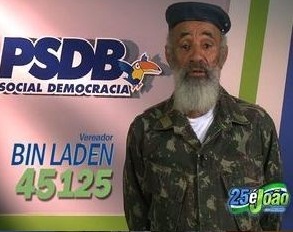 Yes, Bin Laden is alive and well in Brazil, where he's running for office in the mid-term elections. His political aims? Apparently disillusioned by Jihad following his Pakistan bullet adventure, he is running to rid the nation of corruption and child labor. It's a big move for Osama, who once made a living in Brazil in the bug extermination business.
Brazilians aren't at all fearful of Bin Laden, and for good reason. They have Batman and Robin to protect them.
--WKW
Crossposted at William K. Wolfrum Chronicles