By William K. Wolfrum on Tue, 06/16/2015 - 9:49am | Arts & Entertainment
The upcoming documentary "Michael Des Barres: Who Do You Want Me to Be?" began exactly 30 years ago. That's when a 14-year-old J. Elvis Weinstein watched Live Aid - the mega-concert created to raise funds for to help the Ethiopian famine. The Duran Duran off-shoot band Power Station helped kicked off the festivities, but without lead singer Robert Palmer. Taking his place, in front of an estimated one billion people, was Michael Des Barres.
"I watched a lot of MTV, but I was like, 'Who was is guy? Wasn't he on WKRP?'" said Weinstein, who directed the film. "So he became a fascinating character to me because I hadn't known about him and I dedicated myself to learning more."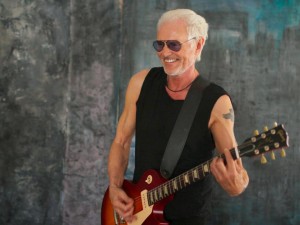 And there was plenty to learn. "Who Do You Want Me To Be?" showcases the unlikely, chaotic, strange and beautiful trip that has seen Des Barres go from a lower-middle class child in a one-parent home, to child actor to iconic rock star to actor and back again. Despite his rock-star cred, many know the 67-year-old only from one of his many acting roles, including on MacGyver, 21 Jump Street, WKRP in Cincinnati and countless other TV shows and movies. As Des Barres himself points out, there can't be many other men in history who have played a concert in front of a billion people, and also acted with Alf.
And while Weinstein allows Des Barres to tell the story - and what a story it is - the documentary is as much a redemption tale as biography. Spending his early years as an entertainer often under contract - including a famed deal with Led Zepplin - Des Barres became more well known for his rock star party lifestyle than for his music, as he consumed as much cocaine as his wiry body would allow. In fact, Des Barres' biggest hit as a song writer - "Obsession" - was written about his obsession with drugs.
Leaving his first wife for famed rock groupie Pamela Des Barres, the chaos continued. In 1981, just as it seemed drugs were preparing to win the battle against the boy from Sussex, Des Barres caught a glimpse of himself in a mirror. With vanity that far exceeded his addiction, he stopped drugs, cold turkey. Weinstein said it was that decision that not only kept his career alive, but kept him in the good graces of many of his old friends.
"A big part of the reason he's pulled it off was he got sober before everyone else," said Weinstein, 44. "A lot of people are still very fond of him."
Starting his career as a stand-up comedian and with a resume that includes being one of the originals of the Mystery Science Theater 3000 Theater cast, as well as being a writer and producer for the cult hit "Freaks & Geeks," at first blush Weinstein might appear an odd choice to chronicle the life of a notorious rock star. But Weinstein - who recovered from kidney cancer in 2014 - said there had long been a part of him that felt connected with Des Barres.
"We both spent our life in show business. I started doing stand up at 15," said Weinstein, who made his directorial debut with the film. "Like me, he's at his happiest when he's creating something. I mean, the guy did his best album ("Key to the Universe") at 65."
What helped make Des Barres even more fascinating to Weinstein was his kindness and interest in other people.
"Narcissistic brings out a bad connotation, but he is somewhat self-absorbed. It's part of his personality," said Weinstein, born and raised in Minneapolis, Minn. "But he is also absolutely generous wih the attention he gives other people, no matter their station in life.
"He'll tell you this amazing story & then say, and what about you, tell me about you? He's a junkie for moments. Him & another individual, an audience, a TV camera. He's always searching for the moment. He will always make someone feel like a star," said Weinstein.
"Michael Des Barres: Who Do You Want Me to Be?" is still in search of a distributor, but for Weinstein, the film has begun a new chapter in his life a director. Currently working on his second film, about stand-up comedy in Asia, Weinstein says he is only happy when he's making something.
"I've been a head writer and I've always enjoyed being in charge," laughed Weinstein. "There's a lot of control freak in me. It's not that I don't like collaboration it's just that I think I'm right, all the time."
In the end, "Michael Des Barres: Who Do You Want Me to Be?" is a triumphant directorial debut for Weinstein. He wisely gets out of the way and allows Des Barres and a cadre of his hyper-famous friends discuss an iconic time and an iconic entertainer. The end result is not just an opportunity to look back at a time of sex, drugs and rock & roll, but a chance to see the true redemption story that is Michael des Barres.
Michael Des Barres: Who Do You Want Me to Be?
Web Site:  www.mdbmovie.com
Screenings
--WKW