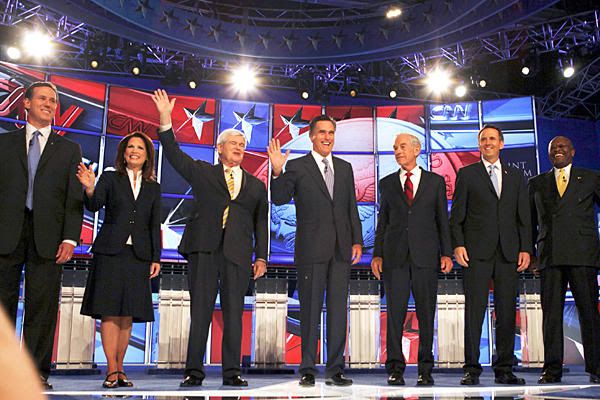 Nope. No future Presidents here.
News
Unemployment: That summer job just isn't there anymore.
Now You See it ... : Ok, we lost $6 billion or so in cash in Iraq. Soon, this could really start adding up.
Mexico: The Second Amendment means Mexico gets to have our guns as well.
Iraq: Death.
Yemen: Pre-death planning.
Libya: Death. But not Gadhafi's yet.
A Boot for Berlusconi: Silvio Berlusconi's reign of power is crumbling rapidly.
Vaccines: Bill Gates and others put their money on the table to vaccinate poor children.
Tweetable
"Tim Pawlenty is ready to take on ANYONE! Provided they aren't standing near him."
Blogs
AdamSmith.org: Happy birthday, Adam Smith.
Steve Benen: The most egregious of claims at the GOP debate.
David Mixner: Openly gay former NBA basketball player, entrepreneur and all around good guy John Amaechi has been awarded the Order of the British Empire by Queen Elizabeth II.
Finally
Here's hoping the great Clarence Clemons recovers from his recent stroke.
--WKW
Crossposted at William K. Wolfrum Chronicles

516 reads
In the News
Build(ing) a Supercomputer Replica of the Human Brain

Even by the standards of the TED conference, Henry Markram's 2009 TEDGlobal talk was a mind-bender. He took the stage of the Oxford Playhouse, clad in the requisite dress shirt and blue jeans, and announced a plan that—if it panned out—would deliver a fully sentient hologram within a decade. He dedicated himself to wiping out all mental disorders and creating a self-aware artificial intelligence. And the South African–born neuroscientist pronounced that he would accomplish all this through an insanely ambitious attempt to build a complete model of a human brain—from synapses to hemispheres—and simulate it on a supercomputer. Markram was proposing a project that has bedeviled AI researchers for decades, that most had presumed was impossible. He wanted...

Obama: There's no longer time for excuses for black men

By Aamer Madhani, USA Today, May 19, 2013

President Obama on Sunday told the graduating class at Morehouse College, the country's pre-eminent historically black college, there is "no time for excuses" for this generation of African-American men and that it was time for their generation to step up professionally and in their personal lives.

[....] The president connected his own path to the White House to the work of King and other African-American leaders of that generation. But Obama also conceded that at times as a young man he wrongly blamed his own failings "as just another example of the world trying to keep a black man down."

"We've got no time for excuses — not because the bitter legacies...