Recent scientific polling has shown differences between the sexes that can't be explained away by "nurture" vs. "nature" justifications or social upbringing. As this scores new technology that's never been used before, for entirely different benign effect, the resistance of women to its charms lends credence to a fully genetic model of inherited differences between the sexes.
As prelude (or foreplay, if you insist) to the rest of the analysis, the results first: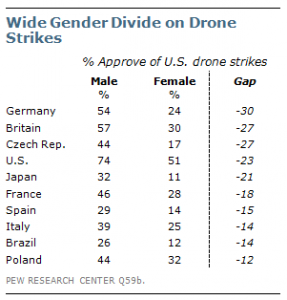 Since the drone wasn't even invented until recent times, and the average person has never experienced a drone strike personally, the fact that men "get it" and women don't (or at least to a much lesser extent) lends support to the theory of different pre-programmed cognitive & behavioral abilities.
As the Latino countries and Japan have distinctly more feminine characteristics (who else plays so much with flowers, midget trees and fish ponds that aren't fished in), the study also intriguingly lends insight in the long mysterious androgenous factors of our makeup (genetic, not the other kind). The Anglo-Germanic branch of civilization, long focused on preserving gender identity as well as military rites, appears to be holding up well, while the rest of the world seems to be "sinking faster than the price of a Gucci sweater post-Christmas sale".
Encouraged by results, polling scientists are planning new more inclusive worldwide studies, providing actual vs. placebo drone effects, responses in pre-industrial peoples (e.g. Arawak, Borneo & the Nuba peoples in Sudan), as well as further enticing questions to elucidate squeamish vs. tolerant attitudes towards modern technology.
One still puzzling question re: the modern drone, however, is how all male casualties have been official terrorists and militants, whereas most of the women and children killed apparently are non-violent. Several theories remain for this phenomenon, the most supported being the Stanley Kubrick "group of dumb male monkeys dancing and hooting around a large black monolith" theory. Or it may simply be that women aren't genetically programmed for higher functions of rashful mass-destruction and being in the wrong place at the wrong time (the "driving will being _ _ _ _ _ _ _" hereditary phenomenon).
Stay tuned for more scientific updates coming to you, such as "why drunken ugly college students still getting laid proves Darwin was an idiot"
Update: as seen from Hillary's successful attempts to co-opt military power into State, we can extend theories to note that genetic antipathy to programmed mass violence isn't whole hereditary, or the other theory being that she is a cold reptilian replicant who will one day be played by Charlize Theron.
2651 reads
In the News
Listen: Dead men tell no tales

Last May, a weird story made the news: the FBI killed a guy in Florida who was loosely linked to the Boston Marathon bombings. He was shot seven times in his living room by a federal agent. What really happened? Why was the FBI even in that room with him? A reporter spent six months looking into it, and she found that the FBI was doing a bunch of things that never made the news.

Paul Rayan "Poverty Is Due to Lazy Inner City Men...

Paul Ryan continues his outreach program to minorities by observing at poverty is a product of "lazy" inner city men. For grins, Ryan cites Charles Murray of " the Bell Curve" fame. Ryan is doubling down on his project to shame the poor.Last time the message was that children receiving free school lunches did not have the respect of their children. The GOP is working to replace the White Citizen's Councils of the past,

Civil War Revisionism :The Game Show

Jon Stewart, in classic parody, debunked FoxNews' judge Andrew Napolitano revisionist history of the Civil War. Stewart used a game show format with three Civil War historians to challenge Napolitano's assertions that slavery was burning out in the United States; that Lincoln could have purchased the slaves and other myths.

The video is great.

The Risk of High-Protein Diets

By Kevin Helliker, Wall Street Journal, March 11, 2014

Research shows that a diet high in protein and low in carbohydrates can help shed pounds and normalize blood-glucose levels, improvements that lower the risk of diabetes and cardiovascular disease.

But will you live longer on a high-protein, low-carb diet? Two studies in the current edition of the scientific journal Cell Metabolism suggest the opposite. One involved an experiment conducted on mice, the other an 18-year study of humans who had divulged their dietary habits. Both studies found a strong association between longevity and a low-protein, high-carbohydrate diet, although...