Came across this little tidbit in Huffington. Seems that the Stocks in socialized countries do much better that those here.

American traders aren't likely to take kindly to the suggestion that big government might be good for the stock market. But data from a paper on the job- and income-growth of top earners shows that stock prices in some socialized countries, relative to themselves and adjusted for inflation, have done considerably better than those in the U.S over the last two and a half decades.

Specifically, during the twenty five years after Ronald Reagan took office -- a pro-market honeymoon that Ryan Chittum of the Columbia Journalism Review this week termed "the ascent of laissez-faire economic policies" -- French stock prices have performed significantly better than Americans ones, according to the report by Jon Bakija, Adam Cole, and Bradley Heim.

A further examination of the 39-year period extending from the end of the Nixon administration until 2008 shows the Swedish economy, known for its high taxes and heavy regulation, growing at a significantly higher rate than the US.
Well like Gomer Pyle would say...Surprise ! Surprise ! And this chart gives a pretty good representation of this.
The graph below illustrates the annualised sharemarket returns for several major economies for the 39 year period ending 31 December 2008.
According to Jacob Funk Kirkegaard, a research fellow specializing in European economies at the Peterson Institute for International Economics, the disparity between the American and European markets might have more to do with the period in question than governmental forces.

"In 1981, [Francois] Mitterand was elected president of France, and the first thing he did was to nationalize a bunch of French businesses and most of the banking system," Kirkegaard explained. "But going forward, France has moved quite dramatically towards a market-oriented economy, though not anywhere near the scope of market and economic freedom as perceived in the U.S."
And seeing is believing.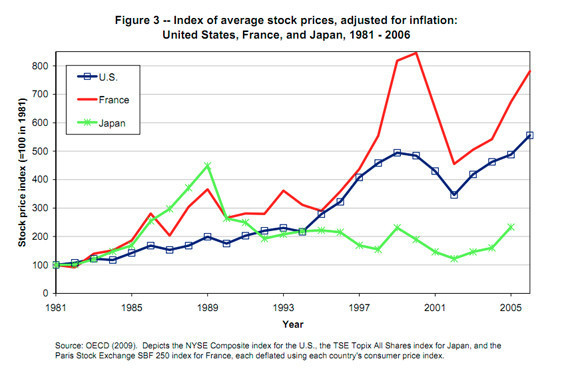 You can download the pdf of the report here. It's pretty long but the Columbia Journalism Review has a good summery of it.
First, applaud the fact that the authors adjusted stock prices for inflation. That's almost never done. They did it here by prices for each respective country.

The authors cut off the stock chart at 2006 because that coincides with the tax data they were studying. Since then, the U.S. stock market has done a little less worse than French stocks. And it seems as if the researchers just used index averages and not dividends in their calculations, which could change the (while I can't seem to find historical data on French dividend yields, I'd guess they're at least comparable to American ones).

But the point is, the ascent of laissez-faire economic policies in the U.S. during the first quarter century following the Reagan Revolution wasn't enough to outdo French stocks, which faced the heavy hand of government.

Take it for what a single datapoint is worth, but it's interesting, non? You don't and won't hear much about this one in the American business press. And you don't even want to look at truly socialist Sweden's stock returns, which have outpaced even France's
And there you have it. The market does better in the socialist countries than it does here.
310 reads
In the News
I wonder what's in this heavy, shielded container...Oh...

Ok, ok, who among us has not driven past a front-loader waiting empty overnight and thought, "I wonder if they left the keys in that?" The same impulse to collect heavy equipment perhaps motivated the thieves who got an extra bonus when they van-jacked what looked like a nicely tricked out vehicle with a heavy lift platform....Pendajos!

Tuttle or Buttle? Spelling matters in Terruh

All those creepy Muslim organization names look the same to me, and in this case, a woman's foundation probably came within 2 letters of being a terror org - which is within 1 or 2 degrees of freedom, so Ban Her! She's a Witch!

Yes, the plot looks remarkably like Terry Gilliam's Brazil, except they haven't whisked her off to Gitmo (yet) to drill her teeth in an interrogation room.

But as a caveat to those who think metadata doesn't matter, yes, government fuckups have wings that fly far. History notes that government surveillance usually errs in ways beneficial to them, not in ways beneficial to the public or their targets. "Err on the side of caution" doesn't bode well for this lady's rights, and as is typical, the government doesn...

Pope Francis to establish child protection commission in...

By Paddy Agnew, Irish Times, Dec. 6, 2013

In a surprise move, the Holy See yesterday announced that Pope Francis is to assemble a panel of experts to advise him on the problem of clerical sex abuse. This Vatican Child Protection Commission represents arguably the first concrete proposal to emerge from the so-called "G8" Council of Cardinals who have been meeting with the pope in Rome this week.

Originally appointed in April by Pope Francis to help him both govern and reform the Catholic Church, the G8 council is only now getting down to serious work [....]

As far as the composition of the commission's panel of experts goes, it seems likely that the...

Suicide bomber, gunmen kill 52 at Yemeni defense ministry

By Mohammed Ghobari in Sanaa, Reuters, Dec. 5, 2013 (WITH VIDEO)

A suicide bomber and gunmen wearing army uniforms attacked Yemen's defense ministry on Thursday, killing 52 people including foreign medical staff, government sources said, in the country's worst militant assault in 18 months.

One attacker drove a car packed with explosives into the gate of the ministry's compound, then gunmen in another vehicle sped in and opened fire on soldiers and doctors and nurses working at a hospital inside, witnesses told Reuters.

The U.S. military raised its alert status in the region after the coordinated strikes...