By Donal on Thu, 11/17/2011 - 11:12pm | Sports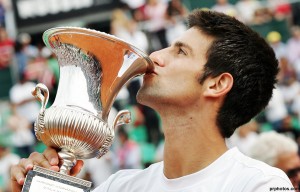 In two days the top eight male tennis professionals will play in the Barclay's ATP World Tour Finals in London. The tournament is organized much like the WTA Championship in Istanbul. There are two groups of four players, who play each other. Whoever has the best record and second best record in each group are seeded into the single-elimination semifinals. Number and percentages of matches, sets and games won all count towards breaking ties - which is supposed to discourage less than stellar efforts by making no match entirely meaningless.
Djokovic, Murray, Ferrer and Berdych are in one group. Nadal, Federer, Tsonga and Fish are in the other. I'm picking Federer on form, and because Barclay's is played on indoor hard court, which was an advantage for Kvitova, and the other hard hitters a few weeks ago. I also think Djokovic has to be rusty having only played six matches since the US Open, and has to have lost some confidence after several recent losses and his withdrawal from Paris BNP Masters. Nadal also withdrew from Paris, and even lost to Andy Murray in Tokyo. We'll see.
I knew Novak Djokovic and Mardy Fish had lost a fair amount of weight on their low-gluten diets, and it seems that Andy Murray has joined them. Djokovic and Fish clearly got faster, Murray says he just feels fresher in the mornings. I presume the other guys are still eating glutens, but who knows?
Djokovic is in an interesting spot. For most of the year he won everything he entered, except Roland Garros, but in the last few months, he's pulled out of a lot of matches with that shoulder/arm injury. He won so much last year, that he goes into the new year with a ton of points to defend. If he's not healthy enough to win deep into those tournaments, his #1 ranking will soon return to Nadal. (Damn, we're in a tight spot!)
I was wondering if his diet, and the increased court speed that resulted, led him to overtax his musculature. He gained speed and confidence, but I've never heard that low-gluten adds muscle. So he ran down a lot more shots, played a lot more matches and, after a while, put a lot more stress on his supple, but slender, frame.
I'm sure Djokovic relishes every 2011 title, but for 2012 he might have been well-advised to skip a few tournaments here and there.