By Donal on Wed, 06/29/2011 - 1:54pm | Sports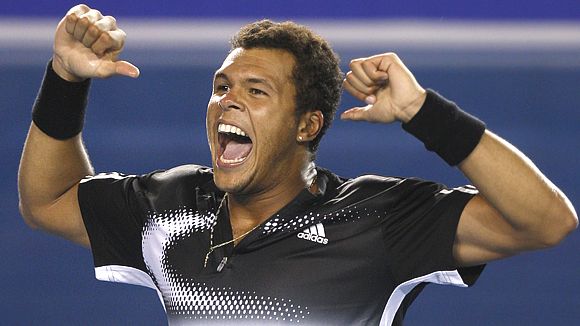 Jo-Wilfried Tsonga -his father was Congolese but no one questions his French citizenship.
This morning, I assumed that all four top seeds, Rafael Nadal, Novak Djokovic, Roger Federer and Andy Murray would advance, and that the real question was who would be pushed the hardest. Except for Bernard Tomic, I thought the underdogs might take a set. There was at least a possibility that Tomic might be a new Becker, but I didn't see Fish, Tsonga or Lopez winning more than a set each.
For a while it looked like I was right. Bernard Tomic took the second set against Djokovic, and was up a break in the third. Meanwhile, French muscleman Jo-Wilfried Tsonga took Federer to a tiebreak in the second set, but fell behind early and was soon down by two sets. I thought Tsonga was toast, but then everything changed. In an excellent, nail-biting match, Djokovic came back to take the third and fourth sets to win 6-2, 3-6, 6-3, 7-5.
Tsonga broke early in the third - and he held on to win 6-4. Then he was up a break in the fourth - and he held on to win 6-4. Then he was up a break in the fifth. He beat Federer 3-6, 6-7, 6-4, 6-4, 6-4. In 2009, Tsonga did come back from a 1-5 third set deficit to beat Federer in the Rogers Cup, but to do it at Wimbledon is another thing altogether.
Murray beat Feliciano Lopez 6-3, 6-4, 6-4. Mardy Fish has taken the third set, but Nadal leads 6-3, 6-3, 5-7, 4-2 so it looks bad for the Lone American. But reaching the quarters is a great accomplishment for the 30 year old journeyman.
So Tsonga will play Djokovic and Murray will probably face Nadal in the semifinals.