By MrSmith1 on Fri, 03/04/2016 - 4:55pm |

Here's this week's heap of haikus:
The world passes by.
I look out my window and
imagine stories.
----
Where-ever I go,
I feel I am at home, which
is embarassing.
 
 
---

 
 
Obviously, she's
fishing for a compliment …
get me off the hook.
 
---
While the music played,
he tried to think of the words,
but his mind went blank.
---
Comfy and cozy
and wrapped in a patchwork quilt
she sipped some hot soup.
---
They said, 'He's a fool'
But he intrigued her, because …
she felt foolish too.
---
Gradual tea-bags
will just make your tea cozy,
make your tea-bags steep.
---
GOP debate-ku:
Confused conundrums,
thoroughly mixed metaphors,
twisted conclusions.
---
A rainy eve'ning
riding up First Avenue;
the U.N. floats by.
---
double haiku:
A herd of joggers
waiting for the light to change
bouncing up and down
When the light changes,
a pony-tailed tsunami
sweeps across the street.
---
What we wouldn't give
to know what lies ahead; To
see the big picture.
---
Trump leads all the polls,
Marco, Ted and Donald prove
that people are strange.
( The Doors )
---
As the zebra said,
"I've got stripes 'round my shoulders ...
Where's my checkered pants?"
( Johnny Cash )
---
 
I long to hold you,
though I guess that we're just friends
But you don't know me.

(Richard Manuel of The Band)
---

In spite of the cold,
a bird sits on a limb and
sings a song of Spring.
---

 The candidate spoke
for more than twenty minutes,
but convinced no-one.
---
You think I'm sexy?
You're horribly mistaken
or laughably right.
( Tiny Tim )
---
Order from chaos ...
My filthy laundry, Now clean
and neatly folded.
---
Shirts on a clothesline
their sleeves flapping in the breeze
like angry old men.
---

We're all united,
in the cause, "Us versus Them" ...
'til we define "Them."
---
He was so sleepy,
he spread the raspberry jam
on both toast and hand.

---
tanka haiku:

A man with a limp
quietly whistles on his
way to the bus stop.
    His halting steps belie the
    music he hears in his head.
 
 

---
 
 
Indulge your passion.
It's often what drives you to
exceed your limits.
 

---
 
 
Sometimes an echo
from a life you left behind,
catches up to you.
 

---

Success always stands
on the shoulders of failure.
Your next try may win.
 
 
Alternate version:

 
Success always stands
on the shoulders of failure.
Next time, don't wear shoes.

---
 
No aunts or uncles,
no cousins or grandparents;
lonely only child.
 

---
 
Fishing off the rocks,
the clear water lets me see
my worm tease the trout

---

 Whatever ends will
begin again; our journey
is but a circle.
 
 
 
---
 

His argyle socks
clashed with his herringbone suit
and polka dot tie.
---
Depressed optimists
will live for tomorrow, 'cuz
today really sucks.
 
 
 
---
 
An empty vase sits
on a cluttered office desk
waiting for roses.
---

Art has great power;
it can sing to our hearts, songs
our minds can not hear.
---

Lanterns on porches
keep lonely vigils; shining
till our hopes return
---
Sitting on my roof,
watching the moon peeking out,
from behind storm clouds.
 
 

---
 
 
When I'm all alone,
In my heart and in my mind,
You reverberate.
 
 
 
---
His mind still wanders
but knows not to stray too far
from the neighborhood.
 
---
Scampering puppies,
all excited and barking;
salve for our sadness.

---
Remember ... Thousands
of things will go RIGHT for you,
ev'ry single day.
---
He said, "I'm too old!"
but his youth returned to him
when he felt "the beat."

(A nearly 71 year old Fred Astaire busting a move at the 1970 Oscars)
****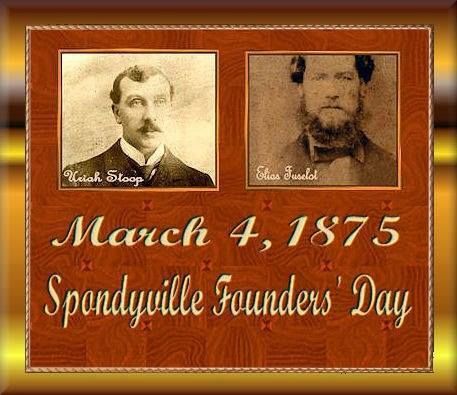 This Friday, March 4th, as I'm sure most of you know, is Founders' Day in Spondyville. Schools and town offices will be closed and the Founders' Day parade will begin at noon. The annual Find-a-penny walk will commence, as always, immediately following the parade.
Founders Day celebrates the day in 1875 when the wagon train carrying the original town settlers first set eyes on the land which is now Spondyville.
Cousins Uriah Stoop and Elias Fuselot organized a wagon train in November of 1874, leaving their hometown of Mud Flats in hopes of finding a better life for themselves and a band of their friends, all of whom suffered from what was then known as "the ossifyin' rheumatism."
The night before Founders' Day is, of course, the annual dinner honoring the wagon-master who helped guide the cousins and their friends to this utopia, Andrew Tripzen.
As the story goes, the day before they set eyes on the location which would become Spondyville, the wagon train paused at some beautiful cascading waters. Elias Fuselot jokingly suggested they name the waterfall after the man who had, more than once, saved their lives on the journey. When they officially christened the cascading waters, Andy Tripzen Falls, the laughter could be heard for miles.
This tradition of laughter has continued amongst Spondyvilleans to the present day.
P.S. Reminder: Friday is Spondyville Founders Day, therefore all town offices will be closed. The annual Founders' 2K Find-a-Dropped-Penny Walk will start, as always, at the Northeast corner of Ankylosinger Square immediately following the parade.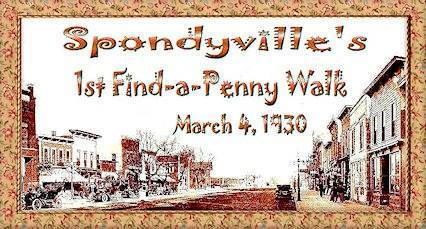 Less than six months after the stock market crash, March 4, 1930, they held the very first Founders Day Find-a-Penny Walk. The idea being that most of the town's residents had a stooped posture which meant they were already looking at the sidewalk a lot and that would make finding pennies easier. Unfortunately, the Walk was not a success, most likely because pennies were scarce and small fights broke out where-ever any penny was found. This led to a slew of arrests for disorderly conduct, and a lot of empty streets in the middle of town, as seen in this photo ... Nevertheless, the event became a tradition and last year's event accounted for a remarkable total of $311.57 worth of pennies being found (and collected, thanks to special penny grabbing devices). All pennies are then donated to local charities.  You can, of course, specify which charity to donate your pennies to by registering at the town hall prior to the event. Happy Penny Hunting!