By MrSmith1 on Fri, 03/18/2016 - 6:25pm |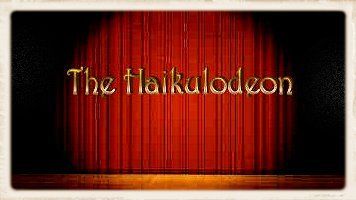 The curtain rises on this week's heap of haikus:
The other night, I was watching PBS, and they showed a wonderful documentary from 2013, entitled, "Broadway Musicals, a Jewish Legacy."   I found myself getting extremely emotional, even though I'm not Jewish.  Maybe something about the idea of stories of outsiders written by outsiders made me kvell.   Maybe I was being reminded of why I loved performing in musicals when I was young ( and mourning for how much I miss it. )   Maybe I've just become a weepy old man that cries easily.  Well, I wouldn't be the first Dagblogger to fit that description, now would I?  
Anyway, since, I have written here before about my love for musicals,  I felt it might be fun to explore the topic in today's Haikulodeon offering.   Have fun.     
.
double haiku:
 
Pricey velvet seats;
Orchestra, on the aisle ...
It's Broadway, baby!
The house lights dim, the
overture strikes up, and I
feel alive once more!
---
If you syncopate
a fascinatin' rhythm,
will you strike a chord?
 
---
Lovers speculate
how the world would be diff'rent
if their love were true.

 
---
I can't continue ...
Lost ticket to Paradise
Love nearly was mine.



---

 
My old aunt Eller,
sits alone, churning butter ...
Beautiful morning.

---


 

I was unaware,
lonesome;  didn't have a clue
until there was you
---
Fish gotta swim, and
birds gotta fly, I can't help
lovin' whom I love.
---
We have never met,
just written to each other
Will he know my heart?
---

My heart's so full
of you, there is just no room
for anything else. 
---
When your world crumbles
and it looks as though all is lost ....
Glitter and be gay
---
We're one hand, one heart
Our journey has joined, our paths
now interwoven.
---
Not just for an hour
I'll be loving you always
That's when I'll be there
---
When there's outrage and
Tyranny oppresses you ...
Make them hear you!
---
Anger for Revenge!
Will subside without a plan,
Welcome, Sweeney Todd!
---
Strong belief systems
can overcome innocence
Surprising results!
---
I saw everything!
I was someone in a tree.
History observed.
----
To close on a bit of a sad note, I woke up to read that actor Larry Drake had died.  I think it was our mutual friend, Charles Averill, that first introduced me to Larry Drake when we were all in Oklahoma attending college in the late 60's / early 70's.    Larry was a big guy, but gentle and funny. When I briefly attended Graduate School at the University of Oklahoma (It think it was either the fall of '73 or '74 ... ), Larry and I performed in the musical Oklahoma together. I played the peddler, Ali Hakim (The part Eddie Albert played in the movie) and Larry played Jud Fry (Rod Steiger in the movie.) I used to watch Larry do his solo song, "Lonely Room", every night, and for the first time realized the part was more complex than simply being the villain who sets the plot in motion. Larry made me feel such empathy for this poor farmhand, who wanted everything that Curly wanted, and yet, because he wasn't handsome or as polished and well-mannered as Curly, was denied what his heart desired.
Larry had great stage presence and so it was no surprise when I heard he got the part on LA Law, another part to which Larry brought great tenderness and one that enabled a lot of people to see a developmentally challenged person as a real, 3-dimensional human being, with all the flaws and challenges and triumphs they encounter as they go through life . Larry won two well-deserved Emmys for that part.
I have known so many remarkable people in my life. What a blessing it has been. RIP Larry Drake.
****
Sorry, I will clean all this up later.
P.S"    In honor of St. Patrick's Day ... "I'll take you home again, Kathleen" sung by Josef Locke:
 
^^^^