By NCD on Fri, 08/09/2019 - 12:17pm |
President Trump and his wife Melania and their personal White House staff are empty self absorbed shells of human beings. Robots could provide more empathy. How to describe the first family? No self awareness, no compassion, no recognition of others emotions or loss,  unable to offer sincere condolences,  no feelings for the loss suffered by the infant they hold.  Who but a Trump would grin widely and give a thumbs up, while his also grinning wife holds an injured recently orphaned infant in a hospital? And then publish the photo on the First Ladies twitter? What kind of person does that? Did Trump see this as a personal "win", as all 8 other wounded victims still in the hospital declined to see him?
On a visit to El Paso this week, the president flashed a thumbs-up when posing with the two-month-old, whose parents Andre and Jordan Anchondo were shot dead last Saturday. When the picture was posted on the first lady's Twitter account on Thursday, it prompted outrage.    UK Guardian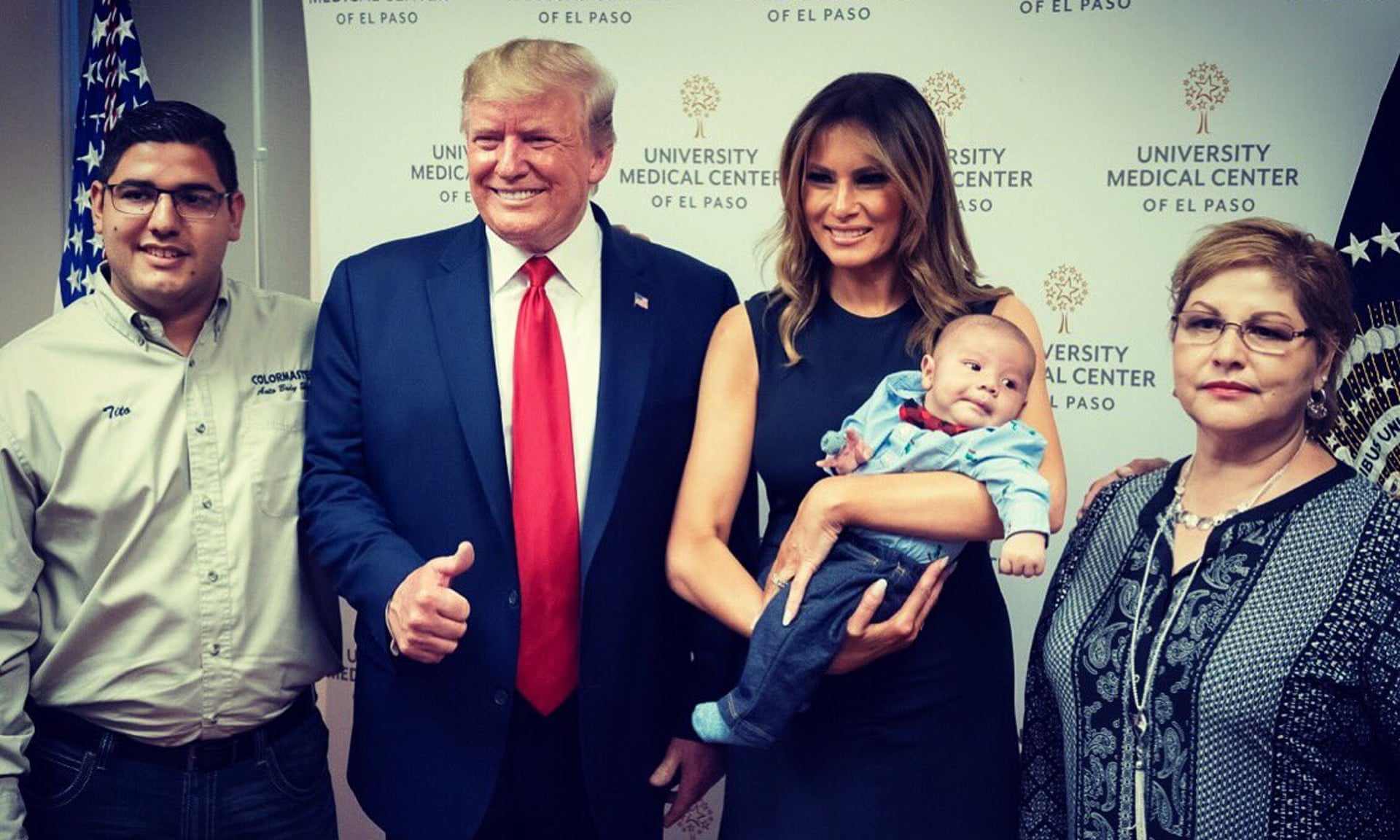 The baby's step dad tried to shield his wife and baby by stepping between them and the gunman.  He was killed instantly by one high velocity assault weapon round.
The round went right through the dad and then killed his wife.
AK-47's and knockoffs are ballistically designed to kill people, quickly and in large numbers. They have a killing range of 1000 yards, (not feet). Rounds fired can keep killing after penetrating people, wood, metal doors, building structure and vehicles. They are absolutely the worst weapon to use for self defense, unless you are on a battlefield.
The picture above displays the Trump's blithely unaware vain and self-obsessed behavior.  So inappropriate. And the photo is broadcast by the White House on twitter.
The Trump's also display key characteristics of sociopaths:
Superficial charm.
Manipulative and exploitive. They see self-serving behaviors as normal.
Grandiose sense of oneself
Pathological lying
Lack of remorse, shame or guilt