While most of Conservative U.S. has blown three or four fuses because U.S. President Barack Obama bowed in Japan (every time a President bows, a nuclear bomb dies), they seemed to miss an even greater bow to the Japanese by Political Super-Gadfly Sarah Palin.
Palin was recently the cover story for Newsweek - which cunningly saved time, money and effort by using the same photo used by Runners World. While the original photo caused controversy due to Palin's using the American flag as an armrest, if you look lower in the photo, you see Palin's shoes - ASICS Gel Nimbus running shoes.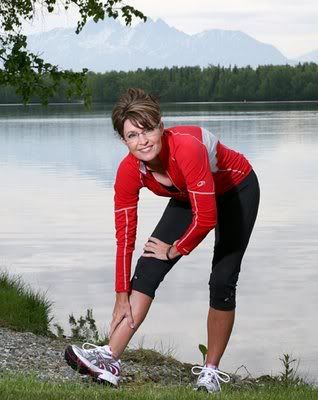 Yes, the America-First, -last, and -always Palin is promoting Japanese shoes. And not just in one major magazine, but two. Better yet, Palin was wearing the ASICS shoes just a couple weeks before ASICS won Runner's World "Shoe of the Year."
The madcap duo that is Martin Eisenstadt stumbled across this, and had this to say:
Follow the money. Is Sarah on ASICS' payroll as a sponsor? Is that why she did the Runners World photo shoot in the first place (which at the time struck me as bizarre anyway). Was she paid by ASICS while she was still governor? Remember, she only made $1.5 mil from the book deal - she must have gotten money elsewhere to make it worth her while to quit being governor. And through Todd and the snowmobiling thing, she's no stranger to sports sponsorship.
So, it's quite possible that Sarah Palin quit working for the people of Alaska so that she could work for a Japanese shoe company. Maybe she's a typical politician, after all? I'm sure she discusses it in her book.
Of course, while Palin is apparently doing her best to stimulate non-U.S. economies, she has done well for at least one Alaskan resident, photographer Bryan Adams. Adams scored an impressive double, as he shot the Runners World/Newsweek photos - as well as taking photos of a well-clothed Levi Johnston a few months earlier.
–WKW