By William K. Wolfrum on Wed, 10/20/2010 - 8:45am | Health
"My story begins on a cold February morning, in the shower. I felt a small, hard lump above the nipple on my left breast. I quickly stopped feeling for it and went on with the day I had planned. The next day, and the one after that, and the one after that, it was still there.

A week later I happened to have an appointment for my annual physical. I mentioned it to my doctor. As she was examining me, her lips were saying 'I'm sure it's nothing to worry about' but her eyes told me something else."
In Sept. 2009, Christal Ratliff caught her husband checking out some pictures of women on MySpace. Not to be outdone, Ratliff and friend Veronica Seimet decided to post some provocative pictures of themselves to tease him.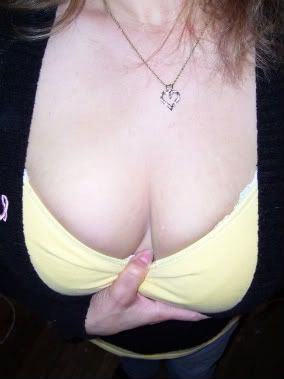 But sometimes simple things can lead to much more. For Ratliff and Seimet, the photos ended up launching "Boobie Wednesday," an online effort to help enlighten women about breast cancer and encourage self-examinations.
"A friend told us we should do something more than what we were doing and my Kid's aunt had just been diagnosed with breast cancer,| said Seimet, 39. "We started doing it for all those people that don't know how to self exam, are afraid to self exam, and for the ones who have found a lump and were too scared to do anything about it. The survivors we have met make it even more important for us to do it."
Using Twitter to help get the word out, Seimet and Ratliff have slowly built up an army of supporters worldwide.
"We actually have to start Boobie Wednesday posts on Tuesday because of the Australian time difference,"said Seimet. "We have had some actors/actresses tweet about Boobie Wednesday and the over all response from people is amazing. We are only as strong as our followers, and they are amazing."
With October designated as National Breast Cancer Awareness Month, the girls at Boobie Wednesday have found their plates full with more followers. Followers are encouraged to post photos of their own breasts or chests in their Twitter avatars to help promote the cause.
"I support Boobie Wednesday weekly by changing my avatar and bearing my cleavage for all to see," said @WookiesGirl, a supporter who also volunteers time for the Boobie Wednesday cause. "I'm proud of my breasts. Displaying them is my way of giving back and showing my support to the wonderful women in my life that have fought and are currently fighting this disease. I commend the men and women who also support this cause weekly."
And while the Boobie Wednesday phenomenon may seem that it's a girl's club, Seimet and Ratliff have made it clear that they want men on their side, as well, both for support and to check for lumps themselves.
"We have had men that have as well because of Boobie Wednesday,"said Seimet. "We have had people find lumps, see a doctor, had a mammogram and thank us because of the weekly reminder we put up."
More than anything, however, Seimet and Ratliff have made the effort to take the serious subject of breast cancer and turn it fun, flirty and sexy. Because while Boobie Wednesday focuses on Awareness, as well as all other areas of breast cancer, this isn't your grandmother's type of advocacy. For her part, Seimet isn't afraid to showcase her 36ddd chest to catch people's eye.
And while Boobie Wednesday has it's detractors ("its possible that #boobiewednesday is the most crass, tasteless, & generally offensive thing yet 2 appear on twttr.") the girls don't seem to mind, and continue to make Breast Cancer Awareness a more open topic with contests, cheekiness, and, of course, Boobies.
"With all the fear surrounding the subject we wanted to make it something people wanted to talk about, something that made it easy to educate with, and it got men's attention so we could tell them that they could have breast cancer as well," said Seimet.
To Learn More
–WKW
Crossposted at William K. Wolfrum Chronicles