By William K. Wolfrum on Thu, 12/02/2010 - 7:40am | Politics, Humor & Satire, Media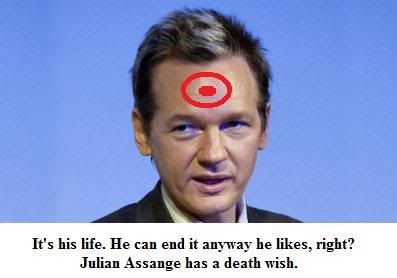 Much has been said about Julian Assange and Wikileaks. The Australian-born hacker has put America in grave danger due to his publication of classified information that someone else stole.
And he must die.
Yes, my friends, Assange is yet another person that America must kill in order to be the country it needs to be – a country that murders any that upset it. And now, before you start thinking I'm a blood-thirsty maniac, please note that many upstanding patriots agree with me:
"Why can't we use our various assets to harass, snatch or neutralize Julian Assange and his collaborators, wherever they are?" – Bill Kristol.
"Why isn't Julian Assange dead?" – Jonah Goldberg.
"I won't think twice if Julian Assange meets the cold blade of an assassin." – Donald Douglas.
That Assange had the temerity to unleash classified documents that revealed secrets on how the U.S. kills people is a sin beyond imagination. The Australian "journalist" must be tortured, killed, revived, then tortured and killed again.
But let us not think that the United States of America can rest after murdering Assange. No, that is not what America is about. We need to use the eventual Assange murder as a springboard to murdering all others who may constitute a threat to the United States, including:
My friends, America has long hamstrung by such things as "laws." The time to follow these silly, cowardly "laws" is long behind us. Now is the time to lash out wildly against anyone that doesn't believe America is No. 1.
Only by raining death and torture on all enemies of the state – real or perceived – can this country be whole again. We must kill Julian Assange.
For starters.
–WKW
Crossposted at William K. Wolfrum Chronicles