By William K. Wolfrum on Mon, 11/30/2009 - 1:39pm | Arts & Entertainment, Health
After a lifetime of being casual about her appearance, Candy Finnigan - one of three Interventionists on the hit Reality show "Intervention" (which debuts its new season tonight on A&E, Nov. 30 8/9c) - has learned that fame can make you change your perspective.
"The other day, a friend showed me that someone took a picture of me at the airport and put it on their Facebook page," said Candy Finnigan. "I guess no more running to Ralphs in my pajamas for me."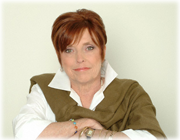 Things weren't supposed to turn out this way for Candy Finnigan. Coming from a well-to-do family in Vermont, Finnigan went to school at the University of Kansas, where she met, fell in love with, and eventually married Mike Finnigan, a 6-foot-5 basketball star, and as Candy said "The big man on campus. I always liked the jocks, and he was cute, too. He still is."
The opening years of the Finnigan's marriage kept Candy's roll going. Mike quickly went on to become an in-demand and well-respected musician, playing with the likes of Jimi Hendrix and Etta James.
With two children and a husband who had become a successful musician, all seemed right for Candy Finnigan. But still, her drinking continued to accelerate. The Finnigans were a couple that liked to drinks, even as they studiously avoided the temptations that come with the musical industry. But as their marriage had advanced, so had their drinking and, both Finnigans had began to drink more and more. The word "divorce" came to mind for the first time for Candy.
While interventions were still a concept undergoing birth pangs, Candy got a one-person intervention that got her straight - from her Mother-in-law Evelyn Finnigan, who let Candy know she wouldn't allow her two grandchildren to grow up in an alcoholic househould.
"His mother spotted me first, and gave me a 60-day limit to get sober. Evelyn was adamant about the damage it would do to the kids." said Candy Finnigan, admitting she didn't get sober until day 56 of the time limit. "I am sober, thanks to God to Evelyn Finnigan. She stayed with me, when he first came home. Because it's really difficult to stay sober when one partner is still drinking."
While neither were ever sucked into the "music scene" Candy still found a way to drink at home while raising two kids, while Mike's drinking began to become part of his persona, "he was a great drunk," said Candy.
But nearly 13 weeks later, Mike joined his wife on the road to sobriety. "I was just terrified of living without drinking," said Mike Finnigan - also known in the political blogosphere as the man behind "Mike's Blog Round Up" at Crooks & Liars. But the two have been successful, with more than 22 years of sobriety each, in a marriage that spans four decades.
It was when the Finnigans' two children began getting older and more independent that Candy Finnigan started looking for a new challenge. Attending a class at UCLA with a friend was the key for Candy, and her experiences at UCLA ended with her receiving a certification in chemical dependency from UCLA. She then went on and completed her internship at Cedars-Sinai Hospital, where she worked in addiction services.
Of course, the journey to becoming a full-time Interventionist was a difficult one, as well. Told by her professor and mentor, Dr. Van Johnson that Interventions were no place for a woman, she just worked harder to gain his respect.
"I am so grateful he's the one who got to me first, because he really taught me it was God's work," said Candy Finnigan. "He would never let me do an Intervention because he didn't think it was the work of a woman, so I got my certification and went to work."
"She had a hard time because it was such a male-dominated area," said Mike Finnigan. "She had a tough time the first 7-8 years. But she's really good at what she does. Mainly it's just a tribute to her hard work and to her compassion. She was just one of a handful of women involved. But she never gave up."
Dr. Johnson - an Episcopalian priest who was doing ground-breaking work in regard to Interventions - warmed to Candy Finnigan and helped her solidify her beliefs in the Intervention process. When Finnigan received her doctorate and joked that people would have to call her a doctor, Dr. Johnson approached and her and said "not to us, you're not," with a wry smile.
Finnigan said her work with Intervention - while occasionally drawing embarrassing attention - has been a life-changing experience. And while after years of experience she has learned to always stay professional, she admits it's never easy.
"I cry every time," said Finnigan. "The most recent one I did was with someone who was a championship boxer and now lived on the street in a box. I sobbed during that."
While Finnigan has made her mark as a chemical dependency expert and Interventionist, she has always remembered the one important fact that got her to this position - she is an alcoholic.
"I have to be honest with you and tell you, I had a pretty good battle with my husband that over Thanksgiving that over my dead body would I serve wine with dinner for my daughter and her friend," relayed Candy Finnigan. "If they want to go out and drink, fine. But I get really uptight about it, and it's dumb. I just don't want the bottle sitting in the ice box tempting me, even after 23 years. Not that it as tempting as I make it, but just the principle."
Aware that not everyone can afford a professional Intervention on a family member or loved one, Candy Finnigan has a book out to make it easier. Titled "When Enough is Enough," the book gives readers a frank and honest look at how to tackle the needs of an intervention including personal, medical, psychiatric, financial, and legal issues involved.
" 'When Enough is Enough,' is a very easy read. It can really help you if you know of someone who needs an intervention, but you just cant' afford what you see us do on the show."
And in case you get the wrong opinion of Candy Finnigan - that she's a tough-as-nails taskmaster - just know this - if you agree to go to rehab, the last drink's on her.
"After I do an intervention on somebody, I always buy them their last drink," said Finnigan. "It's like they say, 'who goes to rehab sober?'"
Intervention Facts & Figures

More than 150,000 families of loved ones have applied to be on Intervention, but less than 150 have been featured.


Of the 138 people that have had an Intervention on the show, 117 have remained sober - a staggering statistic when compared to national rates.


There are 27 people that work on a show. Of those 27, only two are non-drinkers. While first admitting to be slightly offended by this, Candy Finnigan came around to see the sense it made. "If it was all recoverers doing it, nothing would ever get done."


It takes nearly five months from the time an applicant is accepted until the moment the intervention actually takes place.


The Rehab centers seen on Intervention are the show's biggest sponsors, offering their services for free. The person undergoing the Intervention process is not charged for any of the treatment.


This season, the seventh for Intervention, former lightwight boxing champion Rocky Lockeridge will be among those receiving help.


This season will also see Intervention hand out it first five-year chip to someone that received an intervention on the show.
Additional Reading
Mike Finnigan: Rocking out with the coolest man in Leftblogistan
–WKW