By William K. Wolfrum on Wed, 05/11/2011 - 8:22am | Potpourri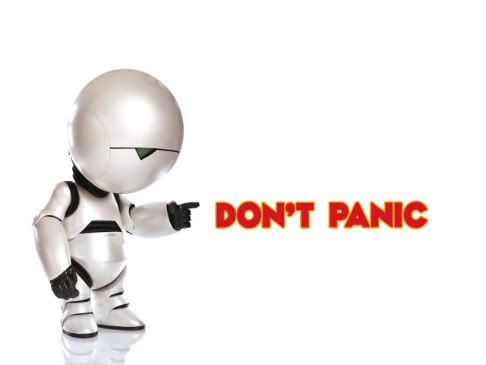 Thanks for all the fish, Douglas.
Wolfrum's Word
Douglas Adams died 10 years today. It was an incredible loss for his millions of fans, as well as the public in general. Because Adams was one of the first public figures to truly understand and embrace the Internet. Here's what he had to say in 1999:
Because the Internet is so new we still don't really understand what it is. We mistake it for a type of publishing or broadcasting, because that's what we're used to. So people complain that there's a lot of rubbish online, or that it's dominated by Americans, or that you can't necessarily trust what you read on the web. Imagine trying to apply any of those criticisms to what you hear on the telephone. Of course you can't 'trust' what people tell you on the web anymore than you can 'trust' what people tell you on megaphones, postcards or in restaurants. Working out the social politics of who you can trust and why is, quite literally, what a very large part of our brain has evolved to do. For some batty reason we turn off this natural scepticism when we see things in any medium which require a lot of work or resources to work in, or in which we can't easily answer back – like newspapers, television or granite. Hence 'carved in stone.' What should concern us is not that we can't take what we read on the internet on trust – of course you can't, it's just people talking – but that we ever got into the dangerous habit of believing what we read in the newspapers or saw on the TV – a mistake that no one who has met an actual journalist would ever make. One of the most important things you learn from the internet is that there is no 'them' out there. It's just an awful lot of 'us'
You are missed, Douglas. Hope you're enjoying the End of the Universe.
News
Free Money for Oil: Remember, if we stop flat-out handing oil companies billions of dollars, that's a tax hike. At least, that's how John Boehner and Republicans are trying to frame the giveaway to the world's most profitable industry.

Syria: Death & Violence.
No Plan in Indiana: Sorry, residents of Indiana, you don't get Planned Parenthood anymore, as Gov. Mitch Daniels shuts it down. A big victory in the Republicans War against Women.

Holy Gays and Lesbians!: Non-celibate gays and lesbians will become eligible for ordination in the Presbyterian Church.
Blogs
Progress Florida: "If making it harder to vote, gutting public schools, salary cuts for first responders and paving paradise were what Floridians wanted, Gov. Scott and this legislature deserve a standing ovation."
Intersection of Madness and Reality: Sarah Palin and Conservatives are not rap fans. Go figure.
There Will Be Cupcakes: Remembering Victoria Woodhull, a true trail blazer.
Vagabond Scholar: A polite media doesn't help anyone except the liars.
Finally
Not only did we lose Douglas Adams on this date, but Bob Marley, as well. Today is a day for remembrances. And Redemption.
--WKW
Crossposted at William K. Wolfrum Chronicles