By William K. Wolfrum on Tue, 06/07/2011 - 2:21pm | Sports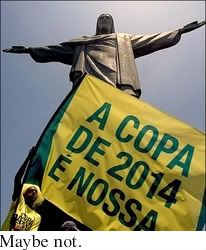 As Brazil readies itself for the ultimate one-two punch of international sporting events - the 2014 World Cup and the 2016 Summer Olympics - one thing has become increasingly clear - Brazil isn't even close to ready to host these two events.
Despite an economy that can be called "robust" in these troubled economic times, good old Brazilian bureaucracy is threatening both events, especially the World Cup, which will feature games throughout the nation. The problems lie with numerous stadiums being behind schedule for restoration - or for being built from scratch - as well as the monumental problem with air transportation in Brazil. From The Economist:
The 12 host cities have among them nine airport redevelopments which are well behind schedule. São Paulo has not even started to build the new stadium that is supposed to stage the opening match. In Rio de Janeiro the Maracanã stadium (pictured), pencilled in for the final, is a money-guzzling building site. The contract for Natal's proposed arena was signed only on April 15th—more than three years after Brazil was named host. Air travel is essential to shuttle fans between games, but most of Brazil's airports are already operating above their nominal capacity. Baggage handling and check-in are slow; delays and cancellations common. On April 14th IPEA, a government-linked think-tank, said that even if all the planned airport upgrades were completed by kick-off (which it said would not happen), hectic growth in local demand would still leave most airports overcrowded—even without 1m football fans stopping by. The number of internal flights taken annually rose by 83m in 2003-10 and will rise by almost as much again by 2014, the study said.
Keep in mind, Brazil's airline industry has been riddled with high-profile accidents over the past few years. Here's what I wrote about their airline industry for WorldGolf.com in 2007:
For Brazil, what this accident means is that it's time to put aside the bickering, name-calling, finger-pointing and inaction that dominates its political system. Now is the the time for serious, professional and concrete action. It will be an expensive proposition to update the air industry here, but it is something that must be done and be done thoroughly. Having the nation's military control the airline industry is obviously not working,especially when even more close calls are being reported just days after the horrifying accident. With nearly 400 lives lost in less than a year, Brazil is on the verge of becoming a complete pariah in the tourism world, which is something that will only further hurt the poor and hinder the consistent economic strides the nation has made over the past eon.
The stadium situation is even worse for Brazil. According to Brazilian magazine Veja, as of May, only 7.5% of the money put aside for building or renovating stadiums has been spent. At the current pace:
The National Stadium in Brasilia will be ready in Oct. 2021.
The Arena Amazonia in Manaus will be ready in April 2024.
The Estadio de Corinthians - a $700 million project - will never be done, as they have yet to start.
It is worth noting that virtually every nation that hosts major international sporting events gets behind on the work but eventually catches up. But in June 2011, Brazil is nightmarishly behind schedule, and catching up will require an incredible, and incredibly expensive effort. Remember, Brazil needs to be ready by 2013 in time for the Confederation Cup.
What does this all mean for Americans? Well, should the worst happen and FIFA pulls the World Cup from Brazil, the U.S. stands to gain the cup. The infrastructure is there and the airports are ready. Which is much, much more than Brazil can say at the moment.
--WKW
Crossposted at William K. Wolfrum Chronicles