By William K. Wolfrum on Wed, 04/27/2011 - 9:15am | Politics, Media
If President Barack Obama understood conspiracy theories, he wouldn't bother releasing a copy of his long-form birth certificate to placate Birthers. Because there's one thing you have to know about these types of conspiracies - facts just make them crazier and more loyal to the conspiracy.
But Obama has sent out copies of his birth certificate already: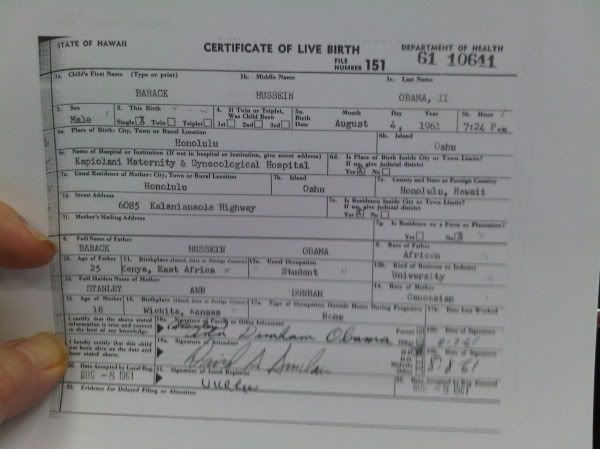 Will this be enough to stop the Birther madness? Of course not. After all, releasing this now is just the sort of thing a communist from Kenya would do.
--WKW
Crossposted at William K. Wolfrum Chronicles
In the News
House Democrats press forward with a bipartisan proposal to...

From NYT

House Democrats are pressing forward with a bipartisan proposal to create an independent commission to investigate the Jan. 6 Capitol attack, after reaching agreement with a key Republican to drop his party's demand that such an inquiry look into left-wing violence at racial justice protests.

The deal announced on Friday between Representative Bennie Thompson, Democrat of Mississippi and the chairman of the Homeland Security Committee, and Representative John Katko of New York, the panel's senior Republican, could break a partisan logjam that has persisted for months around the commission.

CDC Says Everybody Just Ditch Masks Indoors, Mostly

submitted by

NCD 4 days

ago

"If you are fully vaccinated, you are protected, and you can start doing the things that you stopped doing because of the pandemic," the C.D.C. said  ... Fauci: "We've got to liberalize the restrictions so people can feel like they're getting back to some normalcy," "You can't inhibit people from doing the things they want to do, which is one of the reasons they wanted to get vaccinated in the first place, because other people are not getting vaccinated," he added... " ... The move could raise alarms among more cautious Americans, who may be more reluctant to engage in public activities when more people are unmasked. There is no way to know who is vaccinated and who is not, and the majority of the population is not yet fully vaccinated. ...