By Elusive Trope on Thu, 08/18/2011 - 3:57am |
While responding to a comment on another thread, I was reminded of a moment during the 1968 Olympics in Mexico City.  I wasn't quite 4 years old when it happened.  I know I was watching with my parents and my older brother, but I have no memory of it.  Yet I also don't remember not knowing about it.  Somehow it has been seared into my consciousness.  In terms of longevity over the years, there is probably no other incident that has caused more intense debate than this one.
If there was ever a moment that shows people's true colors it is this one.
But probably the next Olympics was the most impactful.  I was not quite eight when I saw these images: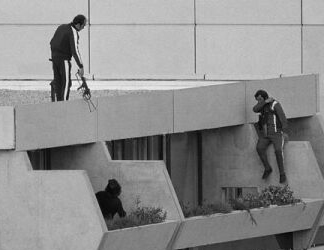 If you want to understand my generation's emotional reaction to Israel, one has to understand the impact of this event.  Aside from the hearing investigating Nixon interrupting my cartoons after school, this is the first time the real world (as opposed to watching historical footage of, say, concentration camp victims being bulldozed into mass graves) imposed itself on my isolated middle class and privileged life.
For a long time Israel was those athletes.  Those who wanted to harm Isreal....murderous thugs in stocking caps.
And life goes on. 
To the 1976 Olympics...
During our bicentennial...
We had Bruce.
Bruce! Bruce! Bruce!
(to indicate the amount of respect Bruce has with me as a result of his victory when I was not quite 12, I will not mention the reality show...)
And the world had...
Nadia.
Nadia Comaneci.
Perfection.
Even Americans thought so.
Reagan is credited with the fall of the Berlin Wall.  He owes it all to her in my opinion.
Then...four years later...the Miracle.
Even me, the little teenager anarchist doing the blitzkrieg bop celebrated.
Yet four years later
From that point it was all downhill to...
Yet the Olympics has given me the true one, the one that must remember as the greatest of the greats, the god among gods, the athlete for whom all athletes pale in comparison, the hunk of hunks, what I as a young boy understood to be the ultimate example of the pinnacle of manhood
Thank you Olympics for making me the person (and man) who I am.