Originally posted Feb. 23, 2009 at William K. Wolfrum Chronicles.
Sitting in a hotel in Rio, but one thought dominates discussion in the barren landscape of my mind: What the hell was I thinking?
Yes, as the clock ticks down toward our first foray into the fabulous, otherworldy, high-octane, mystical, eclectic, surreal, ornate, beautiful, indescribable world of Carnival, the fear and trepidation has begun. The thought that I will be taking center stage at an event that's like Christmas and the day of your birth combined has led to a nervousness likely only caused by stage fright. heck, the most popular TV station in Brazil didn't televise the Oscars, so not to interrupt the Carnival activities. But maybe I'm also nervous due to the fact that I still Samba like Gringo McGringo, the gringoiest gringo in Gringslavia. So there's that. And a little stage fright, sure.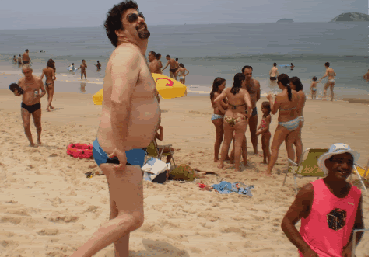 But there's still a frustrated entertainer inside me, as there is with my wife, which has led us to such adventures as cheating our way to victory in front of 1,000 people on a "Newlywed Game" show on a cruise. I've also done some radio work and announcing and been in front of a camera for a variety of things. Basically, I dabble enough so that my performing itch is scratched. Maybe some day I'll be in a nice community play. Of course, what I'll be doing Monday night will be in front of the biggest crowd I'll ever be in front of and broadcast to hundreds of millions. I know I won't be the main focus, of course. At least I hope not. Because that would be a serious burn.
My Mom could have done it. I say this with confidence as she was the type who could cobble something together for any occasion. I also learned that I had told a lie against her. After proclaiming her a bad dancer (which she was from what I witnessed), I learned she could dance the polka like no one's business. Keep in mind, she grew in the 1940s and 50s, to a very Croatian family in Pittsburgh. So her being able to polka well was impressive. It's nice to still learn nice things like that about your Mom.
But my Mom wasn't big on being in the limelight. She was happy directing things off screen. One funny quirk she always had was how she would get off the phone: "Well, I should be going. I don't want you to run up your phone bill. I've go some clothes in the warsh." For some reason, she always felt weird hanging up first, I think. Better yet, when she started to use e-mail, she'd end he messages with "Well, I should be going. I don't want to keep you."
But while she was more at ease behind the scenes, she also took part in a cancer walk in California and was a great host at the bone marrow drive we held for her. She would have thrived being part of a samba school in front of thousands of happy people. She truly liked when people were happy. Plus, her competitive spirit – which was powerful and meant she'd never just let anyone win, ever – would translate into her doing well in an atmosphere like here in Rio.


So, in roughly 10 hours, the great Carnival Project for Emilia and Bill reaches it's climactic moment. I sure hope no one watches me. I hope I can get through this without costing the Imperatriz school any points. But while I'm nervous, I'm excited in knowing we'll have an amazing time.
Well, I should be going. I don't want to keep you.
–WKW
See Also:
Samba Bill and the Road to Carnival, Part 1
Samba Bill and the Road to Carnival, Part 2
Samba Bill and the Road to Carnival, Part 3
495 reads
In the News
Congress defies White House with new round of Iran sanctions

By Julian Pecquet, The Hill, May 18, 2013

Congress is ramping up a new round of sanctions against Iran, ignoring the Obama administration's request to let diplomacy run its course.

In back-to-back hearings this week, lawmakers on key House and Senate panels put the State and Treasury departments on notice that their patience is wearing thin after the latest round of talks last month failed to produce a deal. Both chambers have legislative efforts in the works – the House foreign affairs panel will vote next week – but the administration is warning against any moves that could undermine international support for the existing sanctions against Iran's alleged nuclear weapons program [....]

From Fearsome Predator to Man's Best Friend (dogs may have...

By Carl Zimmer, New York Times/Science, May 16/17, 2013

An article that summarizes the recent work of Ya-Ping Zhang, a geneticist at the Chinese Academy of Sciences, who has led an international network of scientists who have compared pieces of DNA from different canines which is pointing to the theory that dogs domesticated themselves.

But the article's message is not just what it first appears to be. When you get to the concluding paragraphs there are some real though provokers:

[....] SLC6A4 may have played a crucial part in this change, because serotonin influences aggression.

To test these ideas,...