Let us remember.
New
Memorial Day: David Blight takes a look at how it all started. Also, take a look at CNN's Home & Away presentation.
Obama in Joplin: President amazed by destruction as death toll climbs to 142.
Afghanistan: Death. And NATO's apologies.
Entertainment/Sports
Sean Kingston: Music stars give injured singer the good words.
Buckeyed: Jim Tressel sneaks away from the Ohio State football program.
Rampaged: Rampage Jackson beats Matt Hamill. Quite easily, actually.
Blogs
Oliver Willis: Guess who needs her hand for notes again? Go on, guess.
Steve Benen: Tim Pawlenty thinks Obama's a "doofus?" How Presidential.
Hammer of Truth: Remembering all the fallen this Memorial Day.
Finally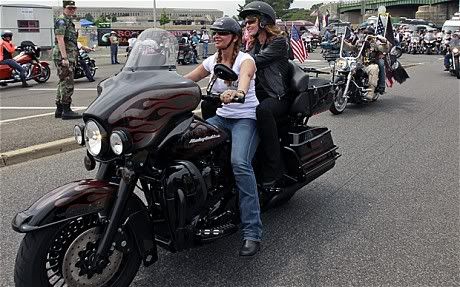 Taking some time off pretending to be a presidential candidate, Sarah Palin pretends to be a biker.
–WKW
Crossposted at William K. Wolfrum Chronicles

460 reads
In the News
I-5 bridge collapses over Skagit River near Mount Vernon;...

A bridge collapsed over Skagit River tonight near Mount Vernon. This was on Interstate 5 both north bound and south bound, four lanes total. No word yet on how many cars went into the water. This is so sad. How many of these will we have to have before we start financing infrastructure? Most of our bridges are in sad shape.

Utilities for dummies: How they work and why that needs to...

There's very little public discussion of utilities or utility regulations, especially relative to sexier topics like fracking or electric cars. That's mainly because the subject is excruciatingly boring, a thicket of obscure institutions and processes, opaque jargon, and acronyms out the wazoo. Whether PURPA allows IOUs to customize RFPs for low-carbon QFs is actually quite important, but you, dear reader, don't know it, because you fell asleep halfway through this sentence. Utilities are shielded by a force field of tedium.

It's is an unfortunate state of affairs, because this is going to be the century of electricity. Everything that can be electrified will be. (This point calls for its own post, but mark my...

"Kids Shoot the Darndest Things"

I'm not sure how many of you have read the Seattle newspaper The Stranger. "Goldy" is a sudonym (I hope I spelled that right) - the writer is pretty hardcore and unrelenting on many progressive issues, gun ownership no exception.

Wait, there are riots in Sweden?

By Elias Groll, Passport @ ForeignPolicy.com, May 22, 2013

[....] The rioting -- the worst social unrest to strike the country in many years -- was sparked by the lethal police shooting of a 69-year-old, knife-wielding man last week in the suburb of Husby, the epicenter of the riots. Roaming gangs of angry youths have since clashed with police and Husby residents have complained of racist treatment by police officers, who they say have used epithets such as "monkey."

What's happening in Husby is clearly a symptom of Sweden's failed effort to integrate its massive immigrant population. Housing segregation is rampant in the country, and Husby is a case study in how immigrant populations have come to dominate Stockholm's outer...