By oldenGoldenDecoy on Sat, 05/20/2017 - 9:53pm |
Just for the hell of it... Posted for posterity . . .
The following is Tweet thread posted by Seth Abramson.
Seth [wiki] is an American poet, editor, attorney, freelance journalist, and professor.
And has been accused of Trump conspiracy tweetstorms as the infowars of the left.
(THREAD) This thread explains the Trump-Russia conspiracy (#Russiagate) in ten tweets. The theory & facts of the scandal aren't complicated.

 

 

1) Trump's pro-Russia-appeasement foreign policy platform dropped 4/27. It was crafted by Richard Burt, a lobbyist for Russia's Gazprom Co.

 

 

2) Gazprom is Earth's largest natural gas company. It & Putin wanted Trump to drop Russian sanctions to facilitate a lucrative new pipeline.

 

 

3) The Steele Dossier says Putin offered Trump "brokerage" of 19% of Rosneft Oil in exchange for dropping sanctions on Russia. Trump sent...

 

 

4) ...Carter Page, his top Russia adviser & an advisor to Gazprom, to Moscow soon after the RNC. There Page met with Igor Sechin of Rosneft.

 

 

5) Five months of contact between Sergey Kislyak, Flynn, Sessions, Kushner (&c) got the deal done in December. Putin sold 19.5% of Rosneft.

 

 

6) The extra 0.5% ($281 mil.) was the "brokerage." Reuters says the full list of buyers is hidden--one of them is surely a Trump shell corp.

 

 

7) Manafort & others meddling w/ the GOP's Russia platform & Flynn, Sessions, & Kushner meeting w/ Kislyak both relate to this quid pro quo.

 

 

8) Trump sold US foreign policy for money & better oil/gas access. He knew the deal depended on him winning so he knew Putin would help him.

 

 

9) Selling US foreign policy for money is treason. So Trump & others lied about Russian contacts & hacking to cover up the deal they'd made.

 

 

10) All this is the theory behind #Russiagate. It's not complicated. Nearly all aspects are confirmed by media reports & the Steele Dossier.

The Supporting Docs...
1
Donald Trump's Russia connections - Politico
2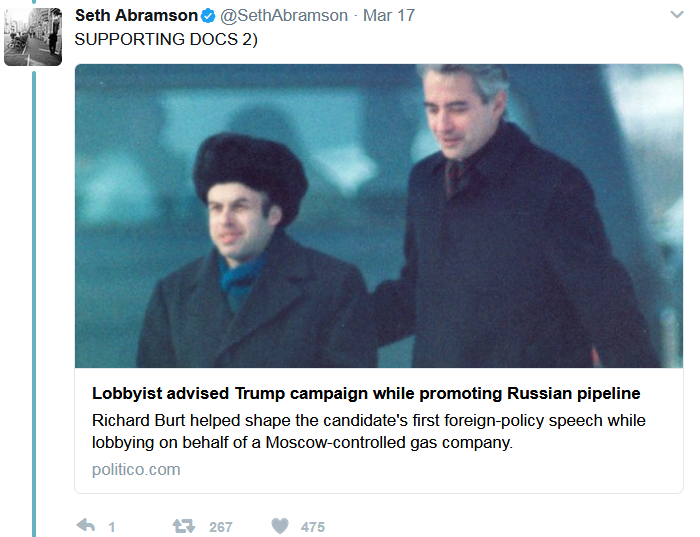 Lobbyist advised Trump campaign while promoting Russian pipeline - Politico
3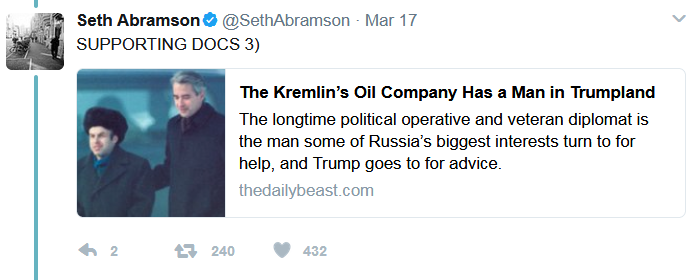 The Kremlin's Oil Company Has a Man in Trumpland - Daily Beast
4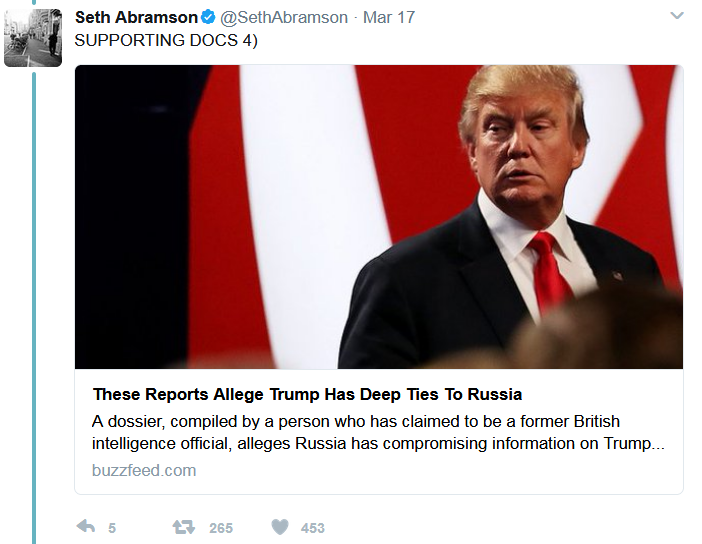 These Reports Allege Trump Has Deep Ties To Russia Steele Dossier
5
The Mystery of Trump's Man in Moscow - Carter Page - Politco
6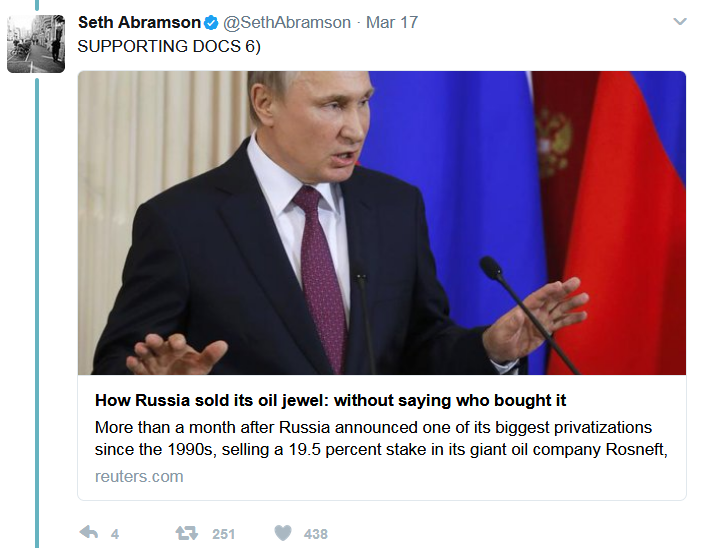 How Russia sold its oil jewel: without saying who bought it - Rosneft - Reuters
7
Sessions met with Russian Envoy WaPo
8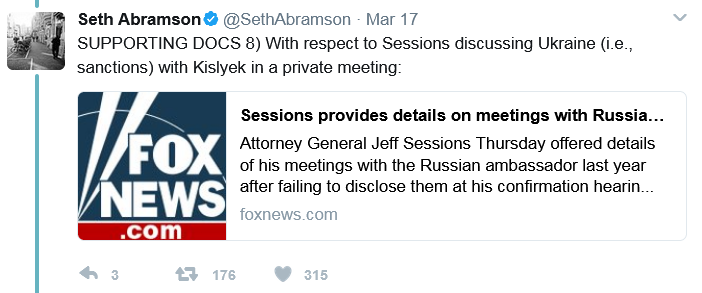 Sessions provides details on meetings with Russian ambassador - Fox
9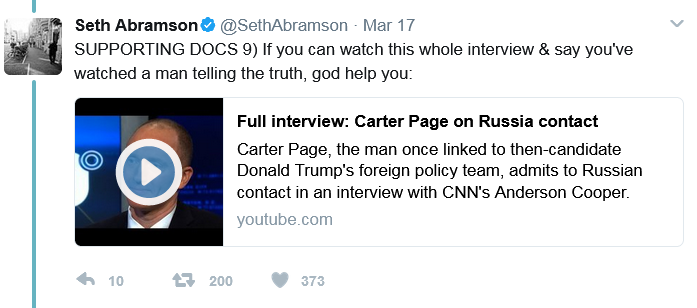 Full interview: Carter Page on Russia contact - CNN
10
Russian bank claims effort to frame it for connections to Trump Organization - CNN
~OGD~