By Danny Cardwell on Fri, 04/21/2017 - 9:50pm |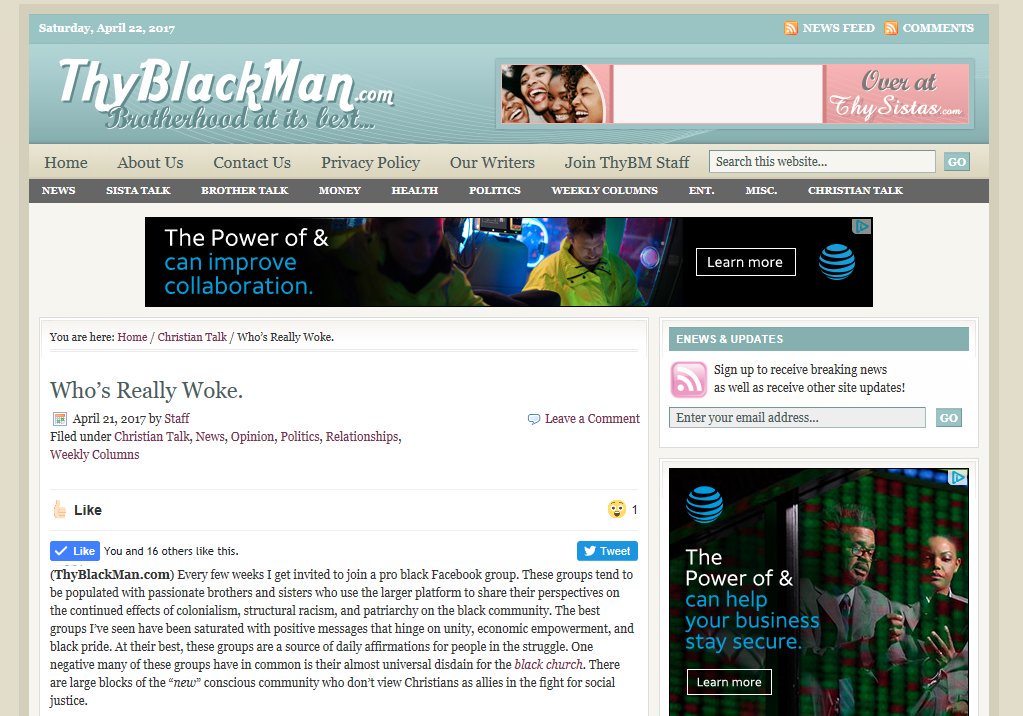 I wanted to share a piece I wrote about a troubling rift inside the black community.
In the News
Democrats are falling for fake news about Russia

What you've got are prominent media figures, political operatives, scholars, and even US senators being taken in by this stuff — in addition to the tens, if not hundreds, of thousands of ordinary people consuming it on Twitter and Facebook. These people, too, are letting their biases trump interest in factual accuracy.

This is the key danger: that this sort of thing becomes routine, repeated over and over again in left-leaning media outlets, to the point where accepting the Russiasphere's fact-free claims becomes a core and important part of what Democrats believe.

Leaky Spooks

submitted by

Lurker 19 hours

ago

Caroline Glick's take on US intelligence leaks.  Her analysis of what is going on looks good, but I find her proposed solutions too simplistic.

the goal of this week's leaks was to harm Trump. Israel was collateral damage.

The key point is that the leaks are coming from the same places in both cases.

All of them are members of the US intelligence community with exceedingly high security clearances. And all of them willingly committed felony offenses when they shared top secret information with reporters.

Mosul "over in couple weeks" despite ISIS'...

Despite the mistaken bombing a few weeks back (set up by ISIS or a genuine screwup by the allies, still not certain), the effort to retake Mosul continues forward slowly but successfully. 3 more central districts to take, including that damn mosque where Al-Bagdadi declared his stupid barborous retro-caliphate. Hope they paint it pink to really piss him off.

How American Practices Validated Nazi Race Laws

submitted by

NCD 1 day

ago

James Q. Whitman ...: "Hitler's American Model: The United States and the Making of Nazi Race Law." Whitman illustrates how German propagandists sought to normalize the Nazi racist agenda domestically by putting forth the United States as a model. They assured the German people that Americans had "racist politics and policies," just as Germany did, including "special laws directed against the Negroes, which limit their voting rights, freedom of movement, and career possibilities."... new-age white supremacists who want so eagerly to expand their market shares recognize that covering themselves with swastikas is a route to marginalization.