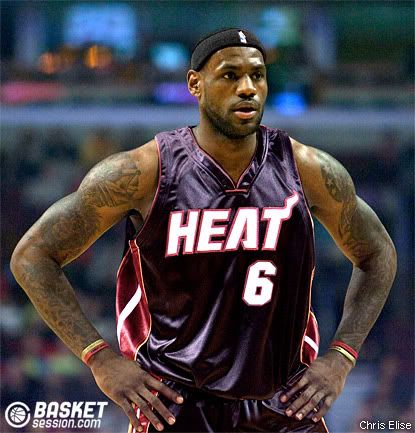 Ok, I've had about enough of this. Let me be succinct in my opinion here: Lebron James is the best basketball player on the planet. His combination of size, strength, talent and basketball IQ are completely off the charts. He plays defense like his hair is on fire. It is literally a joy to watch him play the game of basketball.
And you people just aren't appreciating him at all.
For basketball fans, this postseason has been an embarrassment of riches. The Mavericks have become a brilliantly cohesive team around the great Dirk Nowitzki, and rolled to these NBA Finals after completely humiliating the defending champion Lakers. The Heat have had intense series against the likes of Boston and Chicago, and have emerged at the top of their game.
Add to that the strong efforts by up-and-coming stars like Derrick Rose and Kevin Durant, and it has truly been an epic postseason.
But for some basketball fans, this post-season has been about one thing and one thing only – waiting for Lebron James to fail. And throwing darts at him the whole way. Sportswriter Skip Bayless is dedicating his waning years to hating James. Heck, there's even a blog called "I Hate Lebron James."
Now, I do understand why Cleveland fans would despise James. Without him, the Cavaliers will now go another few decades without being a factor. But I don't think Art Modell received the same amount of hate for moving the Browns to Baltimore as James has gotten for leaving. And yes, the epic Heat rollout of James, Bosh and Wade was over-the-top and silly. And yes, James has at times shown arrogance, but in the sports world, that's to be expected.
Deal with it, people. Lebron James is a decent enough fellow. There are no skeletons in his closets. He tries to do and say the right things. If the biggest error of his career has been celebrating, so be it.
As for "deferring" at the end of games? Well, can we have a little respect here for Dwayne Wade? The man may very well finish his career as one of the greatest performers ever in NBA Finals. That's not deferment, that's smart basketball.
And as for the "He's not as good as Michael Jordan" claims, well, that's just a strawman. The only people comparing James to Jordan now are Lebron-haters.
Personally, I have never seen as good a player as Jordan. He was magical (and arrogant). But check out his accomplishments at the same age as James. At 26, both had zero rings.
But that's going to change this year. Miami has just too much for the Mavericks to deal with, and James will get his first ring. The haters will still hate, but they are just denying themselves the joy of watching one of the great talents that has ever played in the NBA.
Myself, I'll be enjoying every minute. I feel like I deserve it.
–WKW
Crossposted at William K. Wolfrum Chronicles

977 reads
In the News
Britain, Germany and France Now Oppose Hezbollah

By Nicholas Kulish, New York Times, May 22/23, 2013

BERLIN — Three of Europe's most powerful countries — Britain, Germany and France — have thrown their weight behind a push for the European Union to designate the Lebanese militant group Hezbollah as a terrorist organization, a move that could have far-reaching consequences for the group's fund-raising activities on the Continent.

On Wednesday, Germany signaled an about-face in its policy toward the group, with a statement saying Foreign Minister Guido Westerwelle supported listing "at least the military wing" of the organization as a terrorist group. The announcement came just a day after Britain's Foreign Office said it would...

Man killed in meat-cleaver terror attack in London

Woolwich killing: meat cleaver, knife and jihadist claims filmed on mobile

By Vikram Dodd, Shiv Malik & Ben Quinn, guardian.co.uk, May 22,2013

Dramatic footage emerges of suspect after British soldier is killed in suspected terror attack

• British soldier dead in suspected terror attack in London
• Knife attack near barracks 'an eye for an eye', says suspect
• Killing in street is 'absolutely sickening' says prime minister

Also @ The Guardian:...

A Word from Our Sponsor

By Jane Mayer of the New Yorker. If you are wondering how far PBS is willing to go to placate David Koch to keep their funding? It gives you a look into the special documentry "Citizen Koch" and its fall out. The program was never aired except at Sundance. David Koch resigned from WNET on May 16th.