By William K. Wolfrum on Thu, 11/11/2010 - 9:37am | Politics, Business, World Affairs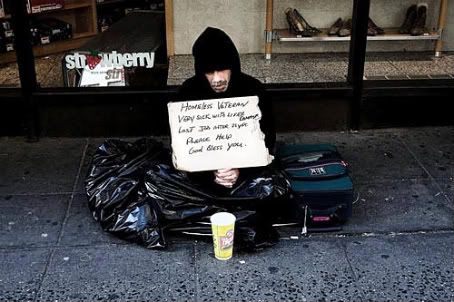 You see a Homeless U.S. Veteran. Insurance companies see dollar signs.
Wolfrum's Word
Today's proof that U.S.-Style Capitalism is a heinous monstrosity - Retained Asset Accounts on U.S. Soldiers.
In retained asset accounts, rather than paying out death claims all at once, the insurance companies keep the funds in an account, and give beneficiaries so-called checkbooks to access the money. The companies pay the beneficiaries a small amount of interest for the money they're holding — usually 1 percent or less — while the companies themselves invest the money and earn a much higher return, often around 4 or 5 percent. ... An investigation by Bloomberg Markets magazine determined there are as many as 1 million such accounts, containing some $28 billion.
Profiting from Dead U.S. Soldiers. Happy Veterans' Day, America.
News/Politics
Debt Commission: Barack Obama is a little too positive on the draconian cuts Republicans want.  
Iraq: Death and More Maliki.  
Fly Coach: John Boehner won't use Military planes to travel. Thus ends his interest in cutting the deficit.
Pictures of Country Music Stars
At the CMT Awards, the best in country music showcased the worst in fashion. See photos here.
Blogs
Scientific American: Now in 3-D: The shape of krill and fish schools. Reid Report: The most heavily armed talk show host threatens to murder some children. MrSmith1: FDR's Skull will be put on a spike ...
Finally
Bill Moyers asks why Single-Payer is so demonized.
--WKW
Crossposted at William K. Wolfrum Chronicles