Tucker Carlson's greatest journalistic achievement.
News/Politics
La Barbie Caught: One of Mexico's most notorious drug lords has been caught! Also, applications now being accepted for Notorious Mexican Drug Lord. Apply at the FBI.
Hurricane Earl: It's coming. And it looks pissed.
Scotland Takes the Lead: Now that Scotland has come up with a wind turbine that can supply energy to 1,000 homes, maybe someone else will step up.
Afghanistan Update: Death!
An Independent Iraq: Iraq has announced it is now independent. This means all hell should break loose any minute.
ObamaCare Already Paying Off: Paying off or scammers, at least. It was nice of the media to help everyone get informed on the subject, eh?
Investigating America: Remember when Republicans spent two solid years wasting time and money on investigating every last move Clinton made? And then the U.S. was attacked by al Qaeda and they blame Clinton for being investigated so much? Yeah, we're going to try that again.
Random Thought
Being as the rest of the U.S. mainstream media refuses to call out Fox News for their false reporting and demagoguery, from here on out, I say we just lump them all in together. Example: Led by Glenn Beck, the Mainstream Media recently held a big rally about Jesus.
Entertainment
Dance, I Say!: The new stars for Dancing with the Stars have been announced. They include: Bristol Palin, Grover from Sesame Street, Mandrake the Magician, Jean Harlow, Erik Estrada, Emo Phillips, Lindsay Lohan and veteran porn star Christy Canyon. Oh, ok, for the real stars click here.
Paris Chews GREAT Gum: Paris Hilton was busted for cocaine possession. Her excuse – she thought it was gum. Cocaine-gum, just another thing that makes the rich better than you.
Palin-Land Defined
In a perfect world, Sarah Palin would be Queen and surrounded by a bunch of gun-toting Jesus Babies.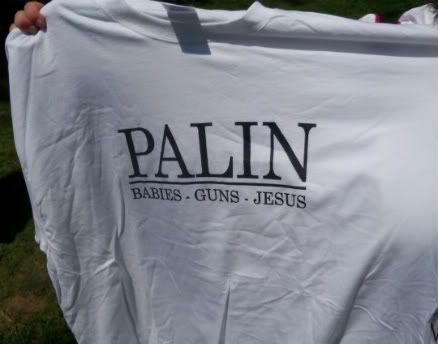 –WKW
Crossposted at William K. Wolfrum

1141 reads
In the News
Why Canada and the U.S. Should Merge, Eh?

A Canadian asked and Will Wilkinson responded with the most obvious follow up question: Why not Mexico, too?

Such a merger makes perfect sense. No two countries on Earth are as socially and economically integrated as the U.S. and Canada. They share geography, values and a gigantic border. Their populations study, travel and do business together and intermarry in great numbers. If they were corporations (or European states), they would have merged a long time ago. And each has what the other needs: The U.S. has capital, manpower, technology and the world's strongest military; Canada has vast reserves of undeveloped resources.

[...]

Canadians have traditionally bristled at the thought of falling under the sway of the U.S., but without a...

I wonder what's in this heavy, shielded container...Oh...

Ok, ok, who among us has not driven past a front-loader waiting empty overnight and thought, "I wonder if they left the keys in that?" The same impulse to collect heavy equipment perhaps motivated the thieves who got an extra bonus when they van-jacked what looked like a nicely tricked out vehicle with a heavy lift platform....Pendajos!

Tuttle or Buttle? Spelling matters in Terruh

All those creepy Muslim organization names look the same to me, and in this case, a woman's foundation probably came within 2 letters of being a terror org - which is within 1 or 2 degrees of freedom, so Ban Her! She's a Witch!

Yes, the plot looks remarkably like Terry Gilliam's Brazil, except they haven't whisked her off to Gitmo (yet) to drill her teeth in an interrogation room.

But as a caveat to those who think metadata doesn't matter, yes, government fuckups have wings that fly far. History notes that government surveillance usually errs in ways beneficial to them, not in ways beneficial to the public or their targets. "Err on the side of caution" doesn't bode well for this lady's rights, and as is typical, the government doesn...