Tucker Carlson's greatest journalistic achievement.
News/Politics
La Barbie Caught: One of Mexico's most notorious drug lords has been caught! Also, applications now being accepted for Notorious Mexican Drug Lord. Apply at the FBI.
Hurricane Earl: It's coming. And it looks pissed.
Scotland Takes the Lead: Now that Scotland has come up with a wind turbine that can supply energy to 1,000 homes, maybe someone else will step up.
Afghanistan Update: Death!
An Independent Iraq: Iraq has announced it is now independent. This means all hell should break loose any minute.
ObamaCare Already Paying Off: Paying off or scammers, at least. It was nice of the media to help everyone get informed on the subject, eh?
Investigating America: Remember when Republicans spent two solid years wasting time and money on investigating every last move Clinton made? And then the U.S. was attacked by al Qaeda and they blame Clinton for being investigated so much? Yeah, we're going to try that again.
Random Thought
Being as the rest of the U.S. mainstream media refuses to call out Fox News for their false reporting and demagoguery, from here on out, I say we just lump them all in together. Example: Led by Glenn Beck, the Mainstream Media recently held a big rally about Jesus.
Entertainment
Dance, I Say!: The new stars for Dancing with the Stars have been announced. They include: Bristol Palin, Grover from Sesame Street, Mandrake the Magician, Jean Harlow, Erik Estrada, Emo Phillips, Lindsay Lohan and veteran porn star Christy Canyon. Oh, ok, for the real stars click here.
Paris Chews GREAT Gum: Paris Hilton was busted for cocaine possession. Her excuse – she thought it was gum. Cocaine-gum, just another thing that makes the rich better than you.
Palin-Land Defined
In a perfect world, Sarah Palin would be Queen and surrounded by a bunch of gun-toting Jesus Babies.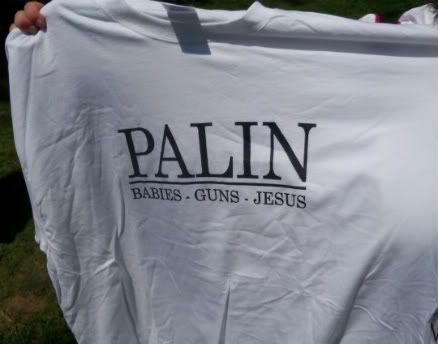 –WKW
Crossposted at William K. Wolfrum

1197 reads
In the News
Pope Francis and the Superman Problem

By Amy Davidson, Close Read @ newyorker.com, March 6, 2014

[...] "You have said that the Francis-mania will not last long," the Corriere della Sera interviewer said. "Is there something in your public image that you don't like?" The Pope replied, "I don't like the ideological interpretations, a certain 'mythology of Pope Francis' ":

"If I'm not wrong, Sigmund Freud said that in every idealization there is an aggression. Depicting the Pope to be a sort of superman, a type of star, seems offensive to me. The Pope is a man who laughs, cries, sleeps calmly and has friends like everyone. A normal person"

Not everyone sleeps calmly; there is a difference...

Mark Pryor and Chris Coons stab party in the back. Let...

For want of two senate votes the nominee to head the Dept of Justice Civil Rights Division was denied confirmation.

Two of those voting against him were Democrats up for re-election this year.

If it's too late to primary them, they need to go down to defeat in the general election.

Not one dime should be spent, not one door knocked on.

In fact, send the Repugnant a donation. It's for the greater good.

Zombie Studies Gain Ground on College Campuses

Just as zombies—those mythical revived corpses hungry for living human flesh and gray matter—have infiltrated pop culture, they have also gotten their hands on our brainiest reserves: the academy. ... an advancing horde of scholars ... compelled by the cultural history and metaphor of the undead, are teaching and conducting research in disciplines from economics to religion to medicine.

The last five years have seen 20 new scholarly books with "zombie" in the title or topic category, according to Baker & Taylor, a distributor of academic and other books; in the 10 prior years, there were 10. JSTOR, an online archive of about 2,000 academic journals, says the journals have run 39 articles invoking the undead since 2005...