By MrSmith1 on Fri, 10/23/2015 - 2:55pm |
Here's this week's heap of haikus:
The present now past.
Tomorrow now yesterday.
Back to the future.

(In honor of yesterday being "Back to the Future Day"  (October 21, 2015), here's Chet Atkins:)
 
---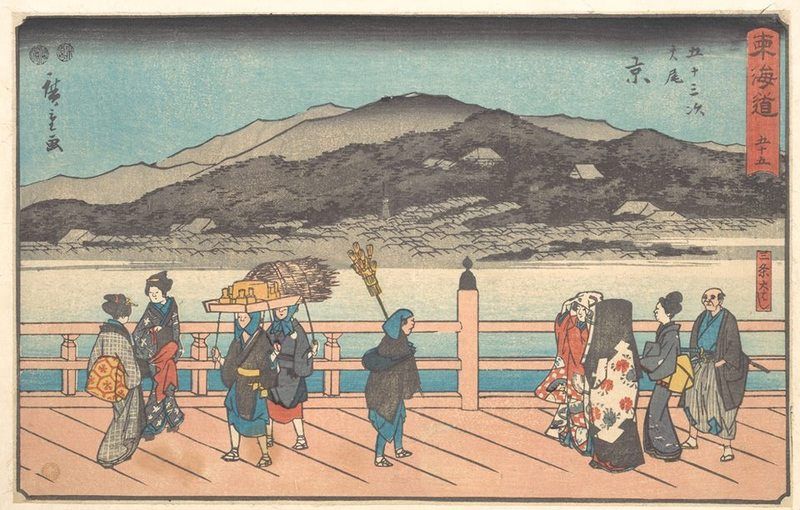 Jidai Matsuri
The festival of the ages
honors Kyoto.
( October 21 is the festival of Jidai Matsuri, which commemorates the founding of Kyoto. )

---
I once had a girl
and I did think it good 'cuz
this Norwegian would.
( Fifty years ago this week, the Beatles recorded Norwegian Wood. )

---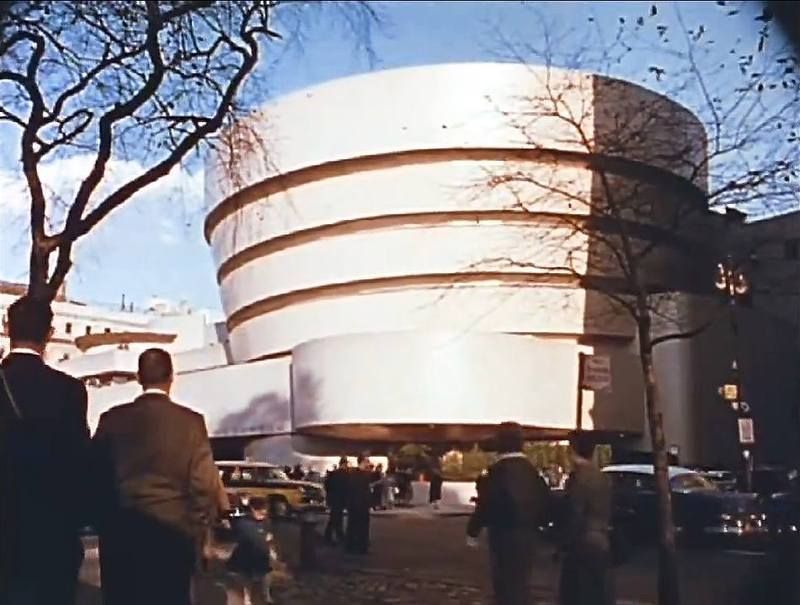 I'm getting dizzy
from seeing the art in a
descending circle.
(Happy 56th anniversary to the Guggenheim museum in NYC!)
---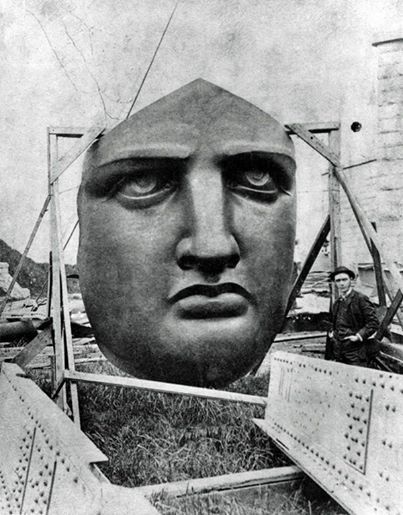 "Okay, let's begin.
Insertez-vous tab A?!  Damn!
The plans are in FRENCH!"

---

We stacked the firewood
then trudged through the mud to the
hen-house to get eggs.

---
double haiku:

Though Justice is blind,
the all-seeing eye takes note
of our transgressions.
Give glory to God
in all you do or speak, keep
His word within reach.
 
---
Blind Justice-ku:
Blind also means a
place from which you can shoot ducks.
Mallard lives matter.

---

Stuck inside mobile?
call Alexander Calder
and he'll get you out.
( Thanks DD, for posting this song last week. )
 
---

triple haiku:

My life has meaning.
I'm here to make you laugh
It gives me purpose.
No sarcasm meant.
I fail in so many ways
by many measures.
But one thing I know
It gives me joy to share laughs
That's what Life's about.

---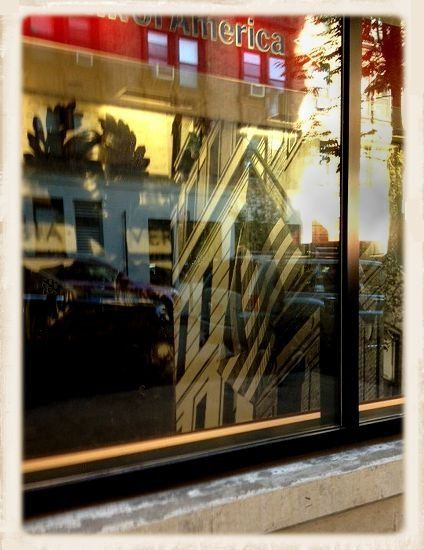 Walking down the street
I'm inspired by reflections
of America.
( Photo taken with my cell phone the other day on West 107th St. in NYC.  )
---
We'd be out of luck
if amoebas got stuck in
primordial muck.
---
You've fought long enough,
You may put your sword down now
and rest, simply rest.
---
She entered, wearing
a sweatshirt and dungarees
which left him breathless
---
Observation-ku:
Lately, more strangers
that I meet on the street are
calling me, "Poppy."
---
An empty vase sits
on a cluttered office desk
waiting for flowers.
---
Sadly, it seems while
she was pinching pennies, he
was pinching barmaids.
 
---
Courtesan and muse,
she stayed unemotional ...
(though often tickled.)
 
---
 
Double haiku:
In a sleepy town,
off the beaten path, lived a
man who knew nothing.
He was fed by cows,
carried by horses and was
admired by dogs.
---

You don't always know,
When you have stepped from a field,
Into a meadow.
 
---
If you choose to use
a magnifying glass, know
that you will find flaws.
 

---
When you have a lot
that's on your mind, let your day
begin quietly.
 
 
---

None shall ever know
private failures we endure ...
unless we succeed.
---

 
Her vichyssoise was
so cold, the potatoes wore
napkins to keep warm.
 
---
Red leaves on roses,
and whiskey on kittens?!! THOSE
are your fav'rite things?
---
It's time for another installment of "You Do the Haiku!"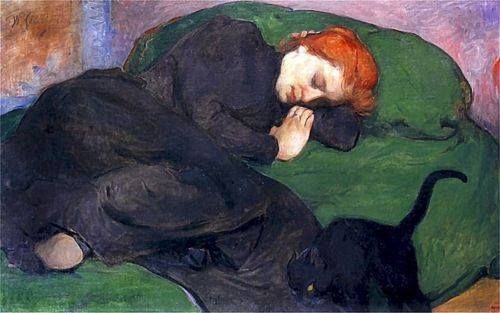 Submit your haiku for this painting in the Comments section ...
---
rain-soaked city streets,
the glare of flashing neon
blinds the private eye.
---
double haiku:
We struggle, at times,
remembering our loved ones,
but vow, they won't fade.

So, the old stories, though
familiar, are re-told, to
refresh our spirits.
---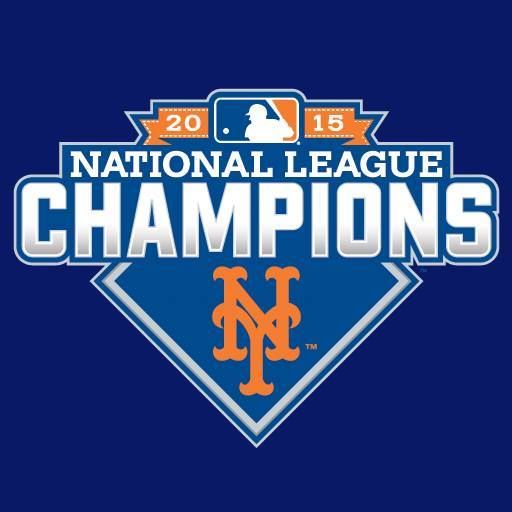 Baseball excitement
has taken over our town.
Strangers shout: "Go Mets!"
---
Yearning for peaches,
he settled for nectarines ...
and hoped for the best.
---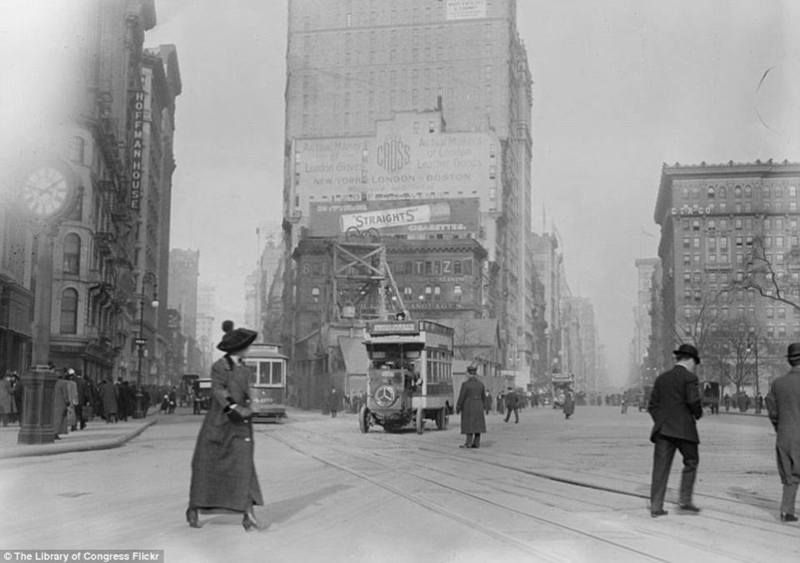 She hurried to work,
dodging buses and trollies ...
A "new woman's" stride.
( Fifth Avenue NYC circa 1910 )
---
Sitting in my yard,
watching the moon peeking out,
from behind storm clouds.

---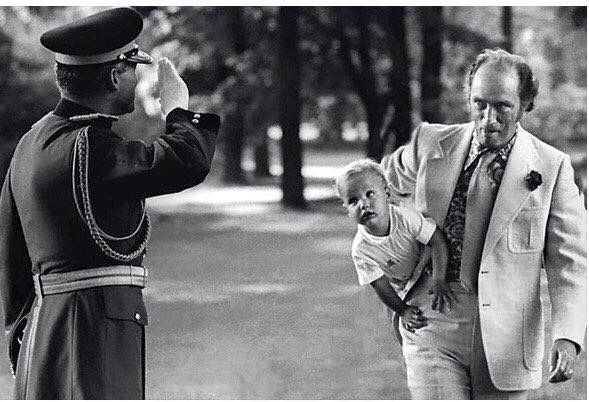 There are times when the
most expedient thing is
to just carry on.
 
(1973: Former Canadian Prime Minister Trudeau carrying current Prime Minister Trudeau to an important meeting.)

---
double haiku:
He sees kids at play
and represses sadness at
not having children.

Sitting in the park,
he looks at ducks and swallows,
wishing he could fly.
---
She laughed wickedly.
Such a chill went up his spine,
that he sneezed ice cubes.
 

 
---

Irony-ku:
 
We anxiously wait
to become our own persons,
then try to fit in.
 

---
Dark side of the moon;
where they keep the cheese ... and the
light sensitive cows.
 
 
---

Though fragile hearts need
whispered blessings, they also
need a steady hand.

 
 
---

 
 
tanka haiku:  
Sad days are ahead.
They can not be avoided.
We must live through them.
We'll get to the other side,
through faith, hope and endurance.
 
 
---
She gets lost in books,
often losing track of time ...
and what year it is.
 
---

 
 tanka haiku:
A man with a limp
quietly whistles on his
way to the bus stop.
    His halting steps belie the
    music he hears in his head.
 
 
---
 
 
Indulge your passion.
It's often what drives you to
exceed your limits.
 

---
 
 
Sometimes an echo
from a life you left behind,
catches up to you.
 
---
 
Success always stands
on the shoulders of failure.
Please don't wear spiked heels.

---
Who have you steadied?
Whose heart have you opened? Whose
dreams have you unleashed?
---
Looking down from Space,
all the clouds are upside down ...
making earth, heaven.
---
Tanka haiku ala Bob Hope:
 
I wanna tell ya,
that Pain is really something ..
How about that pain?
 
Pain got so bad, Les Brown had
to admit he was More Blue.
---
I'm down on my knees
Tell me what I want to hear ...
How do I get up?
---
double clown-kus:
He wore funny shoes
because he had funny feet.
So why funny pants?
How sweaty was he?
That clown was so sweaty that
the seltzer sprayed him.
---

If you see the world
as humorless, you'll never
understand the joke.

****