RIP Nelson Mandela. The World Will Long Remember

Shuts &
Failures
by Michael
Maiello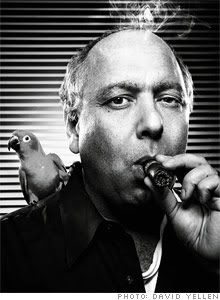 Sam Antar, one of the architects of the "Crazy Eddie" fraud of the 1980s, has examined the current state of politics and has made an important decision - He's going back to crime.
After the SEC took down the Crazy Eddie's scam, Antar has spent his time working as a whistleblower. But with the likes of Darrell Issa and Michele Bachman representing the Republican Party, Antar has decided to give up the clean life and make his glorious comeback to a life of crime.
In an exclusive interview, Antar - who has previously called White-collar crime more devastating than many other crimes due to the number of people it can hurt - said that the time was perfect for a White-Collar criminal like him to get back into the game.
"Now, crime is easy and much more profitable. We have Republicans like Bachmann and Issa who are making the world safer for criminals,"said Antar, who famously devised the "Panama Pump" embezzlement scheme. "Bachmann wants to repeal Dodd-Frank, so I won't have to worry about whistleblowers turning me in for a reward. And Issa wants to gut the SEC, so I won't have to contend with them investigating me for securities fraud."
Antar added that the system was heavily tilted for criminals like him before, but with the help of the current crop of Conservatives, the pickings should be easier than ever.
"The Big Four accounting firms (Deloitte, KPMG, PricewaterhouseCoopers, and Ernst & Young) still can't catch crooks like me," said Antar, who helped embezzle more than $80 million at Crazy Eddie. "Audit committees are padded with cronies. The SEC can't even keep a straight set of books. Even the US Supreme Court has narrowed the definition of fair services fraud."
While some may be confused or even outraged about Antar's public decision to return to crime, accountant Caleb Newquist, editor of the blog Going Concern, said it makes perfect sense.
"Sam Antar's return to a life of white-collar crime couldn't be more perfectly timed. The SEC was already overworked, understaffed and many of the employees already spent much of their time watching porn at their desks,"said Newquist. "If the Congress successfully slashes their budget, the Commission will have to make some tough choices about protecting investors or allowing employees to satisfy their primal urges.
"With a weakened SEC, his previous success as the CFO of Crazy Eddie and the perpetual ineptitude of audit industry, Sam will have no trouble reaping an ill-gotten fortune at the expense of the American People," added Newquist.
Antar said he has no worries about being caught as he was in the 1980s, thanks to a "pro-business" Republican culture and corporate-owned politicians like Issa that makes crimes like fraud and embezzlement easier than ever.
"It took the combined efforts of the SEC, FBI, IRS, US Postal Inspector's Office, and an army of class-action lawyers to take me down in the 1980s," said Antar. "It wasn't are fair fight back then. I could have beat them two at a time. Today, I can take them on all together.
"So I am back to being a criminal. I couldn't be happier. And let me personally thank Darrell Issa and the anti-regulation Republicans," added Antar. "This time around, I'm going to make $80 million look like chump change."
--WKW
4076 reads
In the News
I wonder what's in this heavy, shielded container...Oh...

Ok, ok, who among us has not driven past a front-loader waiting empty overnight and thought, "I wonder if they left the keys in that?" The same impulse to collect heavy equipment perhaps motivated the thieves who got an extra bonus when they van-jacked what looked like a nicely tricked out vehicle with a heavy lift platform....Pendajos!

Tuttle or Buttle? Spelling matters in Terruh

All those creepy Muslim organization names look the same to me, and in this case, a woman's foundation probably came within 2 letters of being a terror org - which is within 1 or 2 degrees of freedom, so Ban Her! She's a Witch!

Yes, the plot looks remarkably like Terry Gilliam's Brazil, except they haven't whisked her off to Gitmo (yet) to drill her teeth in an interrogation room.

But as a caveat to those who think metadata doesn't matter, yes, government fuckups have wings that fly far. History notes that government surveillance usually errs in ways beneficial to them, not in ways beneficial to the public or their targets. "Err on the side of caution" doesn't bode well for this lady's rights, and as is typical, the government doesn...

Pope Francis to establish child protection commission in...

By Paddy Agnew, Irish Times, Dec. 6, 2013

In a surprise move, the Holy See yesterday announced that Pope Francis is to assemble a panel of experts to advise him on the problem of clerical sex abuse. This Vatican Child Protection Commission represents arguably the first concrete proposal to emerge from the so-called "G8" Council of Cardinals who have been meeting with the pope in Rome this week.

Originally appointed in April by Pope Francis to help him both govern and reform the Catholic Church, the G8 council is only now getting down to serious work [....]

As far as the composition of the commission's panel of experts goes, it seems likely that the...

Suicide bomber, gunmen kill 52 at Yemeni defense ministry

By Mohammed Ghobari in Sanaa, Reuters, Dec. 5, 2013 (WITH VIDEO)

A suicide bomber and gunmen wearing army uniforms attacked Yemen's defense ministry on Thursday, killing 52 people including foreign medical staff, government sources said, in the country's worst militant assault in 18 months.

One attacker drove a car packed with explosives into the gate of the ministry's compound, then gunmen in another vehicle sped in and opened fire on soldiers and doctors and nurses working at a hospital inside, witnesses told Reuters.

The U.S. military raised its alert status in the region after the coordinated strikes...