By NCD on Fri, 10/16/2015 - 12:17pm |
Did Dad set up his 14 year old to game 'Islamophobia' and the media system about racial profiling of innocent Muslims using his son to create an incident?
With a device that the super smart kid sets to alarm in English class, after the science teacher he showed it to said Ahmed, don't show anyone else?
Ahmed said he brought the clock, which he had fashioned with a digital face in an inexpensive box, to school on Monday to show to an engineering teacher, who said it was "nice" but then told him that he should not show the invention to other teachers. link
Then Good Ole Dad reportedly (below) asks the cops to re-handcuff his kid for a photo that went viral? And virtually everyone in America naively buys the innocence of all scenario?
While Dad gets his dream come true soon after by invitations to the White House, opportunity to do some cow-towing at UN , and now perhaps the ultimate reward - meeting the wanted Muslim war criminal Sudanese President Omar al-Bashir, who took power there in a coup in 1989 and is accused of genocide of non-Arabs in the Darfur war, in which hundreds of thousands lost their lives..
Dad, clock boy, Sudanese war criminal, from the BBC today: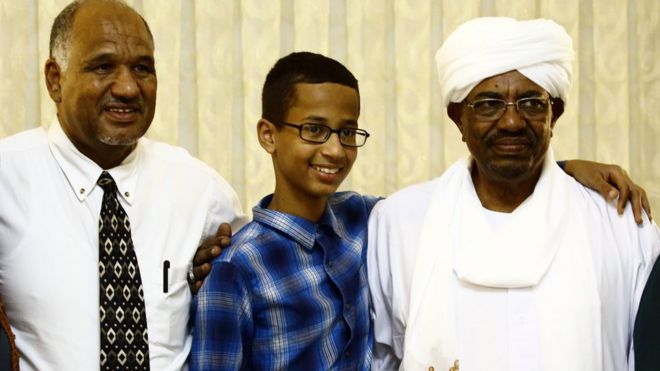 Dad, a long time resident of the US, who has run for President of Sudan numerous times, apparently while residing in Texas.
Some notes on the case from late September:
• There was no "school project" or science assignment to justify Mohamed bringing the device to school .

• Just three weeks into his freshman year, Mohamed was no "science whiz well-known by high school teachers for tinkering."

• The "clock" wasn't made from scratch but just the guts of a mass-manufactured digital clock, complete with AC cord and 9-volt backup battery connection.

• With its exposed wires and lack of a face, the gutted clock looked like a bomb. It also sounded like a bomb: The alarm was set to go off during English class; the beeping startled the teacher who called police.

• When police questioned Mohamed, he wasn't cooperative and was described as "disrespectful."

• The police chief said the device was "intended to create a level of alarm; in other words, a hoax bomb."

• Mohamed's Sudanese father — a Muslim political activist involved in previous Muslim grievances — reportedly asked the cops to re-handcuff his son — so his daughter could take the photo that went viral.

• Mohamed tweeted: "Thank you fellow supporters. We can ban together to stop this racial inequality."

• The family's spokesperson is the Council on American-Islamic Relations, a terror-tied group that in 2006 sued US Airways for kicking several Muslim activists off a flight for behaving suspiciously and rattling passengers — a stunt that looks eerily similar.
Maybe the kid had no ill intent with the clock, just like he doesn't know the man he is embracing in the photo above is wanted for war crimes. So he is innocent.
But what was going on at home, and how was the Dad involved in the creation of this drama?
Texas Law on bomb hoaxes:
Search TEX PE. CODE ANN. § 46.08 : Texas Statutes - Section 46.08: HOAX BOMBS
(a) A person commits an offense if the person knowingly manufactures, sells, purchases, transports, or possesses a hoax bomb with intent to use the hoax bomb to:

(1) make another believe that the hoax bomb is an explosive or incendiary device; or

(2) cause alarm or reaction of any type by an official of a public safety agency or volunteer agency organized to deal with emergencies.

(b) An offense under this section is a Class A misdemeanor.