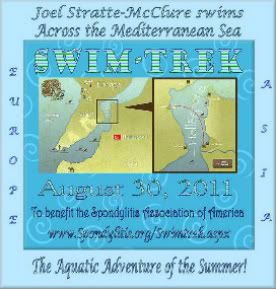 I have written before about Ankylosing Spondylitis (AS), the chronic, degenerative inflammatory arthritic disease which I was diagnosed as having back in 1985. According to new figures from the CDC, there are as many as 1.4 million people with AS in North America, and possibly as many as 2.4 million. AS affects more people than Multiple Sclerosis, Cystic Fibrosis and Lou Gehrig's disease combined. According to the new CDC figures, it also now affects more people than are affected by Rheumatoid Arthritis.
AS is a devastating, often painful and debilitating disease which can fuse the neck and spine and cause a variety of other problems. My neck and spine have been totally fused since 1989.
Tomorrow, August 30th, Joel Stratte-McClure, an American journalist/adventurer whose articles on a variety of subjects have appeared in The International Herald Tribune, Time Magazine, The London Times and People Magazine will be swimming 4 and a half kilometers as part of the annual Hellespont swim across the Mediterranean Sea and dedicating his efforts to the Spondylitis Association of America and their fight to raise awareness of, and find a cure for, Ankylosing Spondylitis. You can support the Spondylitis Association by making a donation per kilometer of Joel's swim:
To learn more go to www.spondylitis.org/swimtrek.aspx
Thanks.
718 reads
In the News
Congress defies White House with new round of Iran sanctions

By Julian Pecquet, The Hill, May 18, 2013

Congress is ramping up a new round of sanctions against Iran, ignoring the Obama administration's request to let diplomacy run its course.

In back-to-back hearings this week, lawmakers on key House and Senate panels put the State and Treasury departments on notice that their patience is wearing thin after the latest round of talks last month failed to produce a deal. Both chambers have legislative efforts in the works – the House foreign affairs panel will vote next week – but the administration is warning against any moves that could undermine international support for the existing sanctions against Iran's alleged nuclear weapons program [....]

From Fearsome Predator to Man's Best Friend (dogs may have...

By Carl Zimmer, New York Times/Science, May 16/17, 2013

An article that summarizes the recent work of Ya-Ping Zhang, a geneticist at the Chinese Academy of Sciences, who has led an international network of scientists who have compared pieces of DNA from different canines which is pointing to the theory that dogs domesticated themselves.

But the article's message is not just what it first appears to be. When you get to the concluding paragraphs there are some real though provokers:

[....] SLC6A4 may have played a crucial part in this change, because serotonin influences aggression.

To test these ideas,...