By Michael Wolraich on Fri, 05/20/2011 - 7:56pm | Religion
Saturday, May 21, 2011: Judgment Day
At least that's what Christian radio broadcaster Harold Camping has predicted. According to Camping, the Rapture will occur at 9pm ET / 6pm PT. For those who are rusty on their Biblical prophesies, that means that all the good Christians will rise directly to Heaven, body and all. The rest of us schmucks will stick around on Earth for a few months to suffer the horrible tribulations that precede the Apocalypse--earthquakes, plagues, war, and the finale of The Glenn Beck Show.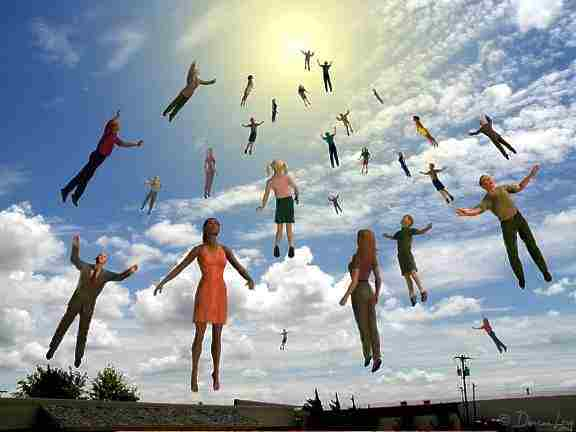 Sadly, Camping's nonsense seems to have seduced at least a few believers, some of whom have quit their jobs, squandered their life savings, fought with their loved ones, and even arranged to euthanize their pets.
You might wonder what these people will do once they fail to ascend directly to Heaven on Saturday night. Conventional wisdom has it that they will react with rage and despair, resulting in suicide, loss of faith, and anger at the charlatan who deceived them.
But conventional wisdom is wrong.
In 1954, a team of undercover psychologists infiltrated a UFO cult led by a Dorothy Martin, a Michigan housewife who claimed to be able to communicate with aliens from the planet Clarion. The aliens warned her that a massive flood would submerge much of the continental United States on December 21, 1954.
One of the psychologists, Leon Festinger, had a theory about what would happen to that cult if the prophesied flood failed to materialize. Festinger had observed that when doomsday predictions of historical religious cults proved mistaken, the fervor of the members actually increased, and they began proselytizing aggressively, leading to rapid growth of the movement.
"The individual will frequently emerge, not only unshaken, but even more convinced of the truth of his beliefs than ever before," Festinger wrote. "Indeed, he may even show a new fervor about convincing and converting other people to his view."
There was no apocalyptic flood in 1954, of course, and the UFO cult behaved exactly as Festinger had predicted. While Dorothy Martin had previously shunned journalists and welcomed new members with caution, she suddenly went on a public relations blitz, inviting anyone who inquired into her home to be proselytized. While a few cult members dropped out, most became more fervent than ever and joined Martin in proselytizing.
Festinger called the psychological condition that led to the escalated passion cognitive dissonance. Cognitive dissonance occurs when a person holds two inconsistent opinions or beliefs at the same time. For example, a smoker's knowledge that smoking is unhealthy conflicts with his awareness that he keeps on smoking anyway. Similarly, the UFO cultists' belief that their leader communicated with an advanced alien race from Clarion conflicted with the undeniable fact that the United States did not suffer from the massive flood that the aliens had predicted.
According to Festinger, the condition of cognitive dissonance produces significant psychological discomfort, and the mind generally feels pressure to reduce or eliminate the contradiction. One obvious way to do that is to reject one element of the dissonance. A smoker, for example, could quit smoking. But as millions of smokers can attest, that's not always easy to do. Likewise, most of the UFO cultists had profoundly committed themselves to the alien prophecy. They had quit their jobs, exhausted their savings, and repeatedly warned their skeptical families and friends of the impending disaster.
Shrugging their shoulders and admitting their error would not have been easy. One cultist disconsolately whimpered in the despairing hours after midnight on the day of the prophecy, "I've given up just about everything. I've cut every tie: I've burned every bridge. I've turned my back on the world. I can't afford to doubt. I have to believe."
An alternative mechanism for relieving the psychological pressure is to rationalize some resolution to the dissonance. Millions of smokers, for example, say they plan to quit in the near future. Many also underestimate the number of cigarettes they smoke, and some even find reasons to doubt the well-established health risks.
Similarly, at 4:45 a.m. on December 22, 1954, Dorothy Martin received a message from God that in light of the righteousness of her little Michigan crew, He had decided to spare the earth from the massive flood. Martin's jubilant followers enthusiastically embraced the explanation, and the next day, they alerted the press that the country had been saved.
Festinger theorized that rationalization can somewhat reduce cognitive dissonance but that for it to be fully effective, people need others to ratify the rationalization. Thus, members of the UFO cult relied on each other to bolster their confidence in the new explanation for the nation's miraculous salvation. But in the case of severe dissonance, even the affirmation of a few peers may not be sufficient to relieve the psychological pressure. To truly assure themselves of the validity of their rationalization, people may feel the need to persuade a wider audience.
As Festinger explained:
If more and more people can be persuaded that the system of belief is correct, then clearly it must, after all, be correct. Consider the extreme case: if everyone in the whole world believed something there would be no question at all as to the validity of this belief. It is for this reason that we observe the increase in proselyting following disconfirmation. If the proselyting proves successful, then by gathering more adherents and effectively surrounding himself with supporters, the believer reduces dissonance to the point where he can live with it.
So when the Rapture fizzles on Saturday night, don't expect the believers to cry bitter tears and denounce their prophet. Harold Camping will come up with a rationalization for the error, just as he did the last time his predictions of Judgment Day didn't pan out. Those who have sacrificed so much because of his prophesies will eagerly swallow his explanation, for believing is far easier than admitting they were wrong. And to assure themselves of their convictions, they will likely seek to persuade as many people as possible of the righteousness and the wisdom of one Harold Camping.
The article includes excerpts from my book Blowing Smoke: Why the Right Keeps Serving Up Whack-Job Fantasies about the Plot to Euthanize Grandma, Outlaw Christmas, and Turn Junior into a Raging Homosexual (by permission of the author).