The Great Stagnation: How America Ate All The Low-Hanging Fruit of Modern History, Got Sick, and Will (Eventually) Feel Better by Tyler Cowen

The Great Stagnation, a short yet ambitious e-book by economist Tyler Cowen, has been generating a lot of buzz lately. It has been recommended by Matthew Yglesias (ThinkProgress), Ezra Klein (Washington Post), Tim Harford (Financial Times), and Nick Schulz (Forbes), to name a few.
I bought the book on the suggestion of EmmaZahn here at dagblog. I found it to be clear, original, and so engrossing that I missed my subway stop. But I did not ultimately find it persuasive.
In the book, Cowen argues that America's spectacular growth of the past 200 years has been driven by the consumption of "low-hanging fruit" which we have now exhausted. In particular, he cites cheap land, advances in education, and technological innovation. He argues that since we can no longer rely on these drivers, our economy will stagnate for the foreseeable future.

But you don't have to be an economist to see that the evidence Cowen relies on to bolster his low-hanging fruit theory has been derived from some aggressive cherry picking.
I'll focus on the technological innovation element, since that's what Cowen spends most of his time discussing. To demonstrate that technological growth is slowing, Cowen cites an article by physicist Jonathan Huebner which argues that per capita innovation peaked in the late 19th century and has now dropped to the level of the Dark Ages:
The key phrase is per capita, however. The chief cause of this alarming drop is not a decline in the rate of innovation but rather the exponential growth of human population. From an economic point of view, the per capita number is indeed significant, but it's not particularly relevant to Cowen's point regarding American stagnation. That's because almost all this technological innovation has come from the industrialized world, where population growth is far slower.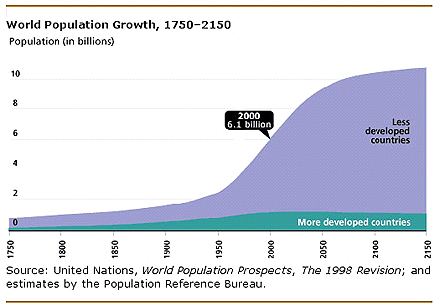 I don't have the data to redraw Huebner's chart in terms of American-specific innovation and population, but you would certainly see a far less dramatic curve.
Beyond this chart, most of Cowen's evidence is anecdotal. He observes that the technological changes of previous generations had a far greater effect on peoples' lives. The advent of the automobile, the telephone, and refrigeration changed the world. By contrast, the innovations of the past few decades, such as more efficient cars and refrigerators that make ice cubes, have not been revolutionary.
Except, one might think, the Internet, which Cowen promises to address in Chapter 3. In Chapter 3, he acknowledges that the Internet has changed our lives, mainly because it's so much fun. In fact, he uses the word "fun" in the context of Web surfing seven times. (I found myself thinking, "OK, I get it. The Web is fun.")
Nonetheless, Cowen argues that the real economic impact of the Internet has been relatively small because so much of it is free and automated. He observes that Google, Facebook, eBay, and Twitter collectively employ fewer than 40,000 people.
Have you spotted the cherry picking yet? Google, Facebook, eBay, and Twitter are rich, successful companies, but they are like pretty blossoms on the tree of the computer revolution. The technology sector employs 5.8 million people in the U.S., and that doesn't include all the workers who rely on computer and internet technology, which is almost everyone. In the past 30 years, the computer and the internet have revolutionized every industry in the nation, from manufacturing to finance to government to publishing to Cowen's own field of economics.
Here's one tidbit from the book that nicely illustrates Cowen's technology myopia. At one point, he argues that the growth of large corporations and centralized governments was made possible by the innovation of paper file systems in the late 1800s. Simply put, large-scale bureaucracies require the ability to track people and goods.
So what has been the greatest advance in file system technology in 100 years? The computer database. In the 1980s and 1990s, database and network technology vastly increased the efficiency and scale of modern bureaucracies. But Cowen doesn't even mention it.
Indeed, Cowen only uses the word "computer" five times (two less than "fun") and only in the context of home computing. Think about that. He wrote an electronic book full of computer-gathered statistics about the economic impact of technology without so much as broaching the subject of computers in the workplace.
Towards the end of the book, Cowen diagnoses the failure of economists to appreciate the scale of the Great Stagnation, arguing that the contagious optimism produced by a boom economy led them to ignore the contrary data. He even confesses that he himself failed to anticipate the financial crisis because he was caught up in the optimism.
But just as boom times lead even hard-nosed economists to wear rose-colored glasses, economic busts lead many of the same economists to interpret data in an overly pessimistic way. Despite the many original ideas presented in The Great Stagnation, it is nonetheless a classic recession-driven fit of gloominess. Cowen is still caught up in the social hysteria; it's just that the hysteria is now going the other way.
4388 reads
In the News
The Risk of High-Protein Diets

By Kevin Helliker, Wall Street Journal, March 11, 2014

Research shows that a diet high in protein and low in carbohydrates can help shed pounds and normalize blood-glucose levels, improvements that lower the risk of diabetes and cardiovascular disease.

But will you live longer on a high-protein, low-carb diet? Two studies in the current edition of the scientific journal Cell Metabolism suggest the opposite. One involved an experiment conducted on mice, the other an 18-year study of humans who had divulged their dietary habits. Both studies found a strong association between longevity and a low-protein, high-carbohydrate diet, although...

Edward Snowden : From Russia With Love

Given Russia's actions in Crimea, shower spying at the Olympics and sending Cossacks after Pussy a Riot, one might have expected more detailed questioning of Snowden during his televised appearance at SXSW. Should Snowden be as vocal about Russia as he is about the United States?

James Holmes' lawyers ask supreme court for help over...

Associated Press in Denver, March 10, 2014

Lawyers for the man charged with killing 12 people in a Colorado movie theater asked the supreme court to require a Fox News reporter to identify her sources for a story about the defendant.

The attorneys said Monday they asked the justices to review a New York state court ruling that Colorado cannot force New York-based reporter Jana Winter to reveal who told her that Holmes sent his psychiatrist a notebook containing violent images before the July 2012 attack.

Holmes' lawyers say whoever spoke to Winter violated a gag order and should be punished. They also say that officers might have lied when they denied under oath being Winter's sources, undermining their credibility as...

The Reckoning: The father of the Sandy Hook killer searches...

By Andrew Soloman, The New Yorker, March 17, 2014 issue and available online now

[....] Since the shootings, Peter has avoided the press, but in September, as the first anniversary of his son's rampage approached, he contacted me to say that he was ready to tell his story. We met six times, for interviews lasting as long as seven hours [....]

Interview subjects usually have a story they want to tell, but Peter Lanza came to these conversations as much to ask questions as to answer them. It's strange to live in a state of sustained incomprehension about what has become the most important fact about you. "I want people to be afraid of the fact that this could happen to them," he said. It took six months after the shootings for a...