If a Sea Turtle could, it would murder you with its bare hands. And liberal environmentalists would like nothing more than to allow this ancient species to gain the power they've always slowly plotted.

Sea Turtles are often portrayed as wise, harmless keepers of the deep. But such a description couldn't be further from the truth. The fact is this – Sea Turtles are monstrous man-eaters that make Great White Sharks look like otters.
It is with this view of protecting the human race from the scourge of Sea Turtles gone mad with blood lust that British Petroleum has taken the bold and courageous stance to burn these Sea Turtles alive.. Did you know that 95 percent of the nutrition a Sea Turtle gets is via human blood? Well now you do.
Little Timmy Johnson of Tupelo, Miss., was one of those people who had been misinformed about Sea Turtles. Just 7, Johnson was playing with a Sea Turtle when he disappeared. After hours of searching, little Timmy was found – with a really surprised look on his face – inside the stomach of the Sea Turtle.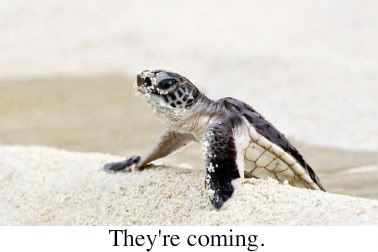 British Petroleum wants to see no more Timmy Johnsons lose their lives to these evil creatures. This is why all Americans must stand behind BP and against anarchist environmentalists. They are trying to SAVE these monsters of the deep.
Political correctness has always sided with the sea turtle, so this is your chance to let the facts do the talking and help BP burn Sea Turtle's and their eggs. Don't let the murderous environmentalists win. They are already crowing about their latest victory. But will they crow when an angry Sea Turtle rips them limb from limb?
Let BP save the world from this menace. Let them burn Sea Turtles alive. For America.
–WKW

This post written due to a generous grant from British Petroleum.
696 reads