Finally making our trek into Rio de Janeiro's famed Sambódromo as part of the Imperatriz Leopoldinense Samba School, one thing became exceedingly clear – we weren't seeing the big picture.

For the roughly one hour it took us to make our way through the Sambódromo, we were assaulted by lights, fans, and workers from Imperatriz trying to keep us in order. All told there were approximately 10 of us who took part in this adventure. Our section of the parade march included roughly 200 people. The entire Imperatriz Leopoldinense Samba School consisted of about 3,000 people. The Sambódromo was packed with more than 70,000 fans, and the television audience was in the millions.
But amid all the chaos, fun, da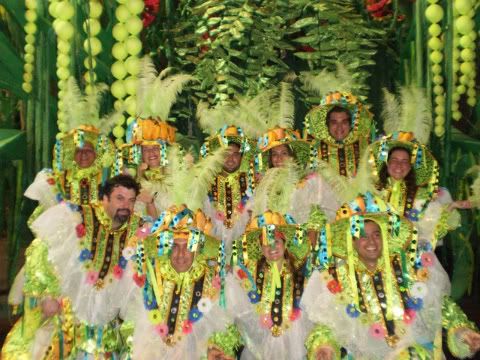 ncing and people, the entire surreal party came down to just one person for me – Emilia.
Being a part of the Carnival celebration in Brazil is one of those "bucket list" type things. It is an experience all its own, and each person involved comes away with their own story.
I'm Samba Bill. This is my story.

To try and describe Carnival week in Rio de Janeiro is nearly impossible. Aside from the main samba festivities, there are block parties going on all throughout the city, where revelers can have their own Carnival party on the streets. Literally thousands of people from all walks of life are there in full festa mode, and there is a friendliness and happiness in the city that's truly palpable.
It is in this environment of enjoyment that we made our way to the Sambódromo, hooked up with the Imperatriz team and waited for our turn to samba proudly past the electric crowd. The drinking, dancing and frivolity took center stage as the we awaited our trip down the literal center stage. Despite this atmosphere, however, I was lost in my own world of pain.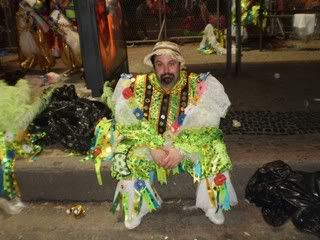 I had a toothache.
Luckily for me, one of the people in our little group of 10 happened to be a dentist, and before we went to the Sambódromo, he had hooked me up with some antibiotics. For this I am forever grateful to my new Dentist friend, who, strangely, I only know by his nickname of "Big Cutie."
So for me, the first two hours of waiting for our turn in the parade were dominated by tooth pain. Luckily, the antibiotics did their job and the pain slowly dissipated. Unluckily, the amount of pain pills I had taken through the day decided to re-emerge as I had to go find a nice private place to throw up (note to future Carnival attendees: There are no private places to throw up there.)
My physical problems behind me, our band of Brazilians and foreigners began our trek down the parade walkway. Fully costumed in the 90-plus-degree heat, it was our time to perform.
Which brings me to Emilia.
My wife is many things, but at the heart of all those things is a Brasileira. She is a fun and happy person who rarely needs to be asked twice to have a good time. And she was not about to let this Carnival go by without getting the most out of it. Because while I was busy clutching my jaw and vomiting in front of grossed-out Carnival revelers, Emilia was busy enjoying the company of her two sisters, as well as shots from the bottles of booze that seemed to magically appear out of nowhere.
When our performance finally began, Emilia came over to me and gave me a kiss. Sweating, with a big smile and slightly glazed eyes, she had that look – this Carnival now belonged to her, so get out of her way.
So as we made our way past the throngs of fans, I was fascinated by the surrealness of it all. I played to the crowd some. I samba'd some. And I watched Emilia, who kept herself busy by tempting the Imperatriz officials to throw her out.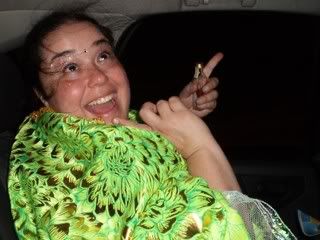 First, she was yelled at for taking pictures during the event. Then she scared the hell out of Brazilian actress Susana Vieira – who was in the crowd – by screaming at her how much she loved her. And all this while having Imperatriz officials pulling out their hair due to her complete unwillingness to even fake being orderly.
But she made it through, as did I. With Emilia's joyousness, the music blaring and the crowd cheering, it was truly a remarkable event and an experience I'll never forget. Friends new and old all came together for what was what can only be described as a celebration of life. It was everything I hoped it could be and more.
About six weeks ago, when Emilia approached me with her plan for us to take part in Carnival, I agreed for a multitude of reasons. The main one, however, was that I was still coming to grips with my mother's death, and I felt like this would be a way to help me understand life and death and loss better. I can't say I had a plan or anything, but I did feel as though there would be connections to be made and lessons to be learned.
As I wrote earlier, taking part in Carnival means you don't get to see the big picture. You don't get to see your school's entire program and you don't get to see the full opulence of the occasion. You are just one piece of a very intricate puzzle.
And I suppose that's the ultimate lesson I took from Carnival 2009. That we are all just pieces of an incredibly intricate puzzle. That our connections are vital to make the rest of the picture come clear, whether it be at a world-famous festival or in life in general.
These are just words, of course. Because with Carnival 2009 behind me, I can safely say that I miss my Mother even more now. And I have no idea how to make that hurt go away or if I even want it to go away. Despite that, however, I feel the same clarity and love that I have felt since I was married some seven years ago.
Because I can see the big picture – in the beautiful, mischievous eyes of Emilia. I love you, baby.
See Also:
Samba Bill & the Road to Carnival: The complete series

More pictures can be viewed here.
–WKW
620 reads
In the News
Britain, Germany and France Now Oppose Hezbollah

By Nicholas Kulish, New York Times, May 22/23, 2013

BERLIN — Three of Europe's most powerful countries — Britain, Germany and France — have thrown their weight behind a push for the European Union to designate the Lebanese militant group Hezbollah as a terrorist organization, a move that could have far-reaching consequences for the group's fund-raising activities on the Continent.

On Wednesday, Germany signaled an about-face in its policy toward the group, with a statement saying Foreign Minister Guido Westerwelle supported listing "at least the military wing" of the organization as a terrorist group. The announcement came just a day after Britain's Foreign Office said it would...

Man killed in meat-cleaver terror attack in London

Woolwich killing: meat cleaver, knife and jihadist claims filmed on mobile

By Vikram Dodd, Shiv Malik & Ben Quinn, guardian.co.uk, May 22,2013

Dramatic footage emerges of suspect after British soldier is killed in suspected terror attack

• British soldier dead in suspected terror attack in London
• Knife attack near barracks 'an eye for an eye', says suspect
• Killing in street is 'absolutely sickening' says prime minister

Also @ The Guardian:...

A Word from Our Sponsor

By Jane Mayer of the New Yorker. If you are wondering how far PBS is willing to go to placate David Koch to keep their funding? It gives you a look into the special documentry "Citizen Koch" and its fall out. The program was never aired except at Sundance. David Koch resigned from WNET on May 16th.