By William K. Wolfrum on Tue, 09/28/2010 - 1:50pm | Humor & Satire, Personal
My friends, it is time we all accept a universal truth – the U.S. economy is dead. It is now being kept alive only by the exceedingly rich throwing money at things. This too shall end. And capitalism will be no more.
Which is why I fervently believe that the United States must go full-on Socialist, immediately (Note: What that entails will never completely be determined). We need to get a head start on the coming disaster. I believe a mish-mash of random socialistic concepts could help ease the pain of the plummet into utter ruin. After all, that's how everyone else did it when they went Socialist.
Thus, I propose:
All Property belong to the State.
Take everyone's guns away.
Eliminate the dollar.
Mandatory Atheism.
Purple Nurples. Every gets a shitload of Purple Nurples.
Mandatory food shortages.
Have the government hire everyone.
Have government manage all facets of life.
Kill all dissenters.
Now, that last part is one of the things that will probably cause some type of controversy. Because the one thing many Tea Partiers forget when they chant about "Revolution" is that revolutions are terribly bloody affairs. I mean, lots and lots of death. Pretty much everyone you know will probably get killed or thrown in a camp. Personally, that's a sacrifice I'm willing to make for everyone else for my country.
Oh, also, we'll have to kill everyone in the South and use them as food. Don't tell them, as it would be a surprise attack.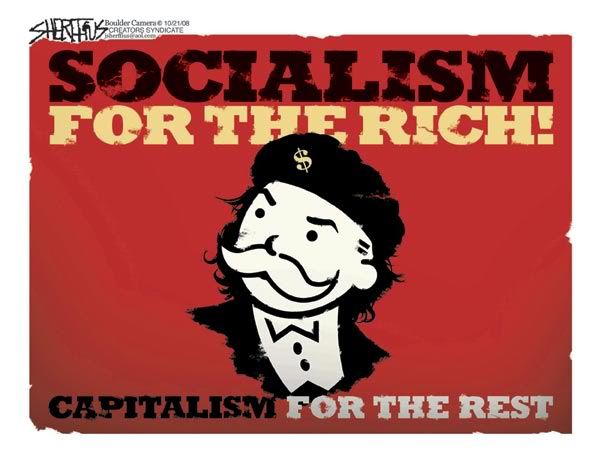 This needs to be a fast and furious changeover of economic and political systems. Thus, all current elected officials, prominent corporate CEOS and Lobbyists, will become "State Neo-Capitalists." Or something special like that. Because they'll deserve a fancy title, being that they'll be the ones that ultimately own all the property and guns, as well as being your employers.
Now some may say America's not ready for such a plan. That Socialism will only lead to horrendous property, corruption and ultimately the death of the nation.
But I say America must be ready! The time to act is now. Because, of course, socialism won't work and will ultimately lead to doom. But that's never stopped America before!
Or we can just wait it out. Because, oddly enough, the Socialism plan should work exactly the same as Conservative plans of tax-less, winner-take-all Capitalism. So, actually, upon further review, a switch may not be THAT vital. It's a rollicking sleigh-ride to Thirdworldlandia, regardless.
But still, we are and always will be Americans.
So choose Socialism! Or choose U.S.-Style Capitalism! Because we're Americans. And we should have the freedom to choose our own destruction.
–WKW
Crossposted at William K. Wolfrum Chronicles