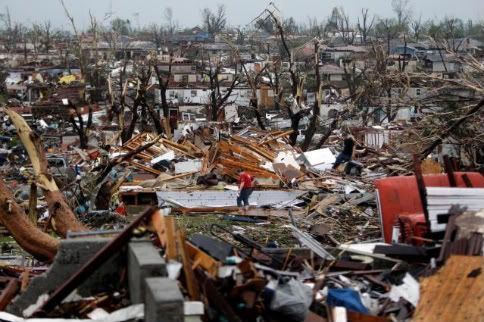 It's devastation in Missouri.
Tornado
Missouri: Obama to head to Missouri on Sunday as death tolls reach more than 110.
How to Help Tornado Victims (Via USA Today)

With rescue and relief effort underway in Joplin as we speak, here is a list of ways to help:

First up, the Red Cross encourages people to register on the Red Cross Safe and Well website to let loved ones know they are safe by visiting http://www.redcross.org/ or calling 1-800-RED CROSS (1-800-733-2767). From a smartphone, visit www.redcross.org/safeandwell and click on the "List Yourself as Safe and Well" or "Search for Friends and Family" link.

- The Community Foundation of Kansas City has created two funds to pool donations, which you can make donations to online – the Joplin Missouri Disaster Relief Fund and the Reading Kansas Disaster Relief Fund. Community Foundation staff will perform the due diligence to ensure that grants from both funds are awarded to organizations addressing the immediate needs of the victims of the tornadoes, such as providing food, shelter and medical care/supplies. If you would like to donate with your credit card, please call 816-842-7444.

- Convoy of Hope's disaster response team has been in contact with emergency management officials to determine how best they can assist with responding to the disaster. The first truckload of essential supplies such as water, snacks and ready-to-eat meals was transported this morning to the Missouri Southern State University in Joplin. More supplies will be following as Convoy of Hope works with local emergency officials to determine what locations and products will best serve the response. Those wanting to help can make a secure online donation at www.convoyofhope.org or can make a $10 text donation by texting the word, CONVOY to 50555. Standard message and date rates apply.

- The Salvation Army is providing emergency relief services to survivors and first responders of the Joplin tornado. The Army has mobilized four feeding units in impacted areas of the city and are offering food and beverages. The organization is also providing relief services in other impacted cities that were hit by tornadoes over the weekend, including: Minneapolis; Reading, Kan.; and Grove and Ketchum, Okla. There are four ways to help:

Text the word "Joplin" to 80888 to make a $10 donation.
By phone: 1-800-SAL-ARMY – Joplin Tornado Relief
On-line at: www.donate.salvationarmyusa.org
By mail: Send your check to:
Joplin Tornado Relief
The Salvation Army
3637 Broadway
Kansas City, MO 64111

- Red Cross emergency response vehicles are already responding in Missouri, helping to transport supplies to the shelter. Those who want to help people affected by disasters can make a donation to support American Red Cross Disaster Relief. Visit www.redcross.org or call 1-800-RED-CROSS; people can also text the word "REDCROSS" to 90999 to make a $10 donation. Contributions may also be sent to local American Red Cross chapters or to the American Red Cross, P.O. Box 37243, Washington, DC 20013.

- World Vision's disaster response director arrived in Joplin today. The organization raised its tornado response appeal to $5 million to meet additional needs in Missouri and Minnesota. To support these relief efforts, text TORNADO to 20222.

- From Feeding America, here is a link to a list of food agencies that are helping the hungry in this tornado-striken region.

For additional information and resources to help those effected by the Joplin tornado, visit Facebook.
Blogs
Crooks & Liars: I'm assembling Mike's Blog Round Up at Crooks & Liars this week if you care to see my selections there.
Washington Monthly: Tim Pawlenty may need to rethink his new persona as a "truth-teller."
Paul Krugman: Hey, there's something seriously wrong with the GOP!
Finally
This post desperately needs some newborn clouded leopard cubs from Zoo Borns.
–WKW
Crossposted at William K. Wolfrum Chronicles
347 reads
In the News
Obama: There's no longer time for excuses for black men

By Aamer Madhani, USA Today, May 19, 2013

President Obama on Sunday told the graduating class at Morehouse College, the country's pre-eminent historically black college, there is "no time for excuses" for this generation of African-American men and that it was time for their generation to step up professionally and in their personal lives.

[....] The president connected his own path to the White House to the work of King and other African-American leaders of that generation. But Obama also conceded that at times as a young man he wrongly blamed his own failings "as just another example of the world trying to keep a black man down."

"We've got no time for excuses — not because the bitter legacies...

Congress defies White House with new round of Iran sanctions

By Julian Pecquet, The Hill, May 18, 2013

Congress is ramping up a new round of sanctions against Iran, ignoring the Obama administration's request to let diplomacy run its course.

In back-to-back hearings this week, lawmakers on key House and Senate panels put the State and Treasury departments on notice that their patience is wearing thin after the latest round of talks last month failed to produce a deal. Both chambers have legislative efforts in the works – the House foreign affairs panel will vote next week – but the administration is warning against any moves that could undermine international support for the existing sanctions against Iran's alleged nuclear weapons program [....]

From Fearsome Predator to Man's Best Friend (dogs may have...

By Carl Zimmer, New York Times/Science, May 16/17, 2013

An article that summarizes the recent work of Ya-Ping Zhang, a geneticist at the Chinese Academy of Sciences, who has led an international network of scientists who have compared pieces of DNA from different canines which is pointing to the theory that dogs domesticated themselves.

But the article's message is not just what it first appears to be. When you get to the concluding paragraphs there are some real though provokers:

[....] SLC6A4 may have played a crucial part in this change, because serotonin influences aggression.

To test these ideas,...