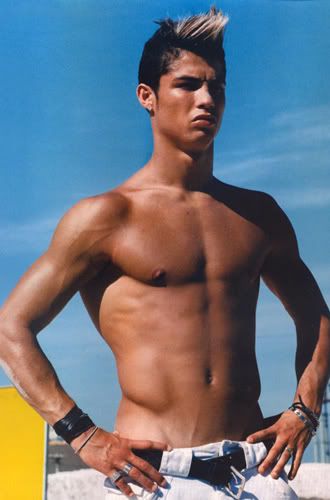 Portugal's Cristiano Ronaldo gets a bit of a bad rep. How many other players have been openly booed during the World Cup in South Africa. I can understand, of course. He's too good-looking and too aware of it. He's arrogant. He's really, really good. And he's always up in your face. Yes, Ronaldo is Europe's answer to a Kardashian sister, but with talent and accomplishments. Be it ads, interviews, feature stories or tabloid stories, Cristiano Ronaldo is all up in your face.
Except for 90 minutes against Spain. For Ronaldo detractors, it must have been a blissful time. For long stretches of time, I was equally as influential on Portugal's 1-0 loss to Spain as Ronaldo. Blame it on the formation or Spain's dominance, or the (rather hideous number of) bad calls against him, but Ronaldo looked afraid to upset a church mouse on the pitch.
So Ronaldo detractors, I know you'll be living in a Ronaldo-dominated world soon again. But for 90 minutes Sunday, you got to enjoy life without Cristiano Ronaldo.
–WKW
Crossposted at William K. Wolfrum Chronicles
3607 reads
In the News
Affluenza? Hmmm...

Somehow, this feels portentous.

Like the final throes of a decadent society.

The symbolism (and reality) reaches far beyond this one case.

I once met the creator of the "Twinkie defense," but this is beyond the beyond.

No one is immune from Beijing's 'gravity machine'

Deng Xiaoping was fond of quoting the ancient Chinese proverb "Tao guang yang hui", which is generally rendered: "Hide your brightness, bide your time." The idea was to keep China's capabilities secret until the moment was right to reveal them. Until then, the priority was to raise incomes and integrate the country into the global economic system.

Now China is comfortably the world's second-largest economy and, quite possibly, on its way to becoming the largest. In Xi Jinping it has a leader whose articulation of a China Dream – "the great rejuvenation of the Chinese nation" – is explicitly aimed at recapturing national greatness. The time for false modesty, it seems, is over.

...

U.S. Suspends Nonlethal Aid to Syria Rebels

By Michael R. Gordon, Mark Landler and Anne Barnard, New York Times, Dec. 11/12, 2013

[....] The administration acted after warehouses of American-supplied equipment were seized Friday by the Islamic Front, a coalition of Islamist fighters who have broken with the moderate, American-backed opposition, but who also battle Al Qaeda.

Administration officials said that the suspension, confirmed on Wednesday, was temporary and that the nonlethal aid, which is supplied by the State Department, could flow again.

But with rebels feuding with one another instead of concentrating on fighting Mr. Assad, and with the United States still groping for a reliable partner in Syria,...