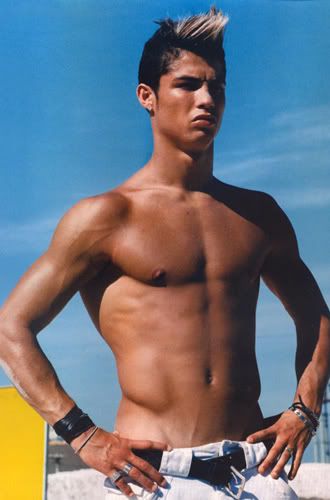 Portugal's Cristiano Ronaldo gets a bit of a bad rep. How many other players have been openly booed during the World Cup in South Africa. I can understand, of course. He's too good-looking and too aware of it. He's arrogant. He's really, really good. And he's always up in your face. Yes, Ronaldo is Europe's answer to a Kardashian sister, but with talent and accomplishments. Be it ads, interviews, feature stories or tabloid stories, Cristiano Ronaldo is all up in your face.
Except for 90 minutes against Spain. For Ronaldo detractors, it must have been a blissful time. For long stretches of time, I was equally as influential on Portugal's 1-0 loss to Spain as Ronaldo. Blame it on the formation or Spain's dominance, or the (rather hideous number of) bad calls against him, but Ronaldo looked afraid to upset a church mouse on the pitch.
So Ronaldo detractors, I know you'll be living in a Ronaldo-dominated world soon again. But for 90 minutes Sunday, you got to enjoy life without Cristiano Ronaldo.
–WKW
Crossposted at William K. Wolfrum Chronicles
3658 reads
In the News
Pope Francis and the Superman Problem

By Amy Davidson, Close Read @ newyorker.com, March 6, 2014

[...] "You have said that the Francis-mania will not last long," the Corriere della Sera interviewer said. "Is there something in your public image that you don't like?" The Pope replied, "I don't like the ideological interpretations, a certain 'mythology of Pope Francis' ":

"If I'm not wrong, Sigmund Freud said that in every idealization there is an aggression. Depicting the Pope to be a sort of superman, a type of star, seems offensive to me. The Pope is a man who laughs, cries, sleeps calmly and has friends like everyone. A normal person"

Not everyone sleeps calmly; there is a difference...

Mark Pryor and Chris Coons stab party in the back. Let...

For want of two senate votes the nominee to head the Dept of Justice Civil Rights Division was denied confirmation.

Two of those voting against him were Democrats up for re-election this year.

If it's too late to primary them, they need to go down to defeat in the general election.

Not one dime should be spent, not one door knocked on.

In fact, send the Repugnant a donation. It's for the greater good.

Zombie Studies Gain Ground on College Campuses

Just as zombies—those mythical revived corpses hungry for living human flesh and gray matter—have infiltrated pop culture, they have also gotten their hands on our brainiest reserves: the academy. ... an advancing horde of scholars ... compelled by the cultural history and metaphor of the undead, are teaching and conducting research in disciplines from economics to religion to medicine.

The last five years have seen 20 new scholarly books with "zombie" in the title or topic category, according to Baker & Taylor, a distributor of academic and other books; in the 10 prior years, there were 10. JSTOR, an online archive of about 2,000 academic journals, says the journals have run 39 articles invoking the undead since 2005...