By William K. Wolfrum on Wed, 06/23/2010 - 12:09pm | Sports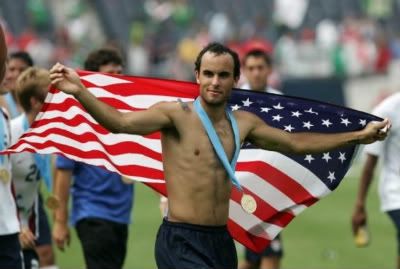 As injury time was running out, Landon Donovan buried a goal to send the U.S. past Algeria, 1-0. With the win, the U.S. advances to the 2010 World Cup knockout round. Two thoughts:
1) I am forever sorry about writing this post about Donovan.
2) As my Brazilian wife said: "Can't you Americans do anything without making it a movie?"
I suppose not. A brilliant performance by the U.S., which goes into the knockout round confident and motivated. Just a great World Cup match.
Update: For those that would like to see Donovan's goal. Over and over again:
--WKW
Crossposted at William K. Wolfrum Chronicles