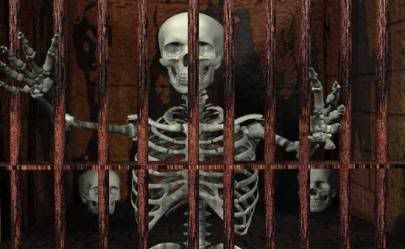 The next Gitmo detainee patiently awaits his turn at justice.
News/Politics
OMG! Terrorists: Ahmed Khalfan Ghailani convicted on only one of 285 charges. That's good enough for 20 years to life, of course, but expect to see Liz Cheney this weekend explaining why the American Justice system is an utter failure.
Gitmo Gaffe: Obama played Gitmo about as poorly as he could.
Socialism Works!: GM explodes back onto Wall Street.
Democracy Works!: Lisa Murkowski's write-in voters steamroll Joe Miller in Alaska.
Assange in Trouble: The Swedish authorities want to talk to Wiki-Leaks mastermind Julian Assange about his involvement in a rape.
TSA Questions
"Is that a String hanging out your vagina or a fuse?"
Blogs
Ewan McIntosh: What is a community? Let Ewan know.
Radar Online: Eva Longoria wasn't quite enough for Tony Parker.
Stuart Shapiro: Warren Buffet sends his thanks to the government.
David Seaton: Haitian cholera: opening soon in theaters near you... not.
Outside the Beltway: Investigative journalism, RIP.
Finally
A tortured reality
--WKW
Crossposted at William K. Wolfrum Chronicles

352 reads
In the News
Ukraine turns to Oligarchs?

sorry for the Fox News link, but interesting all the same.

I figure much of the problem is rich Russians vacationing in the Crimea - all that oil money has to go somwehre.

Markets already see a Putin win

Oscar Wilde described marriage as the triumph of hope over experience. In finance and geopolitics, by contrast, experience must always prevail over hope, and realism over wishful thinking.

A grim case in point is the confrontation between Russia and the West in Ukraine. What makes this conflict so dangerous is that U.S. and EU policy seems to be motivated entirely by hope and wishful thinking. Hope that Russian President Vladimir Putin will "see sense" — or at least be deterred by the threat of sanctions to Russia's economic interests and the personal wealth of his oligarch friends. Wishful thinking about "democracy and freedom" inevitably overcoming dictatorship and military bullying.

Crimea and the morality of seccession

Note that this opinion piece is on whether the secession of Crimea can be morally justified and does not address the question about what to actually do if the voters do vote to secede (or if fraudulent election results say that they do).

Pope Francis and the Superman Problem

By Amy Davidson, Close Read @ newyorker.com, March 6, 2014

[...] "You have said that the Francis-mania will not last long," the Corriere della Sera interviewer said. "Is there something in your public image that you don't like?" The Pope replied, "I don't like the ideological interpretations, a certain 'mythology of Pope Francis' ":

"If I'm not wrong, Sigmund Freud said that in every idealization there is an aggression. Depicting the Pope to be a sort of superman, a type of star, seems offensive to me. The Pope is a man who laughs, cries, sleeps calmly and has friends like everyone. A normal person"

Not everyone sleeps calmly; there is a difference...