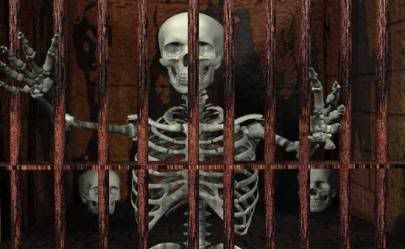 The next Gitmo detainee patiently awaits his turn at justice.
News/Politics
OMG! Terrorists: Ahmed Khalfan Ghailani convicted on only one of 285 charges. That's good enough for 20 years to life, of course, but expect to see Liz Cheney this weekend explaining why the American Justice system is an utter failure.
Gitmo Gaffe: Obama played Gitmo about as poorly as he could.
Socialism Works!: GM explodes back onto Wall Street.
Democracy Works!: Lisa Murkowski's write-in voters steamroll Joe Miller in Alaska.
Assange in Trouble: The Swedish authorities want to talk to Wiki-Leaks mastermind Julian Assange about his involvement in a rape.
TSA Questions
"Is that a String hanging out your vagina or a fuse?"
Blogs
Ewan McIntosh: What is a community? Let Ewan know.
Radar Online: Eva Longoria wasn't quite enough for Tony Parker.
Stuart Shapiro: Warren Buffet sends his thanks to the government.
David Seaton: Haitian cholera: opening soon in theaters near you... not.
Outside the Beltway: Investigative journalism, RIP.
Finally
A tortured reality
--WKW
Crossposted at William K. Wolfrum Chronicles

314 reads
In the News
Utilities for dummies: How they work and why that needs to...

There's very little public discussion of utilities or utility regulations, especially relative to sexier topics like fracking or electric cars. That's mainly because the subject is excruciatingly boring, a thicket of obscure institutions and processes, opaque jargon, and acronyms out the wazoo. Whether PURPA allows IOUs to customize RFPs for low-carbon QFs is actually quite important, but you, dear reader, don't know it, because you fell asleep halfway through this sentence. Utilities are shielded by a force field of tedium.

It's is an unfortunate state of affairs, because this is going to be the century of electricity. Everything that can be electrified will be. (This point calls for its own post, but mark my...

"Kids Shoot the Darndest Things"

I'm not sure how many of you have read the Seattle newspaper The Stranger. "Goldy" is a sudonym (I hope I spelled that right) - the writer is pretty hardcore and unrelenting on many progressive issues, gun ownership no exception.

Wait, there are riots in Sweden?

By Elias Groll, Passport @ ForeignPolicy.com, May 22, 2013

[....] The rioting -- the worst social unrest to strike the country in many years -- was sparked by the lethal police shooting of a 69-year-old, knife-wielding man last week in the suburb of Husby, the epicenter of the riots. Roaming gangs of angry youths have since clashed with police and Husby residents have complained of racist treatment by police officers, who they say have used epithets such as "monkey."

What's happening in Husby is clearly a symptom of Sweden's failed effort to integrate its massive immigrant population. Housing segregation is rampant in the country, and Husby is a case study in how immigrant populations have come to dominate Stockholm's outer...

Britain, Germany and France Now Oppose Hezbollah

By Nicholas Kulish, New York Times, May 22/23, 2013

BERLIN — Three of Europe's most powerful countries — Britain, Germany and France — have thrown their weight behind a push for the European Union to designate the Lebanese militant group Hezbollah as a terrorist organization, a move that could have far-reaching consequences for the group's fund-raising activities on the Continent.

On Wednesday, Germany signaled an about-face in its policy toward the group, with a statement saying Foreign Minister Guido Westerwelle supported listing "at least the military wing" of the organization as a terrorist group. The announcement came just a day after Britain's Foreign Office said it would...