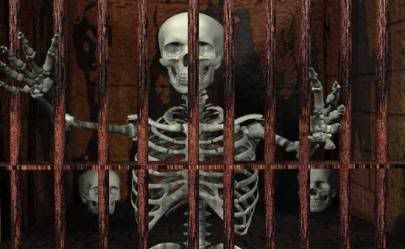 The next Gitmo detainee patiently awaits his turn at justice.
News/Politics
OMG! Terrorists: Ahmed Khalfan Ghailani convicted on only one of 285 charges. That's good enough for 20 years to life, of course, but expect to see Liz Cheney this weekend explaining why the American Justice system is an utter failure.
Gitmo Gaffe: Obama played Gitmo about as poorly as he could.
Socialism Works!: GM explodes back onto Wall Street.
Democracy Works!: Lisa Murkowski's write-in voters steamroll Joe Miller in Alaska.
Assange in Trouble: The Swedish authorities want to talk to Wiki-Leaks mastermind Julian Assange about his involvement in a rape.
TSA Questions
"Is that a String hanging out your vagina or a fuse?"
Blogs
Ewan McIntosh: What is a community? Let Ewan know.
Radar Online: Eva Longoria wasn't quite enough for Tony Parker.
Stuart Shapiro: Warren Buffet sends his thanks to the government.
David Seaton: Haitian cholera: opening soon in theaters near you... not.
Outside the Beltway: Investigative journalism, RIP.
Finally
A tortured reality
--WKW
Crossposted at William K. Wolfrum Chronicles

347 reads
In the News
CONGRESS Has a Deal?

Huffpo might have just taken a piece from The Onion but...

There might be a budget; a formal budget taking us through next year and beyond?

This looks like a big deal to me!

We must take heed and see how this comes out.

Everybody is going to bitch; but it looks pretty good for me.

Of course I have not read the three thousand page bill yet...but still!

Rethinking the Idea of a Basic Income for All

In October, Swiss voters submitted sufficient signatures to put an initiative on the ballot that would pay every citizen of Switzerland $2,800 per month, no strings attached. Similar efforts are under way throughout Europe. And there is growing talk of establishing a basic income for Americans as well. Interestingly, support comes mainly from those on the political right, including libertarians.

House and Senate Democrats Trying To Prevent Food Stampd...

There is a remote possibility that House and Senate Democrats may be able to craft a bill that lowers cuts in the Food a Stamp Program. The cuts in the program would in essence be the result of an administrative fix. If the fix can be agreed, people would not lose current Food Stamp benefits. The negotiations are part of the discussions on the farm bill.

Obviously, the great limiting factor is the Republican Hose and Senate members. There would have to be enough Republican House votes to allow the bill to pass. There is a glimmer of hope that Food Stamp benefits would not suffer the expected loss associated with the previous Republican proposals.

David Simon: 'There are now two Americas. My country...

It wasn't just that we could supply stuff, or that we had the factories or know-how or capital, it was that we created our own demand and started exporting that demand throughout the west. And the standard of living made it possible to manufacture stuff at an incredible rate and sell it.

And how did we do that? We did that by not giving in to either side. That was the new deal. That was the great society. That was all of that argument about collective bargaining and union wages and it was an argument that meant neither side gets to win. ...

Ultimately we abandoned that and believed in the idea of trickle-down and the idea of the market economy and the market knows best, to the point where...