By William K. Wolfrum on Tue, 05/31/2011 - 11:23am | Politics, Humor & Satire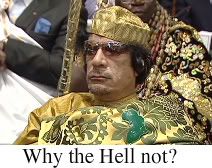 LIBYA – Speaking from an underground bunker somewhere near Tripoli, Libyan leader Moammar Gadhafi announced his run for U.S. President.
"I mean, there's a lot going on right now," said Gadhafi, who is simultaneously being attacked by Libyan rebels and NATO forces. "But the field just seems so, you know, empty."
Gadhafi's bid received an endorsement from conservative leader Bill Kristol, who said he was "dazzled" by the dictator's humor and conservative ideals on a recent Conservative cruise for politicians and donors.
"The more I talked to him, the more I realized that he's the one," said Kristol, who will be on Fox News at least once a day until November 2012. "His concepts of executive power fit perfectly with the party."
For his part, Gadhafi – who has said he would continue being leader of Libya should he become the U.S. President ("A leader must be able to multi-task.") — said he thinks he can woo a good many GOP voters.
"I'm pro-life, as far as fetuses go. Right there, I win the social conservatives," said Gadafi, a Virgo. "And you don't even what to know my thoughts on the poor."
While many have said the run is unconstitutional because Gadhafi was not born in the U.S., others have concerns that he has America's best interests at heart. Gadhafi – who will run using the slogan "Why the Hell not?" – brushed aside such worries.
"First off, Obama got around the citizenship issue and so will I," said Gadhafi, drawing big laughs from CNN's Erick Erickson, an early supporter. "But hey, the GOP is not about what's right for America. It's about oil and money and I know both well.
"Plus, seriously, they have such a bunch of stiffs running," added Gadhafi, who then fled the room to an undisclosed hiding location.
Already, Gadhafi has interviews lined up for later this week with ABC, CNN, CBS, MSNBC, NBC, BET, Fox News, WGN, Nickleodean, ESPN, Al Jazeera, ESPN-2, Lifetime, and OWN.
–WKW