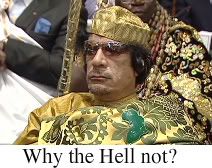 LIBYA – Speaking from an underground bunker somewhere near Tripoli, Libyan leader Moammar Gadhafi announced his run for U.S. President.
"I mean, there's a lot going on right now," said Gadhafi, who is simultaneously being attacked by Libyan rebels and NATO forces. "But the field just seems so, you know, empty."
Gadhafi's bid received an endorsement from conservative leader Bill Kristol, who said he was "dazzled" by the dictator's humor and conservative ideals on a recent Conservative cruise for politicians and donors.
"The more I talked to him, the more I realized that he's the one," said Kristol, who will be on Fox News at least once a day until November 2012. "His concepts of executive power fit perfectly with the party."
For his part, Gadhafi – who has said he would continue being leader of Libya should he become the U.S. President ("A leader must be able to multi-task.") — said he thinks he can woo a good many GOP voters.
"I'm pro-life, as far as fetuses go. Right there, I win the social conservatives," said Gadafi, a Virgo. "And you don't even what to know my thoughts on the poor."
While many have said the run is unconstitutional because Gadhafi was not born in the U.S., others have concerns that he has America's best interests at heart. Gadhafi – who will run using the slogan "Why the Hell not?" – brushed aside such worries.
"First off, Obama got around the citizenship issue and so will I," said Gadhafi, drawing big laughs from CNN's Erick Erickson, an early supporter. "But hey, the GOP is not about what's right for America. It's about oil and money and I know both well.
"Plus, seriously, they have such a bunch of stiffs running," added Gadhafi, who then fled the room to an undisclosed hiding location.
Already, Gadhafi has interviews lined up for later this week with ABC, CNN, CBS, MSNBC, NBC, BET, Fox News, WGN, Nickleodean, ESPN, Al Jazeera, ESPN-2, Lifetime, and OWN.
–WKW
831 reads
In the News
Ukraine turns to Oligarchs?

sorry for the Fox News link, but interesting all the same.

I figure much of the problem is rich Russians vacationing in the Crimea - all that oil money has to go somwehre.

Markets already see a Putin win

Oscar Wilde described marriage as the triumph of hope over experience. In finance and geopolitics, by contrast, experience must always prevail over hope, and realism over wishful thinking.

A grim case in point is the confrontation between Russia and the West in Ukraine. What makes this conflict so dangerous is that U.S. and EU policy seems to be motivated entirely by hope and wishful thinking. Hope that Russian President Vladimir Putin will "see sense" — or at least be deterred by the threat of sanctions to Russia's economic interests and the personal wealth of his oligarch friends. Wishful thinking about "democracy and freedom" inevitably overcoming dictatorship and military bullying.

Crimea and the morality of seccession

Note that this opinion piece is on whether the secession of Crimea can be morally justified and does not address the question about what to actually do if the voters do vote to secede (or if fraudulent election results say that they do).

Pope Francis and the Superman Problem

By Amy Davidson, Close Read @ newyorker.com, March 6, 2014

[...] "You have said that the Francis-mania will not last long," the Corriere della Sera interviewer said. "Is there something in your public image that you don't like?" The Pope replied, "I don't like the ideological interpretations, a certain 'mythology of Pope Francis' ":

"If I'm not wrong, Sigmund Freud said that in every idealization there is an aggression. Depicting the Pope to be a sort of superman, a type of star, seems offensive to me. The Pope is a man who laughs, cries, sleeps calmly and has friends like everyone. A normal person"

Not everyone sleeps calmly; there is a difference...