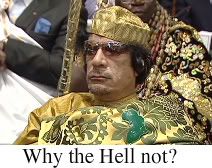 LIBYA – Speaking from an underground bunker somewhere near Tripoli, Libyan leader Moammar Gadhafi announced his run for U.S. President.
"I mean, there's a lot going on right now," said Gadhafi, who is simultaneously being attacked by Libyan rebels and NATO forces. "But the field just seems so, you know, empty."
Gadhafi's bid received an endorsement from conservative leader Bill Kristol, who said he was "dazzled" by the dictator's humor and conservative ideals on a recent Conservative cruise for politicians and donors.
"The more I talked to him, the more I realized that he's the one," said Kristol, who will be on Fox News at least once a day until November 2012. "His concepts of executive power fit perfectly with the party."
For his part, Gadhafi – who has said he would continue being leader of Libya should he become the U.S. President ("A leader must be able to multi-task.") — said he thinks he can woo a good many GOP voters.
"I'm pro-life, as far as fetuses go. Right there, I win the social conservatives," said Gadafi, a Virgo. "And you don't even what to know my thoughts on the poor."
While many have said the run is unconstitutional because Gadhafi was not born in the U.S., others have concerns that he has America's best interests at heart. Gadhafi – who will run using the slogan "Why the Hell not?" – brushed aside such worries.
"First off, Obama got around the citizenship issue and so will I," said Gadhafi, drawing big laughs from CNN's Erick Erickson, an early supporter. "But hey, the GOP is not about what's right for America. It's about oil and money and I know both well.
"Plus, seriously, they have such a bunch of stiffs running," added Gadhafi, who then fled the room to an undisclosed hiding location.
Already, Gadhafi has interviews lined up for later this week with ABC, CNN, CBS, MSNBC, NBC, BET, Fox News, WGN, Nickleodean, ESPN, Al Jazeera, ESPN-2, Lifetime, and OWN.
–WKW
836 reads
In the News
Al Gore Is Not Giving Up A rare, frank conversation with...

In today's issue of Polico's Magazine cover story, former VP Al Gore talks about climate change and what he is doing currently. He also makes a point that President Obama is seriously working on the global warming issues but with the current climate in congress he has it very hard.

Now here's the second game changer: Can we do it? The cost-down curve for photovoltaic electricity, and to a lesser extent wind electricity, even to a greater extent efficiency technologies and adaptations, is pushing alternative sources of energy below the grid-average price in country after country. There are now, as of...

U.S. moves toward shorter sentences for drug crimes

This didn't get much traction in the news a couple of weeks ago but is part of what AG Holder has been working on to reduce the prison population. This is expected to reduce the population by about 6500 in the first 5 years. They are still constrained by mandatory 5 years sentences. This just shows how a unified effort is behind this. I am sure Harry Reed will not bring it up to a vote.

The U.S. Sentencing Commission voted Thursday to reduce sentencing guidelines that could shorten prison stays for about 70% of federal drug trafficking defendants, backing a proposal supported by...

Jet Blue Pilots Overwhelming Vote to Join Union

Not too much bigger news than what we learned today, that the pilots at Jet Blue overwhelmingly voted to be represented by ALPA, the Air Line Pilots Association, International (which represents 50,000 pilots in the U.S. and Canada.

Now Jet Blue is one of those airlines that is supposed to be better and cheaper -- and some have suggested or explicitly opined that the airline's success is due to the lack of unions in the company. It is an airline whose pilots don't need unions because life is good. . .yadda yadda.

Reason for joy in Mudville today!

[This was edited to delete a personal aside, having nothing to do with the joy in Mudville. By the way, reading this back I'm not satisfied with what I wrote because I don't mean to...