By William K. Wolfrum on Wed, 10/28/2009 - 8:36am | Humor & Satire, Social Justice, Religion
At the United Nations recently, the Obama Administration joined Egypt in presenting a non-binding resolution to in the U.N. Human Rights Council to protect the freedoms of peoples around the world.
The resolution is A/HRC/12/L.14/Rev.1 [PDF] and titled "Promotion and Protection of all Human Rights, Civil, Political, Economic, Social and Cultural Rights, including the Right to Development." The resolution - which passed unanimously - included this section: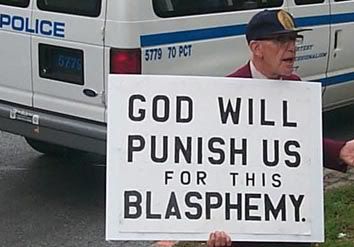 4. Also expresses its concern that incidents of racial and religious intolerance, discrimination and related violence, as well as of negative racial and religious stereotyping of religions and racial groups continue to rise around the world, and condemns, in this context, any advocacy of national, racial or religious hatred that constitutes incitement to discrimination, hostility or violence, and urges States to take effective measures, consistent with their obligations under international human rights law international human rights, to address and combat such incidents;
The Egyptian ambassador to the U.N., Hisham Badr, applauded the teamwork between his nation and the U.S., stating "freedom of expression has been sometimes misused" and the "true nature of this right" must yield government limitations.
This section has caused an uproar amongst many, including Atheist groups and other civil libertarians that fear the slippery slope of censorship. As I see it, this battle is far from over, but many Muslim nations like Egypt - which already has draconian anti-free speech policies - have put in the heavy lifting to make blasphemy an international crime. So regardless of the "non-binding" part, this is a battle that free-speech proponents need to win.
There's still hope, mind you. Secretary of Defense Hillary Clinton has spoken out against an effort by the Organization of the Islamic Conference to get the U.N. Human Rights Council to adopt resolutions that crack down hard against blasphemy:
"Some claim that the best way to protect the freedom of religion is to implement so-called anti-defamation policies. . . . I strongly disagree," Clinton said. "The protection of speech about religion is particularly important since persons of different faiths will inevitably hold divergent views on religious questions."
Just in case, however, I think it may be best for me to get as much of blasphemy out of my system before I become an international speech criminal. So, let's misuse some freedoms while we still can:
Blasphemy Bonanza
Catholicism: Nothing quite like having some dude in a fancy robe condemning millions of Africans to death via AIDS because he demonizes condom usage as a sin. One wonders if the Pope has informed his pedophile priests to not use condoms when they destroy the lives of children?
Christianity: It's amazing that all the scribes back then missed out on seeing a three-day dead dude physically ascend to the heavens after creating a huge ruckus. It's even more amazing the people are so convinced there really was a Jesus Christ, especially after you learn that his same story had been told many times before.
Judaism: Sure, there was no Jesus Christ. But let's blame his death on you guys, anyway.
Islam: Nothing quite like having your top prophet marry a 6-year-old to get you to pray five times a day. Seriously folks, have a BLT and a beer and chill the fuck out.
Mormonism: A guy wanders into the woods alone and comes out with a religion. No, it's not the beginning of a joke, it's the beginning of the Church of Latter Day Saints. You folks aren't fooling anyone. We know it's just a plot for white folks to have an American Jesus while being racist, homophobic and marrying as often as you want.
Scientology: My mistake. This isn't a religion. It's a Ponzi scheme.
Jainism: Go ahead, just suck in a microbe already. They don't give a shit.
Hinduism: Ok, we're all doing yoga now. So go pray to an elephant or something and leave the rest of us alone.
Buddhism: Smoking a joint will get you as enlightened as you need. The rest of it is just an overwhelming desire to sit.
Rastafari: I said "A joint." Once you start rapid-firing the cannabis, you start believing this guy is Jesus Christ:

Wicca: Oh for fuck's sake, you aren't a witch.
Sikhism: We don't care what you say or do - we all think you're Muslim, anyway.
____________________
While preaching for violent acts against any group is never to be tolerated, this issue is about the rights of all - from the lowliest serf to the richest land baron - to be able to speak out, or for, institutions that already have too much control over their lives. If slippery slopes are your thing, this UN non-binding resolution is overlooking an extremely deep chasm.
–WKW